Vornado VMH350 Heater Review – The Vornado VMH350 is a fan heater combination with a solid, all metal construction. Compared to traditional fan heaters, Vornado has a built-in thermostat so you can set your desired room temperature and forget about it.
But what makes this A$349 heater better than the conventional heaters you can grab for much cheaper? Let's have a closer look.
Vornado VMH350 Heater Review – Design & Features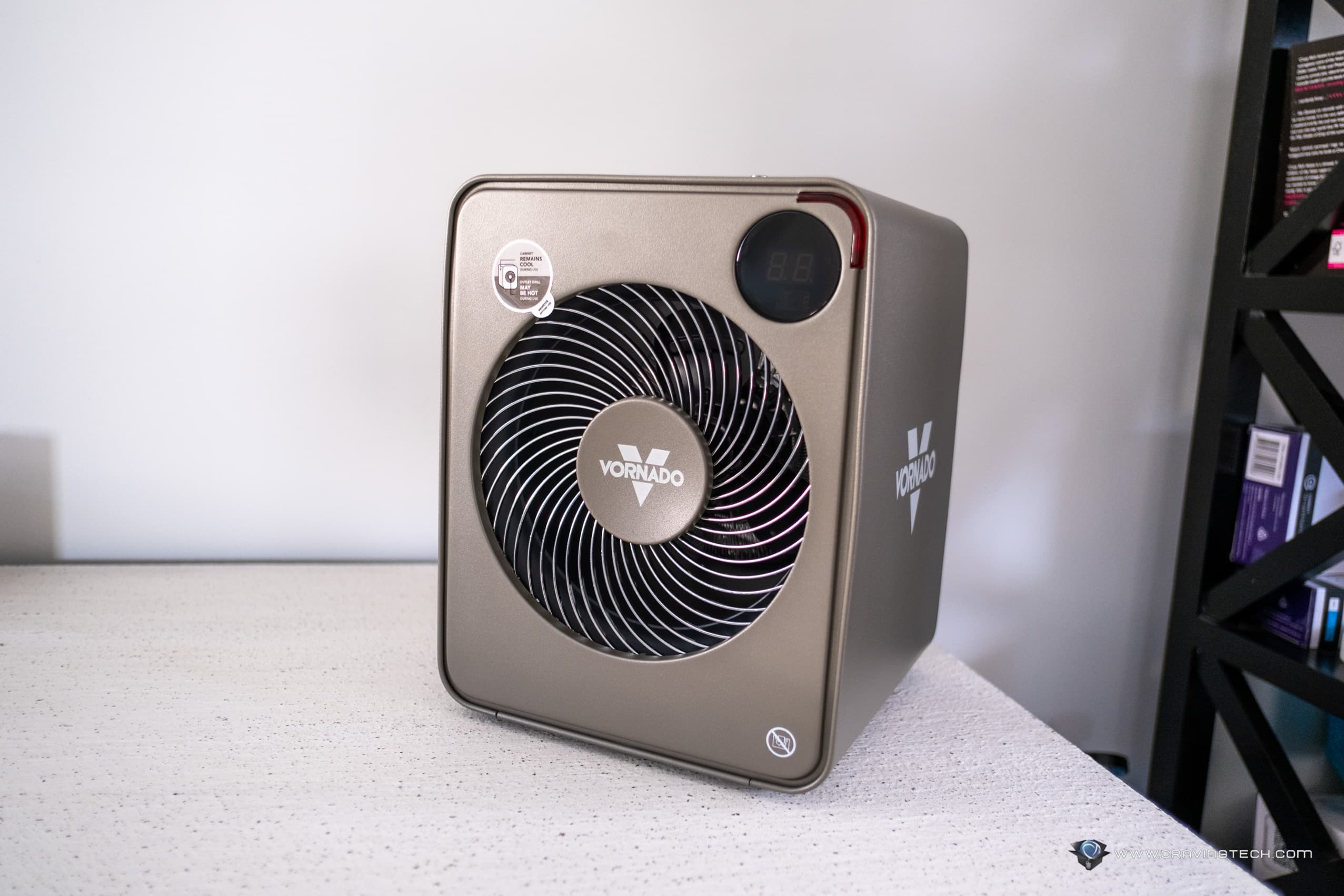 Thanks to the all metal construction, Vornado VMH350 looks aesthetically pleasing. But the material choice is not just for the looks. It's forged from steel to be fire-resistant for safety reasons but at the same time, still cool to the touch anywhere. In fact, every part of the VMH350 is safe to touch.
Going further, the unit also has an automatic safety shut-off system if airflow becomes blocked or if it gets tipped over.
And if you are not planning to use the heater for some time (e.g during Summer), there is a cord storage area so you can safely tuck the chords away to prevent tripping.
Thanks to the integrated carry handle, you can move the heater around the house easily, or if you need to store it somewhere safely.
For controls, a remote is included in the packaging but all controls are also located on the unit itself. They are very intuitive that there isn't a need to use that remote, ever. There are controls to power the heater on and off, change the temperature with a plus and minus button, change between Celsius and Fahrenheit, change the mode (Fan, Low Heat, and High Heat), and set a Timer. There is no app connectivity, sadly.
Vornado VMH350 can detect the current room temperature and will match the desired room temperature you've set. This is great because most traditional heaters don't have a built-in thermostat which means it will keep heating the room until you turn it off. This can make the air really dry and hot, not to mention if you accidentally fall asleep and let the heater on all night.
With Vornado heater, you can turn it on all night and the unit will automatically turn itself on and off to maintain the right room temperature. But there is also a quick timer function so you can turn it on and set a sleep timer up to 12 hours. It's pretty handy if you just want to have a comfortable sleep but not necessarily need the unit to maintain the room temperature all night to save cost.
The current room temperature will be displayed on the front LED display so you can have a quick glance from the other side of the room and on the handle LED display so you can make a quick decision to increase or decrease the desired room temperature. A red light also gets lit when the heater is running.
Speaking of costs, there are two Heat settings: Low and High. The Low Heat uses 750 watts of power and High Heat uses 1,500 watts. It's easy to calculate how much running cost does the Vornado VMH350 have. For example, if your current electricity provider charges you $0.25 per kWh for the consumption, that means the running cost will be 1.5kWh * $0.25 = $0.375 per hour.
While there are other heaters with higher running power, it doesn't mean that they are better at heating. The Vornado heater VMH350 actually does its job really well to heat a room up comfortably and evenly.
I said "comfortably" because you are not going to get that intense, dry heat air coming towards you like a traditional 2,000 Watt heater, but you'll get the warmth in the room after the unit is running for some time. It definitely moves and circulates the heat around the room in good volume, thanks to the Whole Room Vortex Heat Circulation technology.
I have to be realistic here. The Dyson Pure Hot+Cool Link can definitely circulate hot air quicker, thanks to its more superior Air Multiplier technology but you'll be paying close to A$1,000 (which is 3 times more expensive than the Vornado VMH350).
For smaller rooms like our Nursery (3130cm x 3120cm), I find that the Vornado heater can heat the room pretty quick though it takes longer in our Master bedroom (5,080cm x 3,680cm).
Vornado VMH350 Heater Review Conclusion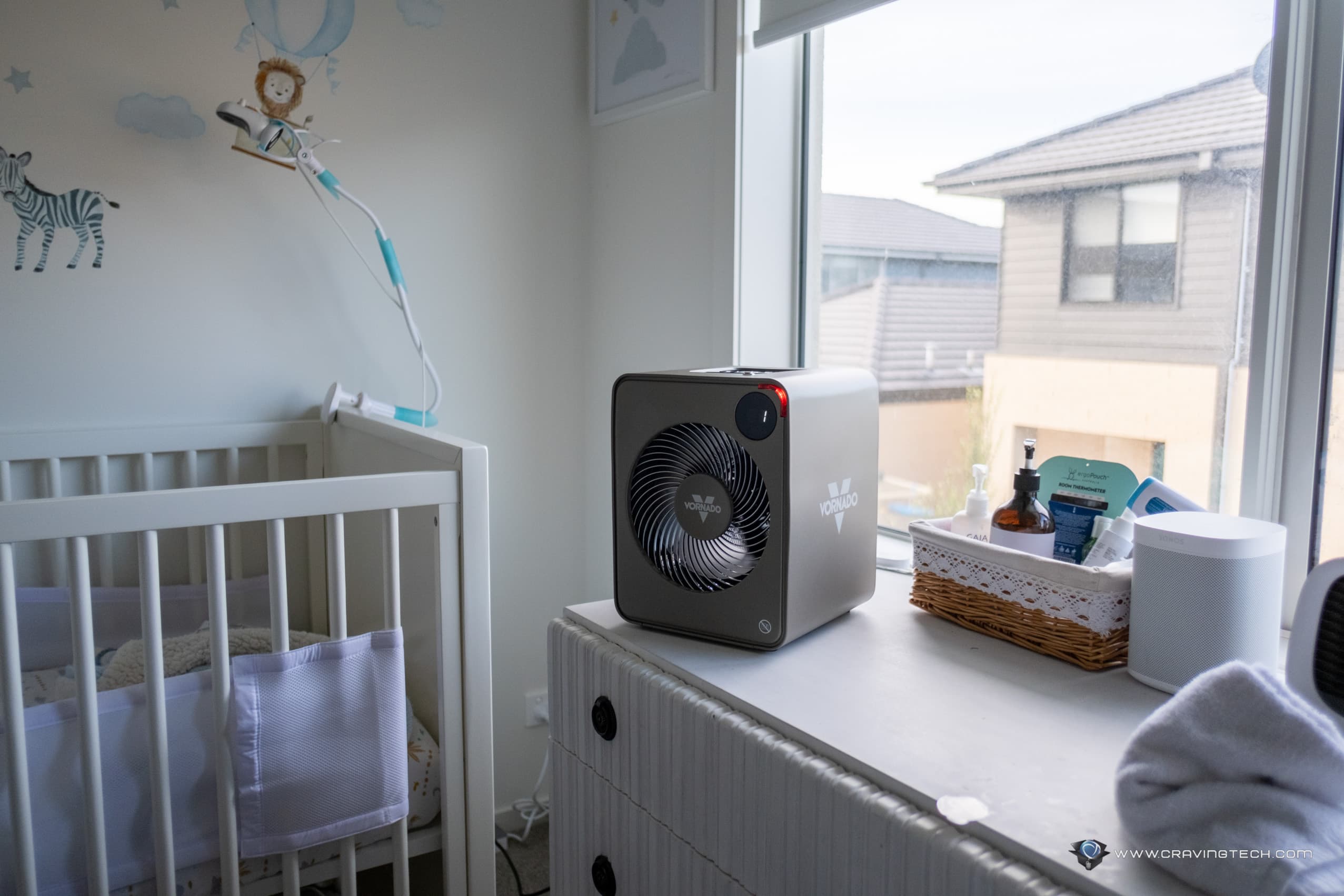 The overall feel of using the Vornado VMH350 is positive. I find that the air in the room doesn't feel dry and has an even heat throughout, a similar feel we get from using our ducted heating. If you are looking for that short, burst, intense heat in front of the heater, you'll be disappointed for sure. However, if you are looking for a heater with built-in thermostat to heat the room up without leaving the air dry and feeling it on your skin, you'll love the Vornado VMH350.
Sure, if you put your face in front of a 2,000 watt heater and this Vornado heater in a really cold night, you'd probably prefer the 2,000 watt as you can feel the hotter air coming straight at you. But again, if you want a warm, comfortable feel in the room, the VMH350 is preferred.
Vornado VMH350 gets everything right as a safe, cool-looking, well-performing fan heater that will give you a warm, comfortable sleep all night.
Is it worth the price? If you are used to using cheap heaters and don't care about the air dryness so far, then you're probably not going to spend hundreds on a Vornado heater. The VMH350 currently retails at A$349 and comes with a 5-year warranty. There is a 20% OFF End of Financial Year sale going on at the moment though so make sure to put in the "EOFY20" discount code during checkout to bring it down to A$279.20.
Also, make sure to check for more Vornado heater reviews around the web to solidify your purchase!
Disclosure: Vornado heater review sample was supplied for reviewing
Vornado VMH350 Review
Summary
An aesthetically pleasing fan heater that circulates gentle, hot air evenly around small to medium rooms
Pros
Warm, gentle heat evenly spread in the room
Great aesthetics
Easy controls on the unit and remote
Built-in thermostat
Built-in timer
Cons
Still uses fan blades, which will attract dust after a while
Not suitable if you are looking for that quick, burst intense heat to quickly warm yourself up
No smart functions (i.e app connectivity or Alexa/Google Assistant support)