EcoFlow DELTA 2 Review – The EcoFlow DELTA 2 is a reliable portable power station, ideal for activities like camping or for off-grid scenarios. Designed with both versatility and convenience in mind, it's easy to get the unit into the car, carry it around, and plug your power-hungry appliances.
Whether you're camping in the wilderness, working on a remote job site, or facing a power outage at home, the new EcoFlow DELTA 2 has got you covered. It offers a range of output options (and generous ones at that), including AC, DC, and USB ports, making it compatible with a wide variety of devices and appliances. With an impressive battery capacity of 1,024Wh and fast-charging capabilities, this portable power station ensures you're never left powerless.
EcoFlow DELTA 2 Review – Unboxing and Packaging Contents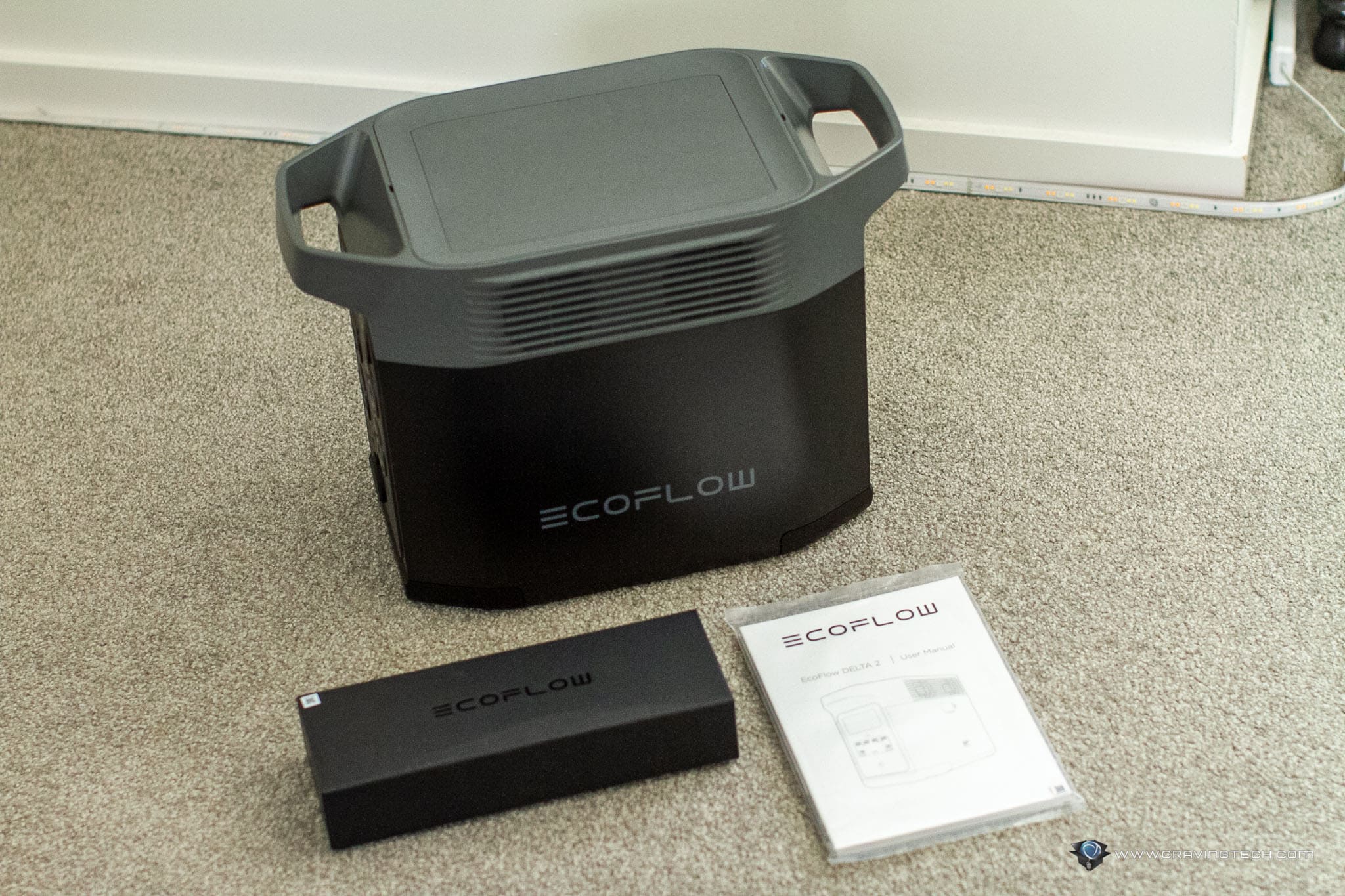 It comes with an AC charging cable, Car charging cable, and DC5521 to DC5525 cable.
EcoFlow DELTA 2 Review – Design and Features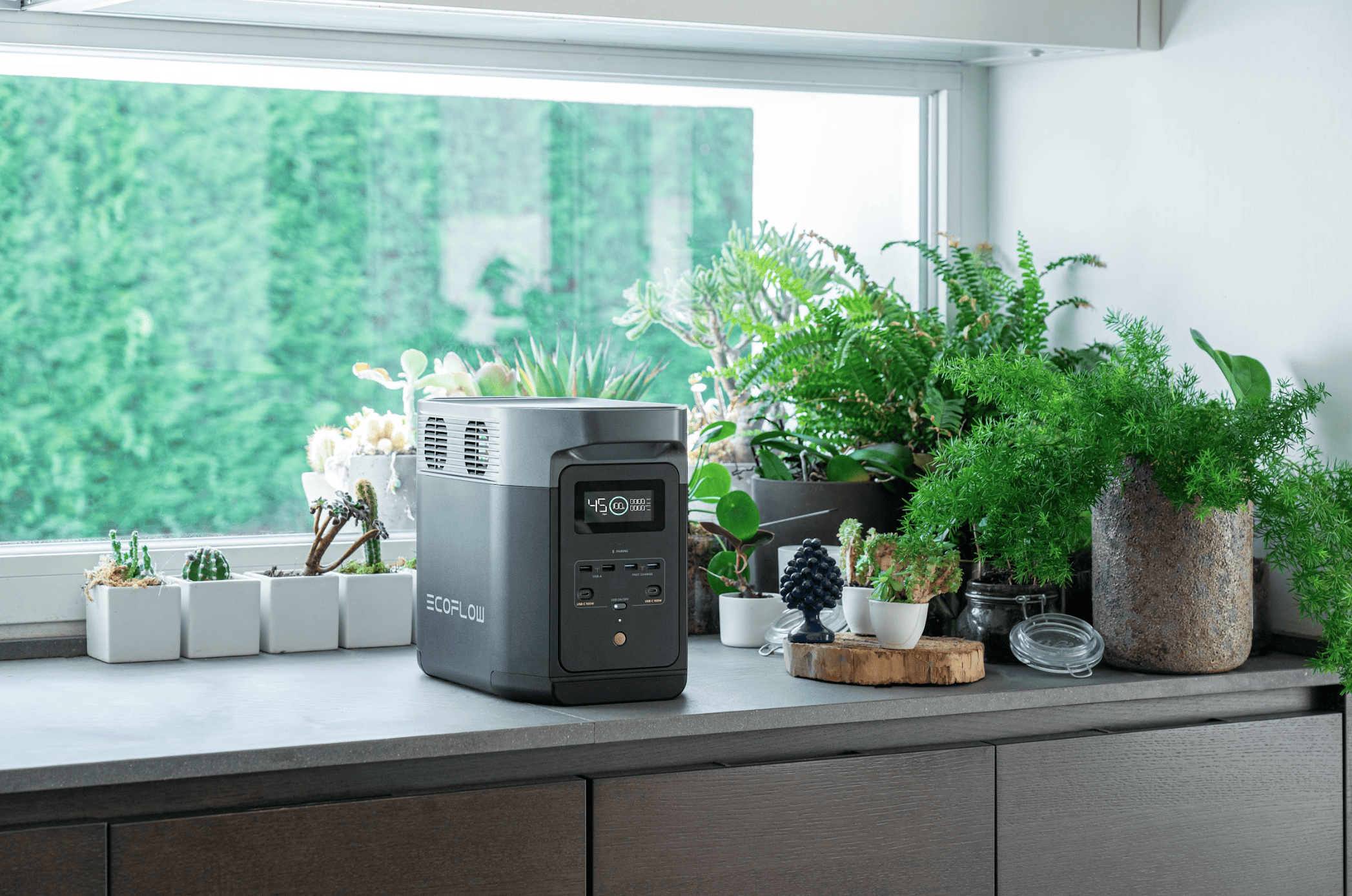 From a few other portable power stations I've reviewed before (including the EcoFlow RIVER 2), the new DELTA 2 has the highest battery capacity (1,024Wh) and output power (2,200W). Of course, the trade-off is a heavier and bulkier unit, as one would expect. EcoFlow DELTA 2 weighs around 12kg and doesn't just have one carry handle – as you'll need both of your hands to lift it. The way it's designed though, it can be comfortably carried by two people – one hand on each side.
However, the DELTA 2 offers plenty to smile about with its 13 output ports:
4x AC Ports: Pure Sine Wave, 1800W total, 12V ~ (50/60Hz)
2x USB-A Ports: 5V/2.4A, 12W Max per port, total 24W
2x USB-A Fast Charge Ports: 5V/2.4A 9V/2A 12V/1.5A, 18W Max per port, total 36W
2x USB-C Ports: 5/9/12/15/20V/5A, 100W Max per port, total 200W
1x Car Charger: 12.6V/10A, 126W Max
2x DC Ports: 12.6V/3A, 38W Max per port
So yes, technically you can power up to 13 devices simultaneously with the new EcoFlow DELTA 2.
As for EcoFlow DELTA 2 Input Ports:
AC Charging: X-Stream Fast Charge 1200W Max, 10A
Solar Charging: 11-60V/15A Max, 500W Max in 2.3 hours
Car Charging: 12V/24V in 11 hours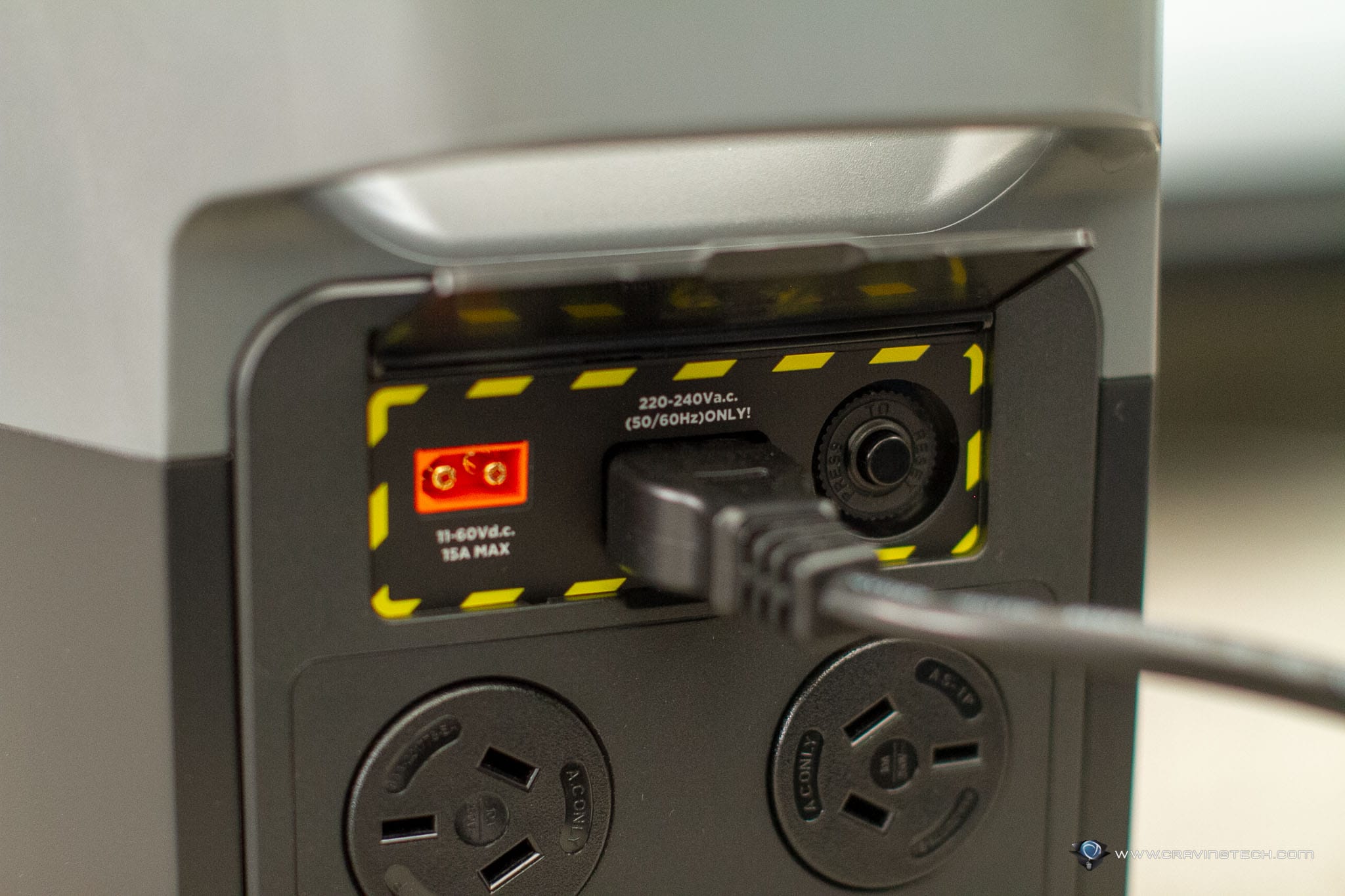 With AC Charging (i.e plugging it into a power wall socket), you can get from 0% to 80% in just 50 minutes and to 100% in 80 minutes. With Solar Charging, it'd take around 2.3 hours to go from 0% to 100% when you use 2x 220W solar panels.
EcoFlow DELTA 2 already comes with a large 1,024Wh battery capacity but it is expandable to 2,048Wh (with DELTA 2 Extra Battery) or 3,040Wh (with DELTA Max Extra Battery). This allows you to get the DELTA 2 now and should you need more for your family needs, you can always expand it later in the future.
Even with its 1,024Wh battery capacity, the DELTA 2 outperforms other portable power stations I have reviewed here at Craving Tech.
The unit has an AC output of up to 1,800W which basically covers many kinds of appliances including heaters and portable air conditioners. It's also able to utilise up to 2,400W surge power when needed.
It can run the portable air conditioner, Close Comfort COOL FOCUS, for about 4-5 hours (which uses 300W of power) and even the VORNADO VMH350 Heater (which uses 750W in Low Heat and 1,500W in High Heat mode). Thanks to the large battery capacity, running these for a few hours is guaranteed for a cool or warm night when you need it the most to sleep through.
If you really need your morning coffee boost when you go camping (and a good coffee, not those instant ones), you can even bring this Nespresso Vertuo Creatista coffee machine along (which uses around 1,500W of power). Or heck, you can even bring a big TV along and watch a live sport event in the wilderness.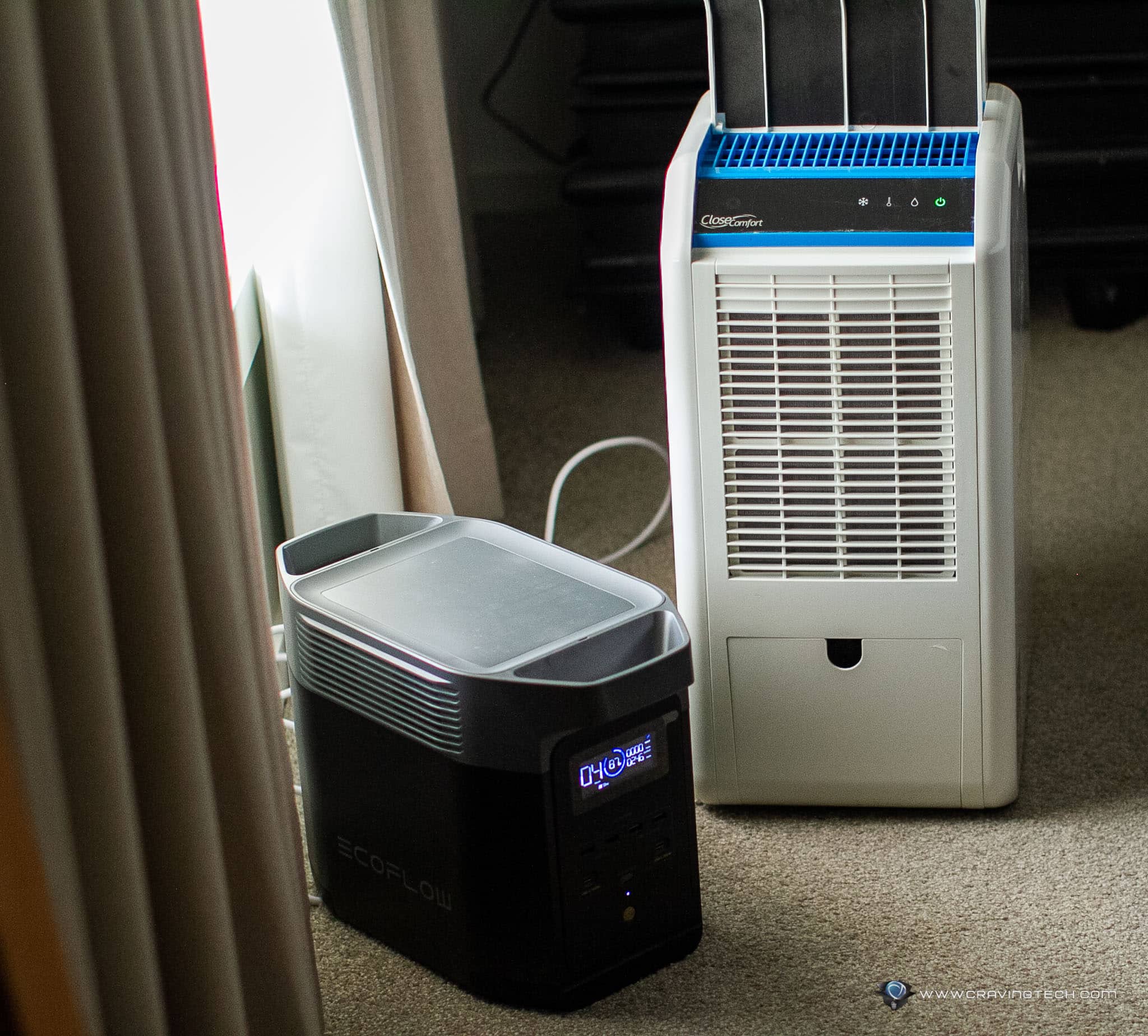 These are high-powered appliances and it's great to see that the DELTA 2 can handle these just fine. Of course, you can use the DELTA 2 for other things like lighting, an electric barbeque grill, portable fridge or cooler, microwave, and many more – as long as they are within the DELTA 2 power range. While the DELTA 2 has a big battery capacity, it can still easily run out of power if you are turning a high-wattage appliance on continuously, so bear that in mind.
When you are home, you can use the EcoFlow DELTA 2 as an EPS (Emergency Power Supply) so when the grid goes down, your electronics or appliances will auto-switch to the EcoFlow DELTA 2 battery power within 30 milliseconds. This is a great tool to have in countries where blackouts occur quite often like where I come from (Indonesia). Simply plug your monitor and PC to the DELTA 2 and you can still continue working even when the power grid is down.
A money-saving person? Even better. Plug some power-hungry devices at night on the DELTA 2 and charge the unit when the sun is out (if you have solar panels at home) or at off-peak rate from your electricity provider. You might save a dollar or two per night but it all adds up!
Installing the EcoFlow App on your iPhone or Android device is optional, but recommended. With the app, you can check the power flow visually and personalise some settings such as optimising it to charge itself at certain times (perfect when you have solar panels at home), adjust its charging speed, and more.
EcoFlow DELTA 2 Review Conclusion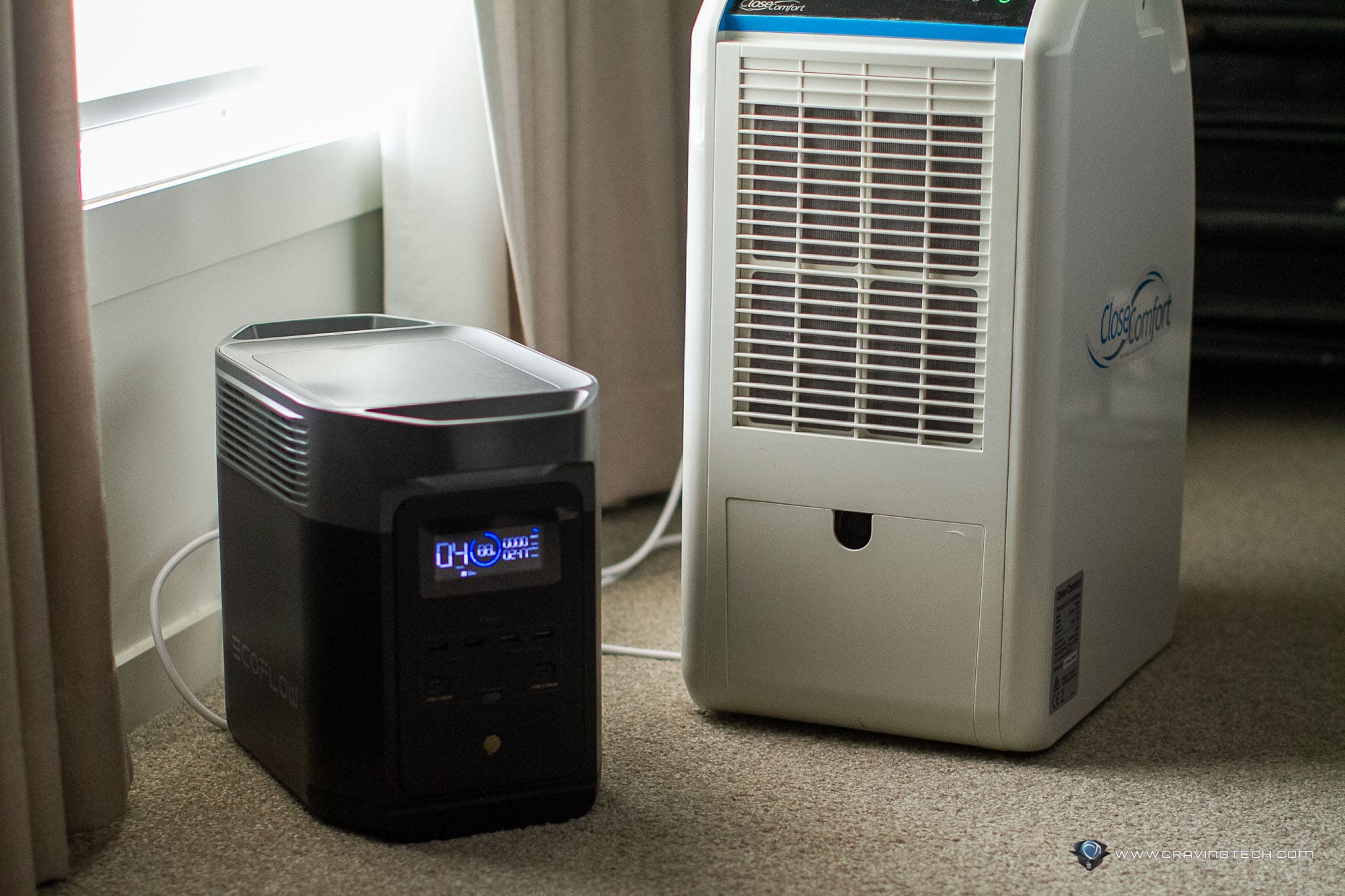 The EcoFlow DELTA 2 has been recognised as a 2023 winner of the Red Dot and Australian Good Design Awards and has been named CNN's 'Best Solar Generator of 2023.' It's easy to see why.
The EcoFlow DELTA 2 has a 3,000 battery cycles lasting up to 10 years with a 5-year warranty and 30-day price match guarantee. You'll also get a support response from the Australian service centre within 48 hours with over 400 partner stores across Australia for in-person support. There is even the EcoFlow Australia Official Facebook Group for real-time communication with official staff and a community of EcoFlow users.
"EcoFlow DELTA 2 is now available in Australia and can be purchased from EcoFlow's official website as well as their dedicated Amazon store
EcoFlow DELTA 2 is now available in Australia and can be purchased from EcoFlow's official website as well as their dedicated Amazon store. It will also be available at retailers like Autobarn, Bunnings Warehouse, Harvey Norman, etc.
Disclosure: EcoFlow DELTA 2 review sample was supplied for reviewing
EcoFlow DELTA 2 Review
Summary
The EcoFlow DELTA 2 portable power station offers exceptional versatility with a high battery capacity of 1,024Wh, a variety of output ports, and fast-charging capabilities, making it an ideal choice for off-grid activities, emergency power supply, and more.
Pros
An excellent balance between weight, power, and capacity
Can power many kinds of devices, including high-power appliances like heaters and coolers 
Fast charging with solar panels support
13 output ports with wireless charging pad
Expandable battery
Excellent app interface and features
Great local support
Cons
Require two hands to carry due to the size and weight
If you are getting this just to charge smartphones and tablets, better get the lower-spec models