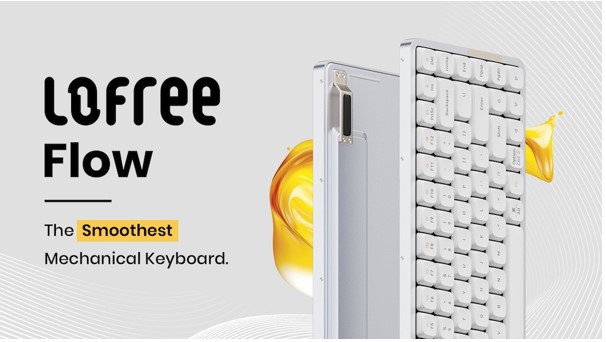 Lofree is pleased to announce the launch of its groundbreaking product, the Lofree Flow mechanical keyboard. Available now on LOFREE's website for US$159.00 and soon to be released on Amazon US, the keyboard represents an unprecedented advancement in mechanical keyboard technology, featuring world-first Kailh Full POM Switches and Gasket Mount architecture.
The Lofree Flow employs Kailh Full POM Switches, the world's first low-profile switches constructed entirely of POM material, delivering self-lubricating properties and an ever-improving tactile experience. This revolutionary technology ensures each keystroke is executed with unparalleled precision and ease.
Available in two standard variants—White with Ghost switches and Black with Phantom switches—the Lofree Flow offers additional customisation through the purchase of supplemental switch sets, including Ghost, Phantom, or Wizard switches:
Ghost (Linear): Quiet sound, Featherlight Touch
Phantom (Tactile): Gentle sound, Responsive touch
Wizard (clicky): Clicky sound, Strong feedback
The keyboard's hot-swappable capabilities allow for seamless switch replacement without the need for soldering. Moreover, the keyboard is designed to support both wired and wireless connectivity, ensuring compatibility with Mac and Windows operating systems.
Crafted from premium all-aluminium material, the Lofree Flow is both aesthetically pleasing and robust. Its slender 10mm thickness and ergonomic 3.9-degree tilt offer users a comfortable typing posture, while its lightweight build of 568g makes it conveniently portable.
The Lofree Flow provides additional aesthetic options through its extensive range of retro-style keycaps, which are manufactured using an advanced five-sided dye-sublimation process for enduring vibrancy and durability.
Equipped with a built-in USB Type-C port, Bluetooth functionality, and a 2,000 mAh battery, the Lofree Flow can be fully charged in just three hours and offers up to 40 hours of continuous operation.
For more information about the Lofree Flow, please visit its official page.