EcoFlow River 2 Review – I'm sure we all have portable power banks handy to keep our devices charged when we need them the most, out of the comfort of a power wall socket. When you get back home, you can always charge it back and make it ready for the next trip.
But what if when you go camping or going to a vacation for a few days where you have no access to a power wall socket and actually need some appliances running or charged? This is where a portable power station may come in handy.
For example, a photographer might carry spare batteries to take outdoor photos but what if they all run out and there are still more great stuff to take pictures of? Or how about when you go camping and it'd nice to be able to BBQ some meat? Or cook some rice? The possibilities are endless, but you do need to check on the power output. The River 2 I have here can only output 300W, with an X-Boost feature to make it output 600W. So if you are thinking to use it to turn the heater on, unfortunately you can't.
However, the RIVER 2 Max has an X-Boost up to 1000W and the PRO has an X-Boost up to 1,600W which opens up more opportunities and possibilities. They will of course, be bigger and heavier than the standard RIVER 2 unit – which is around 3.5kg. Thankfully, a built-in handle makes it easy to transport and move the portable power station around.
EcoFlow River 2 Review – Packaging Contents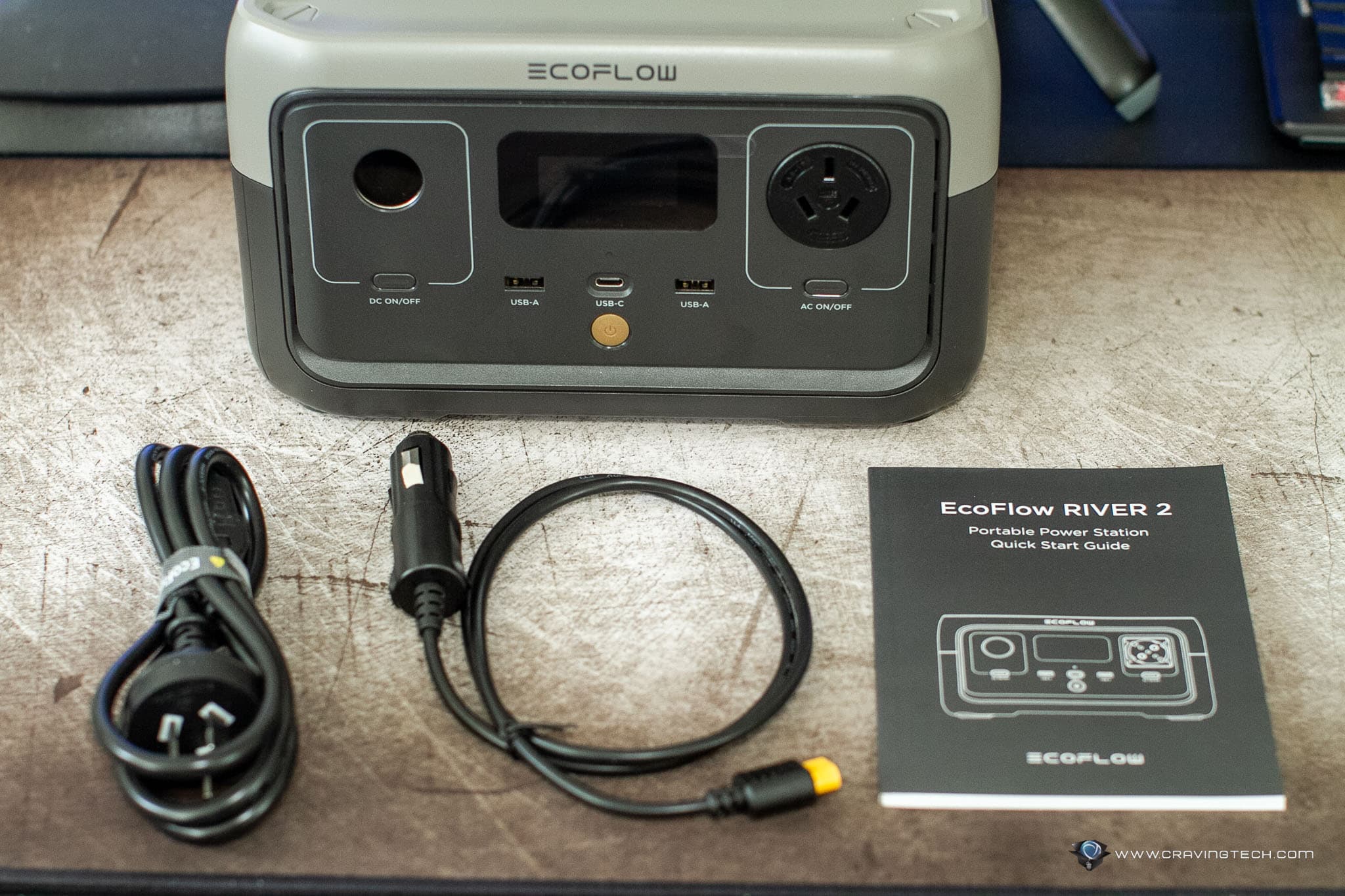 EcoFlow River 2 Review – Design and Features
The EcoFlow River 2 has most of the Input/Output ports at the front of the unit:
1x AC Output socket
DC Output socket, 100W Max
2x USB-A Output ports, 12W Max per port, 2.4A
1x USB-C Input/Output port, 60W Max
At the back is the two Input ports: an AC/Car Charging, and Solar Charging you can use to charge the unit. You can also use the Car charging and USB-C input ports at the front to charge, though it'd be slower than using the AC one. When you plug the AC charging cable to a wall power socket, the whole unit is fully charged in just 1 hour, thanks to the X-Stream fast charging. This allows you to quickly charge the EcoFlow River 2 when you can find a power socket (such as while having lunch in a cafe at a campsite) and then make it ready to accompany you back in the wilderness or somewhere outdoor.
You can also charge it while driving but this will take around 3 hours to fully charge, and with the USB-C, it will take about 5 hours.
At the front of the unit, you'll also see a nice LCD display with useful information such as the remaining battery percentage, remaining charge/discharge time, current input and output power, and more including a low temperature and overload warning.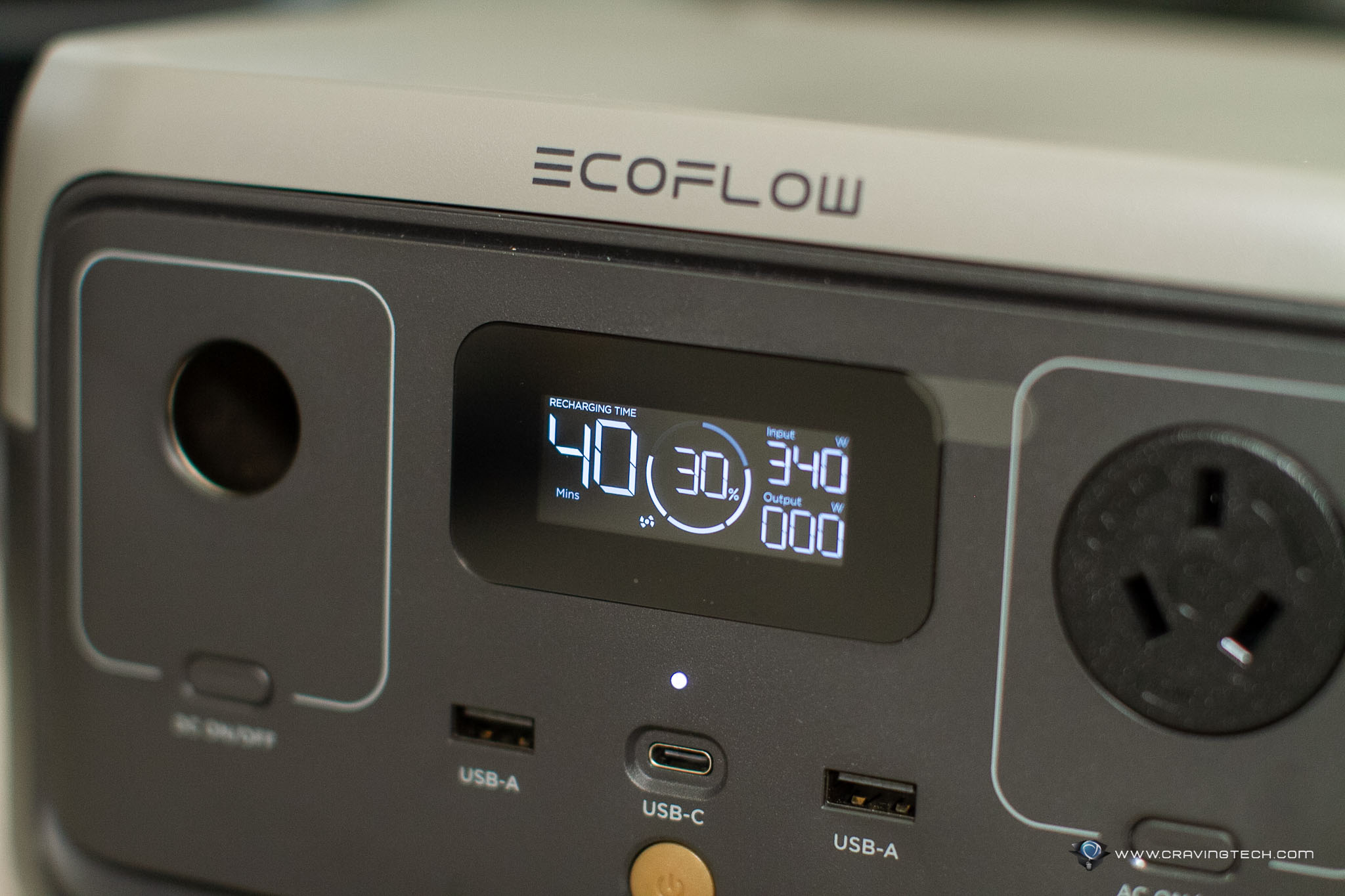 The USB ports are automatically turned on once you turn the power station on, but you do have to press a separate button for the AC & DC output sockets. Once you plug a device in, just press the button (which lits the white LED) to enable power.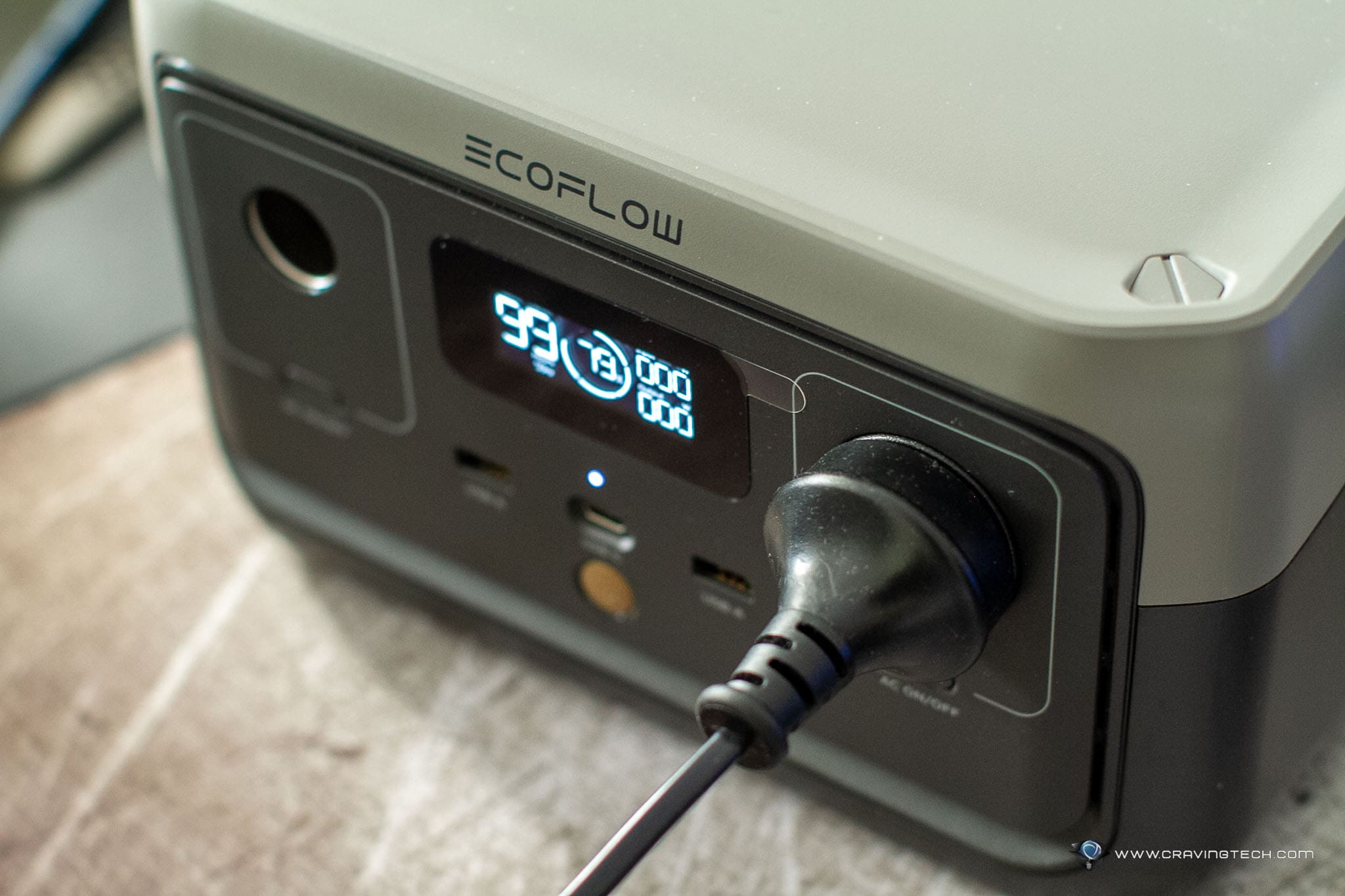 Interestingly, the EcoFlow River 2 can also be used as a UPS (Uninterruptible Power Supply). This can be done by plugging the unit to your wall socket with its AC input port and plugging your device to the AC output port. This allows power to come from the grid instead from the power station (like a power passthrough). Note that the power station doesn't support 0ms switching so it may not be the best use for data servers and workstations. Plus, the EcoFlow River 2 AC Output also only allows devices with a maximum power of 600W.
But if you have a fish tank for example, you can plug it through the River 2 as a backup in case the power goes out (which happens a lot in third world countries) while you're asleep, making sure the air pumps are still running. Or you can also plug your baby monitor to ensure you can always listen when your little one is crying while you're asleep, and there are other use cases to consider.
If you don't even want to use it as a UPS, that's fine. The portable power station is very handy if you are going camping, or glamping where you can always charge your devices (including a modern laptop powered by USB-C) or plug a small lamp or an appliance in. If you are going with the whole family where everyone is hungry to play with their devices and looking to get some juice after, no amount of power banks is good enough for this situation.
EcoFlow River 2 Review Conclusion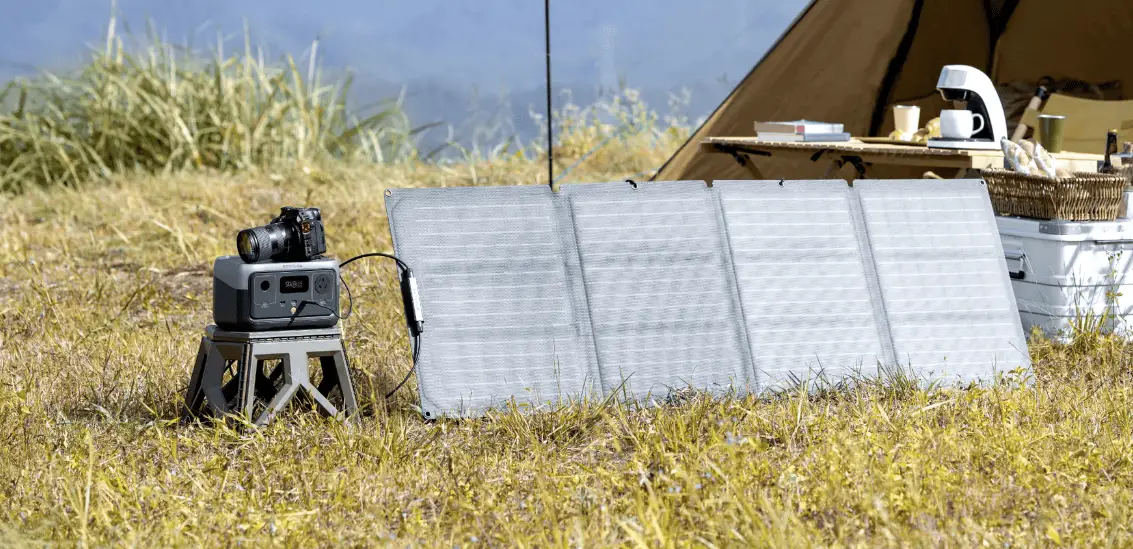 There are lots of things you can plug into this portable power station, to power and charge your devices while you are away from the power sockets. However, with 300W of output power (and X-Boost to 600W), you probably have to think whether you are going to actually want the bigger brothers. The River 2 USB-C power output is also 60W which may not be enough for your laptop. For example, my HUAWEI MateBook X Pro 2020 loves 65W power to efficiently charge itself, so if you are planning to plug your laptop a lot, definitely go for the higher-end models.
Even at just a step up, the River 2 Max already has 100W of USB-C output that covers many modern laptops and MacBooks, and don't forget that you can also plug a 500W appliance (with X-Boost 1000W) in. Go for another step higher with the River 2 Pro, you can even plug a heater in comfortably.
But for regular users who are thinking to use the portable power station to charge camera batteries, smartphones and tablets, outdoor lights, and small appliances, then the River 2 is definitely good enough. The unit comes with a 5 year warranty. EcoFlow River 2 is available to purchase for A$649 at EcoFlow website and retailers around Australia like Mwave. Also available at Amazon.
Disclosure: EcoFlow River 2 review sample was supplied for reviewing