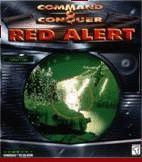 EA is having a 13-years anniversary of Command & Conquer Red Alert "Saga" and giving away the original Command and Conquer Red Alert for FREE!
It certainly brings back memories, especially during the time where gameplay matters more than graphics! There was no anti aliasing, no anisotropic filtering, no DirectX 10 special effects, no HDR. Simply pure fun and madness :D
You can download the original Red Alert on EA site and if you pre-order the upcoming Red Alert 3 before 27th October 2008, you can get Command and Conquer Red Alert 2 for free too! (thanks for the news, Freebie Reporter).
I'm on Command and Conquer Red Alert 3 closed multiplayer beta at this moment. It looks like EA brings back what Red Alert has been offering so far.. fun and madness :) Honestly, not really looking foward to the multiplayer (StarCraft 2, everyone?) but the cheesiness of the FMV (Full Motion Video) and storyline definitely are back (if you've been watching the trailers).
This time though, seems like EA is using the "Girls' Power" to lure guys into buying the game O_o