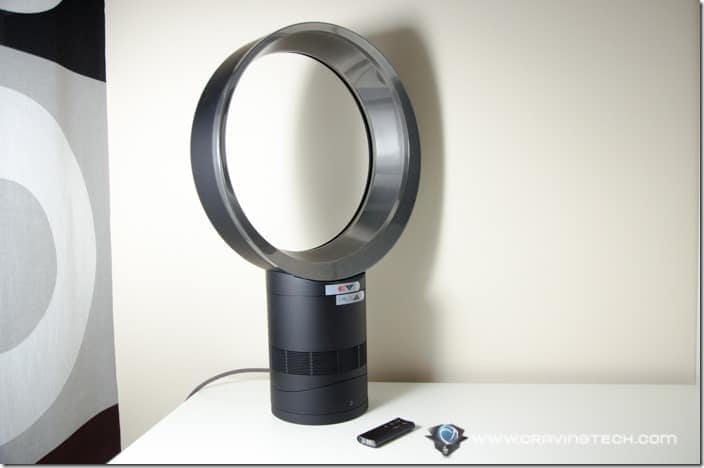 Dyson Cool Fan Review (Air Multiplier AM06) – The original Dyson Fan that I reviewed a few years ago was a breakthrough in technology, thanks to Dyson. It features a bladeless, safest fan around with powerful, constant air flow. The only complain that most people seem to have (apart from the high price), is that it makes too much of a noise.
Just for that alone (and a few other improvements), Dyson has spent around $74 million to perfect one of their major innovations. The new Dyson Air Multiplier, a.k.a Dyson Cool, is now 75% quieter and consumes 40% less power than the original (AM01).
Dyson Cool Packaging
Dyson Cool Review –  Design & Features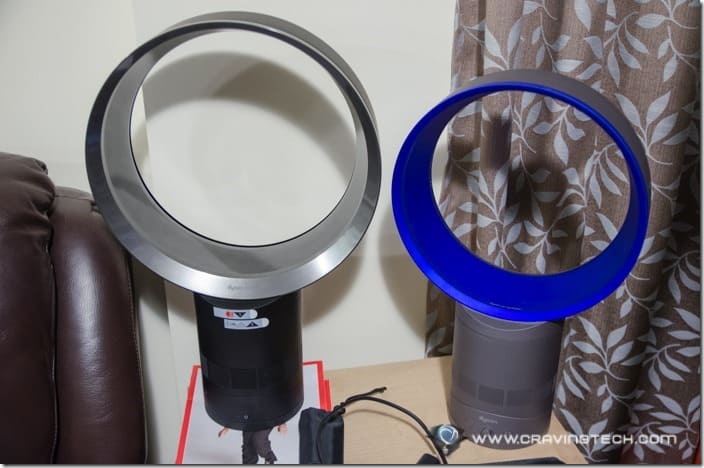 Design wise, there isn't much change from what you can see (apart from being bigger than the original Air Multiplier – see my comparison shot above), though the internals have been tweaked heavily by 65 Dyson engineers to make the fan much quieter (without reducing performance). The Black/Nickel model that I have looks really gorgeous and fits well in any parts of my house. Place it on any desk or cabinet, and you have yourself a great eyecatcher. You can also grab the Iron/Blue or White/Silver version if that suits your home better.
Just like the original, Dyson Cool has no spinning blades which makes it safer and also easy to clean. Even with babies and kids around, Dyson Cool can be placed on the floor if you wish. It's safe to touch any parts of the fan while it's operating. When it gets dusty, pick a damp cloth and wipe. Conventional fans are harder and troublesome to clean.
Unlike the original AM01 however, there is only 1 control button located on the body – the power button. Every other controls have to be done via the remote. I actually dislike this change because I may lose the remote control at some point. Thankfully, the magnetised remote can be placed on top of the machine and will pretty much stick itself on the surface. Still, most people will probably place the remote next to their bed and it can go missing at any point. In fact, I'm starting to wonder where I place the remote for my Dyson Hot. Then, there is that little hassle having to change the battery at some point.
You can tilt the fan for the perfect angle you like before or after you turn the fan on:
With the remote, you can change the intensity level of the airflow produced (10 airflow settings), oscillate the fan, and (new to the Dyson AM06) sets the sleep timer. You can set it to sleep after 15 minutes to the maximum of 9 hours. It's a great additional feature that Dyson fans will love.
How quieter is the Dyson Cool, compared to the original Dyson Air Multiplier?
In paper, 75% quieter. In real life, more like significantly. I'm not expecting a big difference but the difference is indeed, huge. On lower settings, the noise is almost negligible (sounds like a computer fan). This means you can use a higher setting to cool you down faster. The noise is not completely gone, of course, but owner of the original Dyson fan will feel it. At its highest setting, the fan can still be considerably noisy.
I'm not going into technical details explaining how Dyson can achieve this (as it can get pretty technical), but feel free to watch this official video from Dyson below if you are curious. It's definitely worth watching.
So what about the claim of having a lower power consumption? Well, let's put the Dyson Cool to the test using the Belkin Conserve Insight. Note that this may not be the most accurate way to measure the power consumption but still interesting, nevertheless.
On the original Dyson Air Multiplier (AM01), the fan consumes around 28.7 Watts (equivalent to paying $3.73 per month) at its highest setting. The Dyson Cool, on the other hand, only consumes 22 Watts (equivalent to paying $2.85 per month).
If you turn the fan oscillation on, the power increases slightly to 24.7 Watts, equivalent to paying $3.21 per month.
With the oscillation off and power setting of 5, the Dyson Cool consumes only 10 Watt of power, equivalent to paying $1.31 per month. I'm pretty sure most conventional fans draw much power and doesn't perform as good as a Dyson fan (wind buffeting, unsafe blades for kids, etc).
Dyson Cool Review Conclusion
Dyson has significantly reduced the noise of its bladeless fan and that changes a lot of things. Thanks to a quieter machine, you will want to use the fan more often without too much distractions. Babies and pets will be happier with the reduced noise. You can now boost the power higher to cool your room faster. Those engineering tweaks to reduce turbulence also mean that you pay less electricity fee per month. That should make everyone happy.
The minimalist design change does mean that you need that remote control at all times, however. You'll also still have to pay premium for the fan, which may not be affordable for some.
Overall, Dyson Cool is now cooler: cooler looks, cooler technology within, and gives you a cooler room (since you can crank the power up with less noise compared to the original). I would suggest to try it on a store before you make a purchase, to make sure that you are happy with the fan noise.
Disclosure: Review sample was sponsored for the review but all opinions are 100% mine
[AMAZONPRODUCTS asin="B00I8R4UFS"]