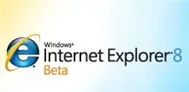 Microsoft has just released Internet Explorer 8 (IE8) Beta 2 on its site. If you have IE8 Beta 1 installed on your computer, then I'd suggest upgrading to IE 8 Beta 2 as it is more stable and gives more nifty features.
So what's new?
Microsoft Internet Explorer 8 Beta 2 Changes

You can see the whole list of features explanations on the MSDN blog, but I'll try to cover a few on this post based on my own impressions.
IE8 InPrivate Browsing Feature
Similar to Safari's Private Browsing feature, Internet Explorer 8 is introducing "InPrivate" browsing. According to this MSDN blog post, this is what InPrivate Browsing does:
New cookies are not stored

All new cookies become "session" cookies
Existing cookies can still be read
The new DOM storage feature behaves the same way

New history entries will not be recorded
New temporary Internet files will be deleted after the Private Browsing window is closed
Form data is not stored
Passwords are not stored
Addresses typed into the address bar are not stored
Queries entered into the search box are not stored
Visited links will not be stored
This feature will be useful especially on demo computer shops and libraries where you may want to hide your cookies, session keys, passwords, and URLs away from other people who may use the same public computer that you are using at that time.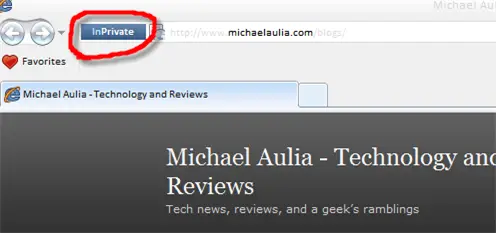 Turning it off is a bit hard, though. You have to close the whole browser and open a new one. Wish we can simply click on that "InPrivate" tag to turn it off easily.
IE8 Auto Tab Coloring
No, this is different than Mozilla's Firefox ColorfulTabs Extension. IE8 will actually color the tabs according to its "functionality". It will be colored and grouped based on how that new tab is created and linked to each other. So for example, if you type in a URL directly, it will be colored Blue (default). However if you open the tab from a search on Google, it will be colored Green, etc. See screenshot below:

As you can see, they are colored differently (the darker green tabs are created from search engines). The funny bit though, if I move a tab around, it seems to change color based on the previous tab. It makes this feature kinda funny/useless.
So if I moved my 2nd tab (that I directly typed on the URL bar), the color is not supposed to change:

It still is a welcome feature and I'm sure they are going to tweak it to be better on the final release! Moving on!
IE8 Suggested Sites Feature
This is a great feature, if it works all the time. I tried this feature about 5 times and only managed to get 1 successful attempt. Basically, if you are browsing on a site, you can click on the "Suggested Sites" button on the IE8 toolbar and it will suggest you on other similar sites that you are currently viewing.
Sometimes it suggests sites based on your previous browsing experience (I went to Google Analytics before to check my blog stats and it seems that IE8 still thinks that I have it opened)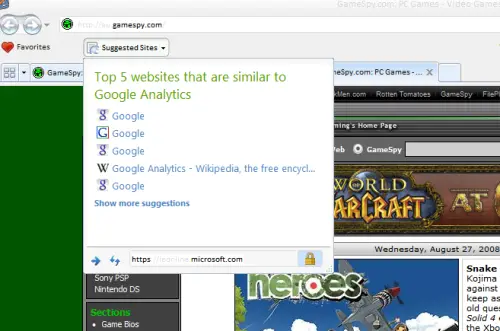 For other complete list of features and explanations, feel free to go to the MSDN blog page that I told you earlier on this post.
Should you upgrade to Microsoft Internet Explorer 8 Beta 2?
If you have IE8 Beta 1 installed, then the answer is a definite yes. If you are still using Internet Explorer 7 and you think that it doing its job for you, then you may want to reconsider. It does give you more features, stable, and secure, but if you are a non-techie person who doesn't like to install Beta programs on your computer, then don't. Although IE8 has a "Compatibility" feature (turn on IE7 "emulation" mode), you may just want to be safe by staying with IE7.
Beware though, if you have installed IE8 Beta 1 prior to updating your Windows XP to Service Pack 3, once you install IE8 Beta 2, you can't uninstall it anymore. You will be able to upgrade it to the final, but you can't uninstall it. More details here.
If you are using other browsers (I use Mozilla Firefox 3), then you can give IE8 Beta 2 a try, but I don't think it will make you move (you can also read my post on why I think Firefox is still better than Internet Explorer).