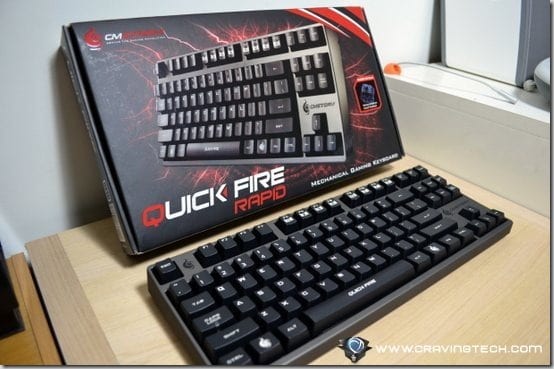 CM Storm Quick Fire Rapid review – Thanks to the current trend, we can now see all latest gaming keyboards are equipped with mechanical keys (Cherry MX Switches). Mechanical keyboard provides the best typing and gaming experience compared to the old and standard keys. CM Storm Quick Fire Rapid is the first gaming mechanical keyboard from the CM Storm product lines and here at Craving Tech, I was blessed to be able to give this a whirl and dish out my opinions about it.
So let's get into the specifics of CM Storm Quick Fire Rapid.
CM Storm Quick Fire Rapid Review – Packaging
One thing that I noticed straight away is how compact this gaming keyboard is. This is because the CM Storm Quick Fire Rapid does not have a NumPad (Numerical KeyPad) and also a wrist rest, but more on these later.
The packaging includes:
Quick Fire Rapid keyboard (mine is the Cherry MX Black version – read about the mechanical keys differences in a mechanical keyboard).
The CM Storm Quick Fire Rapid is also available in Cherry MX Blue and Red.
Removable braided USB cable (yeah, it can be detached from the keyboard!)
6 custom key caps in red
Keypuller (to pull the keys out of the keyboard)
USB to PS2 adapter
Manuals etc
CM Storm Quick Fire Rapid Review – Unboxing Video
CM Storm Quick Fire Rapid Review – Design
As mentioned in the earlier paragraph, the keyboard is fairly small in design, which means it is quite portable. If you are a hardcore gamer, you might want to bring your favorite keyboard with you (especially if you are going to a tournament or a LAN party). Or perhaps even if you are going to your girlfriend's house, then you'll love having your CM Storm Quick Fire Rapid with you at all times to play games (not sure if your girlfriend will be happy though).
The USB cable is detachable with some sort of cable management design underneath the keyboard: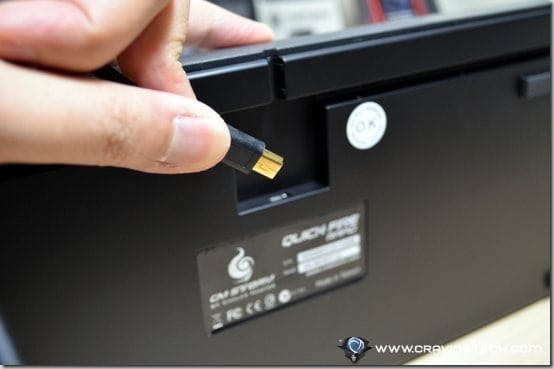 The compact size is made possible because CM Storm Quick Fire Rapid does not have a NumPad and also a wrist rest. That's right. This gaming keyboard is definitely geared towards gamers alike (but maybe not a gamer who is an accountant?). Without a NumPad, the mouse can be sat in a more comfortable position (at the center of my monitor along with the keyboard), which is why their designers chose this design: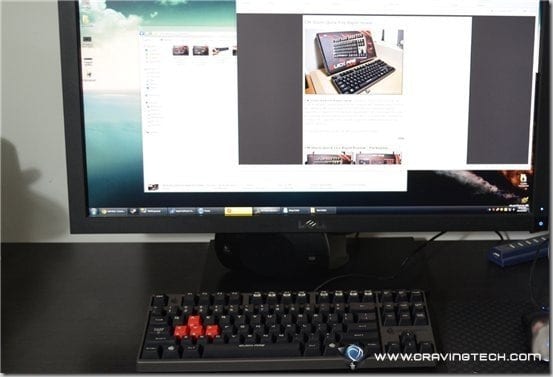 There are media control keys (the F keys), are accessible by pressing a Function button. There is also a Windows key lock Function, to make sure that you don't accidentally press that pesky Windows key while trying to crouch and shoot at the enemy in front of you (Oh, how annoying it would be!).  This is a great design because some manufacturers choose to move the Windows key somewhere else (which I dislike). This way, you can use your keyboard for non-gaming purposes but at the same time, you are protected for accidental presses while you game. There is also a red LED to make it easier to spot whether you have this Windows lock on or off.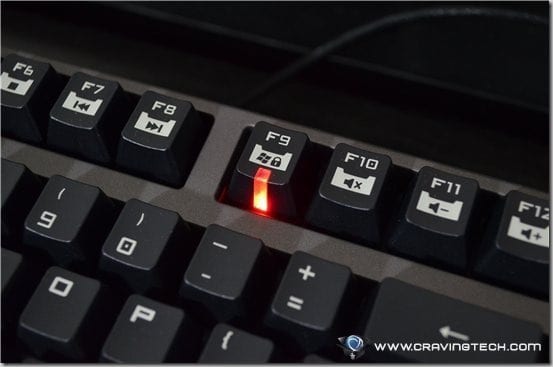 The same LED is also located on the Caps Lock and Scroll Lock buttons: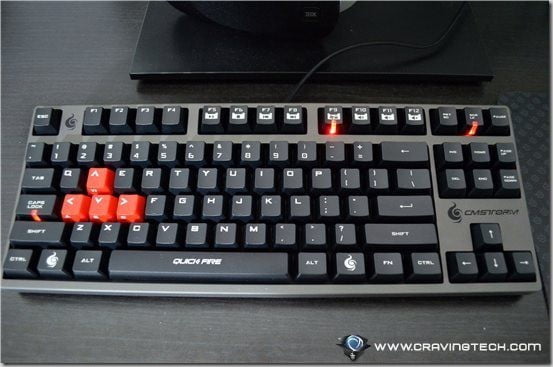 The keyboard surface is non-glossy and rubber coated, making it finger-prints free and have a nice feel to it.
CM Storm Quick Fire Rapid Review – Impressions and Opinions
As for the keys layout and all that, I have no complaints because I like the tactile feedback of the keys (thanks to the mechanical switches) and the media controls are also accessible with just one hand, unlike a couple of mechanical gaming keyboards that I reviewed before. The keycaps are laser marked and they are in easy-to-read yet funky fonts.
The W-A-S-D keys can be replaced with the included keycaps in Reds, which make the keyboard look sleeker.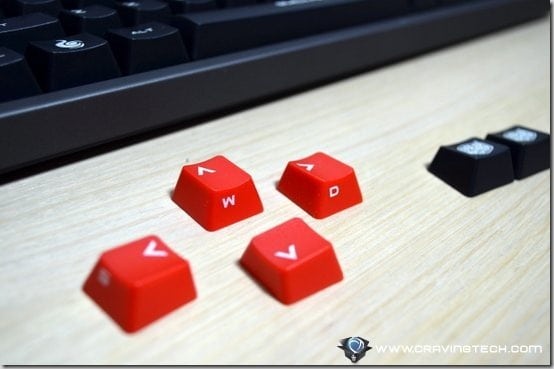 After doing my unboxing video for the CM Storm Quick Fire Rapid, my first move was to replace the keys with the sexy red keycaps. The keypuller is really easy to use and in minutes, I already managed to replace my W-A-S-D keys without a sweat:
As the CM Storm Quick Fire Rapid is designed without a NumPad, it's practically harder to enter numbers such as your passwords, account numbers, or doing any Spreadsheet operations. Depends on how often you use the NumPad (if at all), then the CM Storm Quick Fire Rapid may or may not be for you. The first few days of using the keyboard, I often pressed the non-existing NumPad's Enter key, thinking that it was there. At such, it will take some time to get used to, unless again, if you rarely use your NumPad on your old keyboard. Still, I would prefer them to at least include a detachable NumPad like the Microsoft SideWinder X6, though it may come with an extra cost.
Apart from the NumPad, there are also some components missing from the traditional gaming keyboard: a wrist rest, backlighting, and macro keys. Depends on whether these components are important to you, then you can comfortably get the CM Storm Quick Fire Rapid because of its low and affordable price.
CM Storm Quick Fire Rapid Review – Conclusion
Though the CM Storm Quick Fire Rapid does not have any dedicated macro keys (or any macro recordings), NumPad, backlighting, and other bling-blings, it is one of the cheapest gaming mechanical keyboard out there. It also has multimedia controls  and a Windows key lock function, so you can game without any worries.
The size of the keyboard is really compact and the braided USB cable is also detachable, which makes it portable in case you need to carry it around to a LAN party or tournament.
Overall, it's a good all-around mechanical gaming keyboard (with an option of different Cherry MX switches to your preference) without any extra bling-blings at the most affordable price compared to the other gaming mechanical keyboards out there. For hardcore gamers who want to get the ultimate gaming keyboard, however, they need to look elsewhere.
Note: CM Storm Quick Fire Rapid review sample was provided for the review
CM Storm Quick Fire Rapid Review – Pros
+ Mechanical
+ Comes in either Black, Blue, or Red Cherry MX switch
+ Compact, portable with detachable USB cable
+ Good keys layout and material feel
+ Multimedia controls and Windows lock
+ One of the cheapest mechanical gaming keyboard out there
CM Storm Quick Fire Rapid Review – Cons
– No NumPad
– No macros or gaming profiles
– No other notable features such as a wrist rest, backlighting, USB slots, macro keys, etc