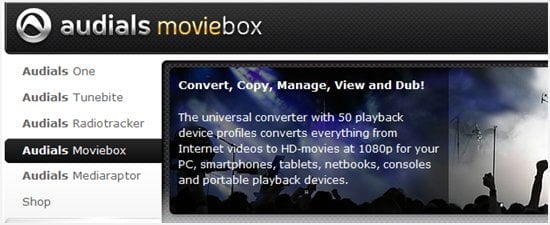 Audials Moviebox licenses giveaway – The latest product from RapidSolution Software is aimed for the movie lovers and who doesn't love watching movies? Back in the old days, we were restricted to watch movies on a disc (or VHS tapes a decade ago). However, since we are living in a world where the internet has the bandwidth to deliver HD quality contents, we can now watch our movies in digital format, through online streaming.
This opens many possibilities such as watching, renting, or buying movies online through the internet. Audials Moviebox helps you to keep a backup of what you buy online and offline (and even record anything you watch over the air)!
Audials Moviebox Features
Backup DVDs without any loss of quality
Record both protected and unprotected movies
Convert one video format to another (you can even convert them in batches, check my own test below)'
Optimize the converted video to be played on your iPhone, iPad, iPod, PSP, Nintendo DS, and many others
Extract just the audio from a video file or stream
Save video streams from YouTube, iTunes, or Video-on-Demand services easily while you watch
and tons more features that you can have a read yourself at Audials Moviebox features page.
Saving videos are very easy when I tried to save a couple of YouTube videos. Simply turn the Record button on and start browsing YouTube with your browser as you normally do. Upon watching a YouTube video, you'll notice the video title starts to appear on Audials Moviebox.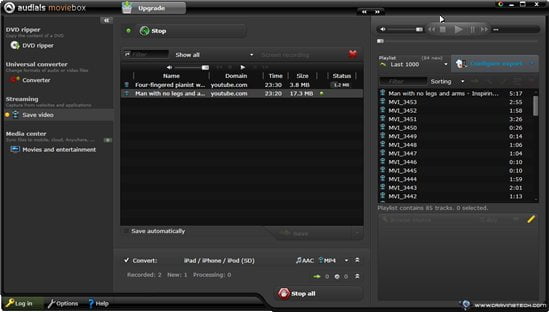 I can then simply instruct the software to save the video to my machine, plain and simple.
Audials Moviebox video  conversion feature is also superb. I had a 24 GB worth of videos in total to be converted (about 80-ish files) – which were our upcoming church's movie project's audition videos. Using Audials Moviebox, I can simply drag and drop the whole files (or a folder) into the interface and simply click one button to convert them in batch! And here I was, thinking that I should do it one by one and had to wait for them to finish.
With Audials Moviebox, you simply select the type you want to convert them into and leave it running in the background. In the end, I could get around 2 GB in size compared to the original 24 GB!

Now I haven't tested the software for backing my DVD movies up and recording protected/unprotected movie streams from iTunes, but I'm sure it will be a no brainer to use.
Overall, the interface is pretty simple to use and sleek too.
Audials Moviebox Licenses Giveaway
Alright, so I'll stop talking and here is how you can win 20 (that's right, TWENTY!) Audials Moviebox licenses here at Craving Tech!
How to win one of 20 Audials Moviebox licenses
Like both Audials Software and Craving Tech on Facebook.
Answer the following question: What will you use Audials Moviebox for if you win and why?
(Optional) Share this great giveaway to your friends!
Twenty people with the best answers will get the Audials Moviebox license in their inbox :)
Terms and Conditions
Eligibility: Worldwide.
The prize (Audials Moviebox license) is worth at $24.90 per license.
Giveaway starts on 16/11/2011 6:30 PM AEST until 30/11/2011 6:30 PM AEST, where the winners will be picked.
Winners will be notified by email (that you used in the comment form)
Prizes cannot be redeemable for cash or exchanged.