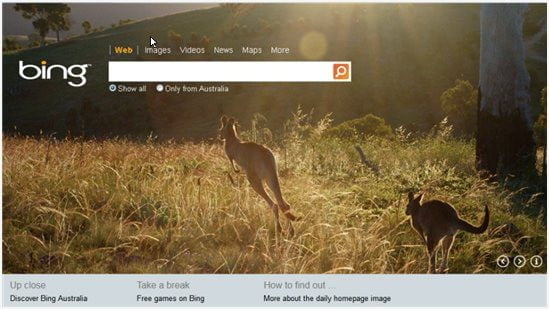 Microsoft Bing out of Beta – After more than 2 years of localisation and product development since the Australian launch, Microsoft Bing (the search engine) has now been officially out of Beta.
The beta tag has been removed today, the 15th of November 2011, after more than 2 years of testing and updates to make sure that Australian deserves the best of the best out of Bing. It even has the Kangaroos on the home page for Australians.
Some of Bing Key Features:
Task Oriented (get better results with less search queries)
Visually Organised (a picture is worth a thousand words)
Why the need to localise Bing to the Australians? That is because it enables Bing to gives more relevant information to address Australian-specific search needs. For example, there are now more than 1,000 Australian attractions in Bing 'attraction feature'  and 1.25 million Australian local business listings in Bing Local.
The removal of the Beta tag was marked with a very Australian custom home page (pictured above) featuring kangaroos in the sunset.
And – for those with a HTML-5 enabled browser, from Wednesday 16 November the Bing video homepage will come to life in Australia.
Do you search with Bing? Or are you still "loyal" to Google?