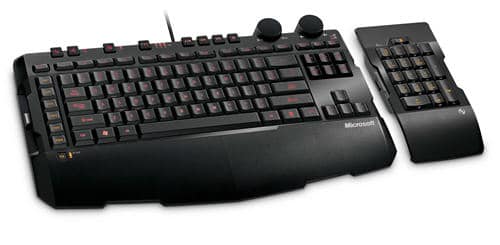 The Microsoft SideWinder X6 Keyboard is the ultimate gaming keyboard from Microsoft. Compared to Microsoft Reclusa (which is powered by Razer), the SideWinder X6 is truly a Microsoft product. With features made for both gaming and productivity work, the Microsoft SideWinder X6 is a keyboard that stands between the two worlds. However, it is very clear that the keyboard is more focused for gaming enthusiast as you can see from the keyboard features, especially the extensive Macro support.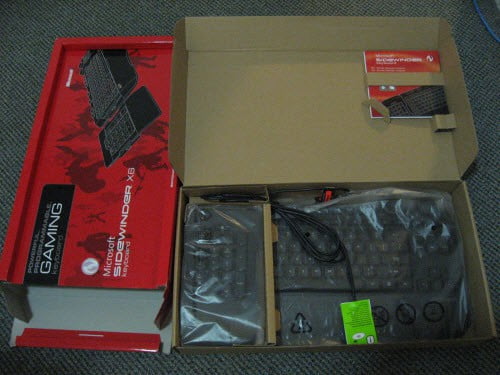 Microsoft SideWinder X6 Features
Switchable Key-Pad.
The Keypad can be easily detached and re-attached from the right side to the left side of the keyboard (check the first screenshot). Since most games nowadays use the W-A-S-D navigation, switching the Keypad closer to your W-A-S-D controls makes much more sense. When switched to the left (gaming mode), the Keypad keys are programmable as game Macros.
Adjustable Backlighting.
Through the "magic knob" on top of the keyboard (called the Lighting Dial), you can adjust the backlighting intensity of the keyboard easily. The keyboard keys will be red-lighted and the Macro keys will be amber-lighted. This way, it'll be easy to distinguish which keyboard keys are used for Macros.

The keyboard buttons

Media Control Keys
Play/Pause, Mute, Next and Previous track Keys which are standards on keyboards nowadays.
Volume Dial
Instead of the traditional up and down volume button, the SideWinder X6 has a large Volume Dial knob which is a big bonus. When you are on the Windows Desktop screen, you can see the volume bar on bottom right of the screen while you are adjusting the volume using the Volume Dial.
Built-in Macro Keys.
The SideWinder X6 has built-in Macro keys (apart from the Key-Pad keys) and allows you to assign up to 90 Macro customizations!
Mode Switching.

You are allowed to switch between the default/standard and 2 Gaming modes. You can assign different macros on different profiles/modes. For example you might want to assign Windows shortcuts to the S1 Macro Key on the Standard profile but something else in the Gaming profiles.
If 3 profile modes don't sound enough for you, how about assigning different profile/macros for different games? Through its included simple software, you can let it automatically detect which game you are playing on and it will retain all macros that you've done on the Macro keys for that specific game. Nice, eh?
Cruise Control.
Going to take a sip of wine but don't want to waste time letting your MMORPG character to stand idle? You can use the Cruise Control to let you release your middle finger from holding that "W" key. Some games have a Cruise Control (for example you can press the NumLock button on Warhammer Online to achieve the same thing) but other games don't. I'm not sure whether FPS gamers will ever use this though. The button is also a bit too far from the W-A-S-D controls, in my opinion. Thankfully you can assign yourself a Cruise Control by recording it on the macro (for example, I record a macro to hold the CTRL button indefinitely to duck in FPS games). If you are feeling lazy, you can also record your journey from 1 city to the next in an MMORPG game and really feel the power of a real Cruise Control!
In-Game Macro Record Button.
This is probably the best feature in Macro recording that I've ever encountered before. On my SteelSeries Ikari Laser mouse, I can assign a few macros to it but I have to record it first through its software. With Microsoft SideWinder X6, I can record it live as I want it to do. This makes creating Macro much easier and less mistakes will be made. For example, instead of pressing 4 and holding my left mouse button to heal on Valve's Left 4 Dead game, I can press the Macro record button, do it once to record the presses and timing, and save it to a Macro Key. I then only need to press that Macro Key once to do the healing with the correct timing and everything.
Microsoft SideWinder X6 Macros in Detail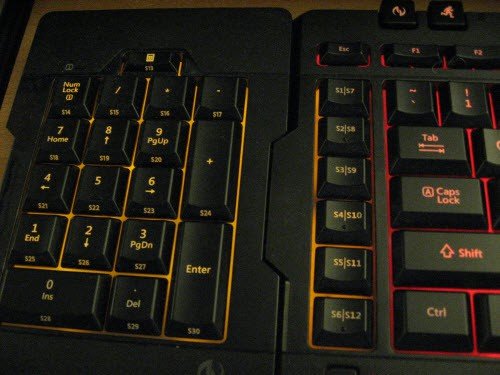 As mentioned on the features lists, you can assign sets of button presses (combined with mouse clicks) with the SideWinder X6 Macro keys. Now I'm quite a hardcore gaming geek but I never found the need of using Macros before. Since I already have a keyboard that emphasizes on having great Macro features, I've decided to dig in deeper and tried to use some Macros on my gaming sessions. Turns out that having Macros is not necessary but it will enhance your gaming experience much further if used correctly.
Left 4 Dead Macros examples:
Type "Helpppp" whenever you are being pounced by a Hunter or pulled out by a Smoker (use the application rather than in-live Macro recording to instantly display all the letters)
Heal up with the Health Pack/Medikit without pressing 4 and holding your mouse button and say "Wait, I'm healing..".
Other FPS Shooters Macros examples:
Selecting/buying certain weapons/equipments at the beginning of the round through some keyboard presses. You can assign different Macros for different sets based on your current money in game.
Duck indefinitely. Tired of holding that Control button for a whole minute? Record it through the X6 SideWinder's application and only press the key once.
MMORPG Macros examples:
Do a series of spells/abilities/skills in succession of your choice on certain timing by pressing a button. You can even customize each Macro button for a duel fight with different characters' classes.
Auto chat messages like: "Ignore that tank, go for the healers!!"
The ever popular "Heal pls". Now you can spam it in front of a Healer by simply pressing one button. Isn't that great?  :D
Or how about "Thank you for healing me, you are so nice!" by simply pressing one Macro Key. Makes them think that you are a caring person by typing those words (little that they know it's actually pre-recorded).
Or you can even use Macros in applications such as assigning a series of effects in Photo editing applications (especially those repetitive ones like resizing images, applying certain brightness fix, etc). It's extremely useful if you are doing the same thing/effects regularly.
The Macro buttons are located at the left side of the keyboard and named "S1", "S2", and so on. Although the Macro keys have an amber light underneath them to distinguish themselves from the ordinary keyboard keys, there is nothing to indicate which Macro keys have been assigned and which aren't. Would be cool if keys that have Macro recordings on them can be lighted green, for example. There is also no indication as to what a Macro Key has been assigned for unless you check it on the application. So make sure that you remember which Macro keys supposed to do what pre-recorded actions.
The Macros are unfortunately not stored on the keyboard itself so if you are bringing your lovely SideWinder X6 to a LAN party or competition, you have to install the program first (something that you may not be allowed to on public computers) and import the saved settings.
Microsoft SideWinder X6 Keyboard Review Conclusion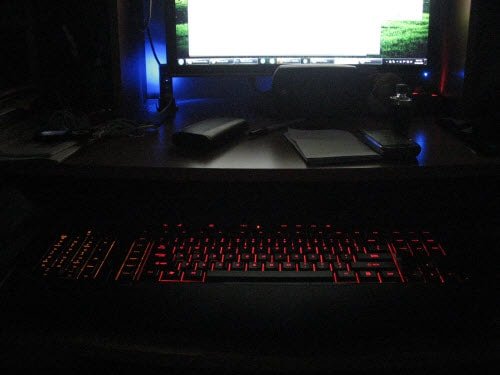 Microsoft SideWinder X6 is a macro heaven for hardcore gamers who know how to effectively use Macros in their gaming sessions (apparently if you look at my examples, I haven't fully utilized the use of macros in my games). Apart from the full macros support, the SideWinder X6 is perfect for gamers because of the keyboard backlighting, switchable keypad, automatic disable of the annoying Windows key while gaming (on Profile 2, 3, and the auto detection profiles), and fully programmable Macro actions through the application that comes with the keyboard.
Apart from the Macros, the keyboard is not really the ultimate gaming keyboard yet. I wish the keyboard has a microphone and headphone jack so that I don't need to plug-in my microphone to the back of my computer anymore when I'm playing games (or at least have one USB slot). I wish I can double tap a keyboard key quickly to initiate the Cruise Control. I wish the keypad has a Bluetooth connection so that I can disengage the keypad and it will still work separately. Of course, all of this are possible but at an expense of a more hefty price for the keyboard.
If you love using Macros in your games, however, you should grab Microsoft SideWinder X6 indefinitely. It has tons of macro keys that you can use and the automatically set to separate profile for different games will come in handy!
Microsoft SideWinder X6 Keyboard RRP: AU$149.95.
Microsoft SideWinder X6 Pros:
+ Lots of Macro Keys available for those Macro maniacs.
+ Red Backlighting for ultimate gaming during the night with the lights switched off.
+ Volume Dial knob to adjust volume.
+ Detachable KeyPad and can be switched to the left or right.
+ Can record Macros during gameplay or on-the-go.
Microsoft SideWinder X6 Cons:
– Take some time to get used to the smaller keyboard keys.
– KeyPad buttons don't work while detached.
– Have to remember which Macro buttons have what recordings in them.
– No USB slot or Audio/Microphone jack on the keyboard.