SanDisk Ultra II SSD Review – SSD (Solid State Drives) offers solid and fast performance compared to the old HDD (Hard Disk Drives). The speed boost is so significant that you'll never want to install your main operating system (ex: Windows) on an HDD anymore. Even most laptops nowadays are powered by an SSD for an instant sleep and wake-up.
The only problem so far is that SSD is still quite pricey compared to buying an HDD (which gives you more storage space at the same price). SanDisk realise about this problem and it's one of the reasons why they've decided to launch a cost-effective Solid State Drive, the Ultra II, without compromising on performance and reliability.
On paper, the drive gives a solid 550MB/s read speed and 500MB/s write speed. Now, compare that to my old HDD that could only deliver about 128MB/s read and write speed. The difference is of course, night and day. Getting into Windows only take around 10 seconds and everything else runs snappier – photo editing in Adobe Lightroom, opening multiple applications at the same time, and desktop responsiveness overall.
SanDisk Ultra II SSD comes in different capacities: 120GB, 240GB, 480GB, and 960GB – so you can pick the one that suits you best. At the lowest entry (120GB), the drive only costs around $110 ERP, but if you use the staticice.com.au site, you can find one priced at around AU $75-80. That's a real bargain!
Compared to the older SSD I'm using for my main operating system drive, the Kingston SSDNow V+200, SanDisk Ultra II SSD is cheaper and slightly faster.
Running CrystalDiskMark benchmarking software
SanDisk Ultra II SSD 240GB:
Compare it with Kingston SSDNow V+200 240GB:
From SanDisk document, here is another comparison test (using Uncompressible data) with a few competitors' SSD:
The speed, the price, and performance of SanDisk Ultra II SSD are second to none. For those who are still using a HDD in their system, this is definitely a good incentive to make the switch! The Ultra II SSD from SanDisk is not expensive and it delivers fast and solid performance for your main operating system, or just when you need a boost of speed for the applications that you want to run on. It also comes with a 3-year warranty from SanDisk.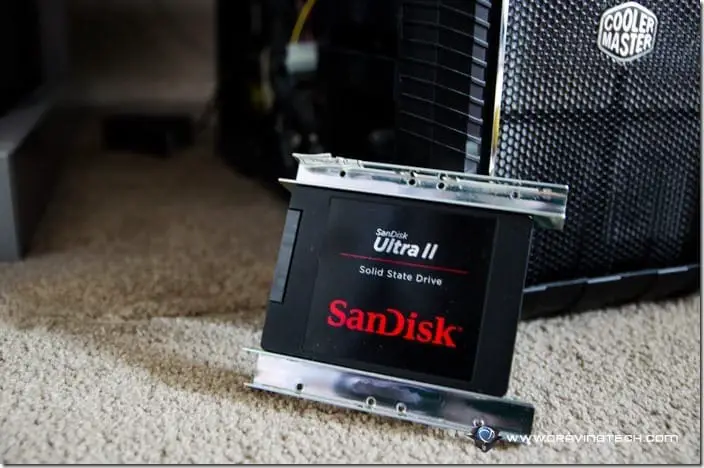 With SanDisk Ultra II SSD 240GB to run my Windows 8.1 and the Extreme Pro 960GB to run my games, I'm in gamers' heaven.
Disclosure: Sample was sponsored for the review but all opinions are 100% mine
[AMAZONPRODUCTS asin="B00M8ABEIM"]