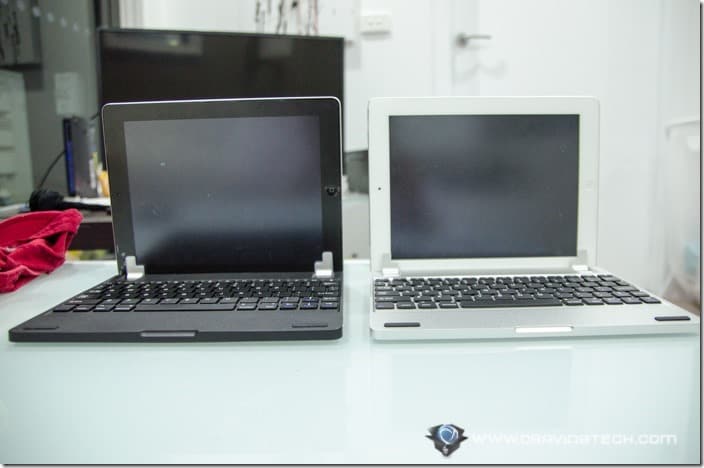 Brydge+ iPad keyboard review – When a KickStarter project had about $800k pledged even with a $90k goal, you know that it's going to be big. And it is. Brydge+ keyboard case is not just another keyboard case. It is an anodyzed aluminum keyboard for your iPad, with Apple-like quality.
We already have lots of keyboard cases in the market nowadays, so what makes Brydge+ keyboard case special? For a start, take a look at its aerospace grade aluminum look and feel with a hinged design a la laptop/MacBook. It artificially transforms an iPad into a "MacBook Air", running iOS with touch screen capability.

Official video of the original Brydge (not the Brydge+ version, but gives a good overview about what it does):
This attractive and stylish keyboard case is not just for the looks. The keys on the keyboard have great tactile feel and increase your typing experience by tenfold on the iPad. There is also a Brydge+ version with speakers included on the body of the keyboard case. It makes movie watching and music listening experience a blast on the iPad. You shouldn't expect the sound quality to be on par with a dedicated portable speaker like the Creative Sound BlasterAxx AXX 200, though.
Both the keyboard and speakers have to be paired separately, though can be done simultaneously. Both "Brydge Keyboard" and "Brydge Speaker" would come up on your Bluetooth device pairing screen on iOS.
The hinge, made from metal alloys and magnets with a thermoplastic elastomer shell, holds the iPad sturdy once attached to it. Unlike the other cases out there, you can even hold the iPad in the air and the keyboard case would still stick. As a result, pulling the iPad out of the hinge requires a bit more effort.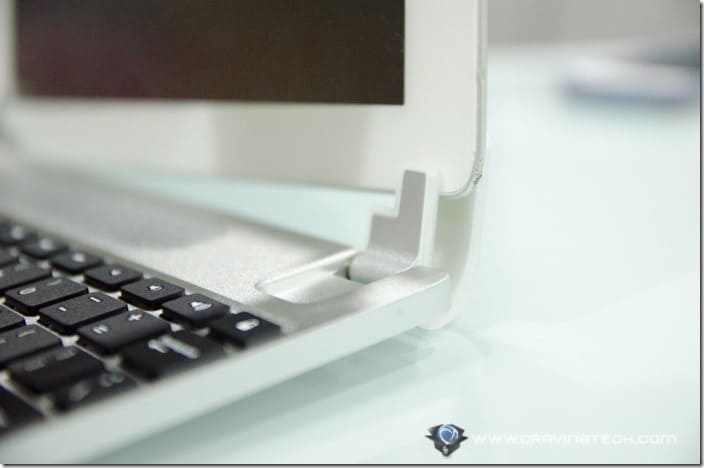 The hinge gives a variety of angle (close to 180 degrees) so you can get a perfect iPad positioning in different situations (such as when you are typing on your lap or watching movies on the desk). I rarely see this flexibility on the other iPad keyboard cases I've reviewed so far (most of them only give you a few angles to work with).
As for typing experience on the keyboard, it rocks. I love the tactile feedback on the keys and I find that I can type really fast. The keys don't feel cramped, except for the right Shift key (which is made smaller than what I'm used to). There are hotkeys on top of the keyboard which can be used to control the iPad's brightness level and a few other functions. Overall, it feels as if I'm really typing on a real MacBook Air.
According to their team, the battery on the keyboard should last around several months (when the speakers aren't used). Of course, this depends on how often and how long you are using the keyboard for. There doesn't seem to be an indicator on how much battery is left, however. In case of an emergency though, you can always carry a portable charger and charge it on-the-go via microUSB.
If you don't want to spend $149.99 for a keyboard case with speakers, you can get the speakerless version for $10 cheaper ($139.99). Or for a much cheaper solution, you can grab the same keyboard design with cheaper polycarbonate material for just $99.99. For students and the budget-conscious, you should grab this model. Despite it being cheaper, it still looks good and elegant.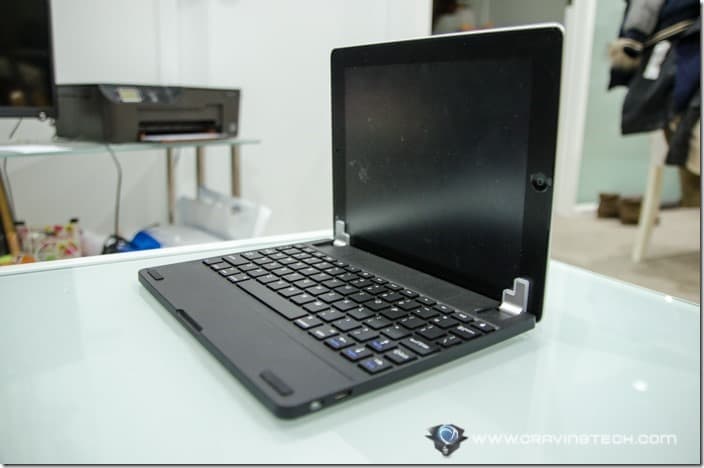 The keys have the same feel and you'll get the same experience. In some ways, the look-and-feel matches quite well with a Black iPad.
To get a complete front and back protection, you can grab the neoprene carrying case at $19.99. This can also be used to carry a different tablet, e-reader, or other accessories too.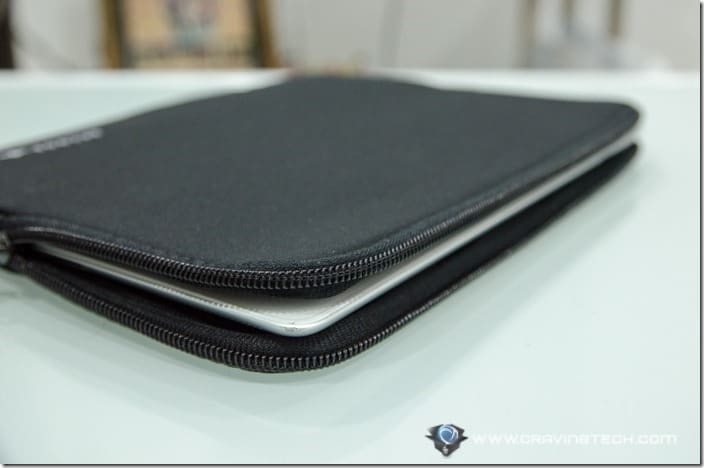 The Brydge+ keyboard cases are compatible with iPad 2, 3, and 4 (with different hinges supplied) only. The team is still working on the iPad Air version at the moment so we'll keep you posted when it's done.
Overall, I'm in love with Brydge+. Though there are similar keyboard cases out there, Brydge+ shines the most in terms of aesthetic. It is as if Brydge+ is being made by Apple themselves. Be prepared to be asked lots of questions by strangers when you let Brydge+ out of the bag.
Disclosure: Review samples were sponsored for the review. All opinions are 100% mine