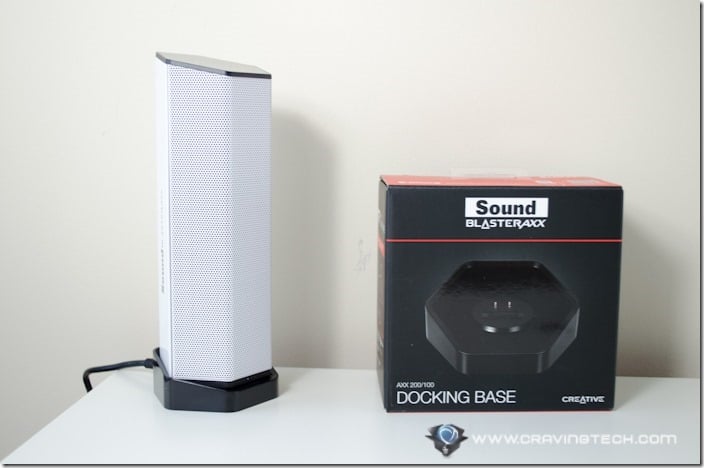 I honestly don't really know how to start writing my review on the Sound BlasterAxx AXX 200 portable speaker from Creative Labs. In fact, to call it just a portable speaker is an understatement. For a start, a multi-core audio processor, SB-Axx1 chipset, is actually powering the whole thing within. It enhances the audio output in real time, as if you are carrying a mini PC with you. Then, there are things it can do that will make you shake your head in disbelief.
What I have here, is not just any portable speaker that you've ever read or seen.
I wish that you can listen to the sound quality coming from the AXX 200 yourself. Writing about how good the sound quality is, can't do it justice. I especially love the clarity of the vocal. Hearing songs like "Your raise me up" can send shivers down your spine with AXX 200, which I didn't expect from a portable speaker at all. I hook the AXX 200 to my PlayStation 3 which makes my games sound much better (such as hearing the music scores in Final Fantasy XIII-2). Listening to music coming from AXX 200 while you close your eyes is a truly golden experience.
Speaking of which, I probably should mention all the ways to connect and play music via the AXX 200:
Bluetooth
NFC
3.5mm audio cable
USB (to be hooked up to your laptop, for example)
microSD
Simply put, there is nothing left to complain about here! It even has a headphone jack, in case you want to stream the audio output privately into an earphone/headphone.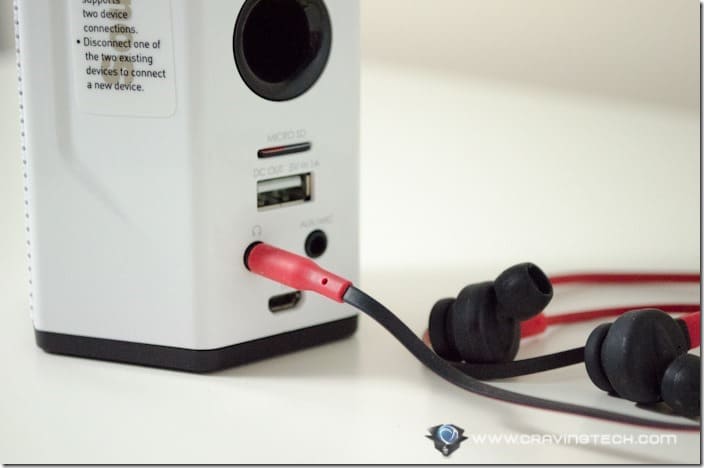 The volume can be set really loud. And I mean, LOUD. In fact, for easy music listening in a room, most of the time you probably won't even set the volume higher than a half (or even a quarter). For partying or outdoor purposes, you can crank the volume up comfortably without loss of quality.
The AXX 200 actually has microphones (quad microphone array), designed specifically for teleconferencing and voice recording. You can use the AXX 200 for calls and it can even enhance the quality of the calls. With CrystalVoice, for example, the AXX 200 can suppress other noise and focus on enhancing your voice alone. The microphone array can also pick up voices within 360 degrees, which is ideal for teleconferencing or while you are walking around in a room.
You can also use it as a karaoke machine as it can record your voice during a call or when you just feel like singing. The voice recording will be stored within a microSD (in .wav format). When I tested, the recorded sound was loud and clear (tests were conducted inside my quiet bedroom though). If you don't feel like singing, you can also store music files inside the microSD and let AXX 200 play them. There are accessible controls on the back of the unit for music playback and voice recording. Switching between recording and music playback are pretty much seamless, though it may take a couple of seconds to trigger.
On the top of the device are soft-touch controls, including the volume slider (similar to their ZiiSound D5 that I reviewed back in 2010). The volume are in steps unfortunately, so you can't really get the exact volume level that you want sometimes. Not really an annoyance, though.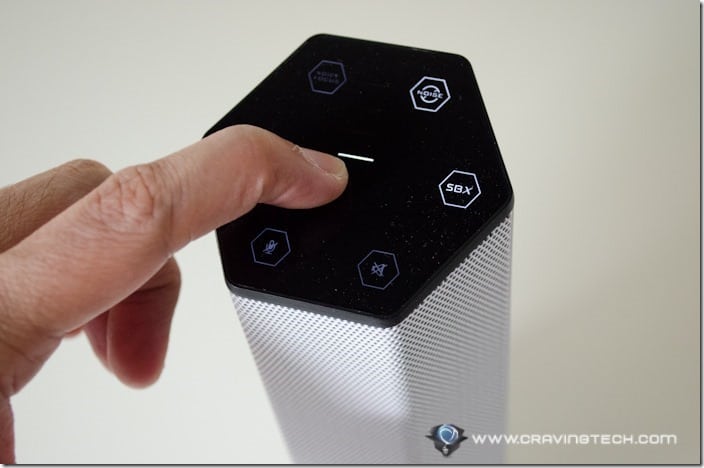 If you think my review stops here, you are wrong. There are just other tons of things to talk about but no way can I cover them all here – but I'll try anyway.
The AXX 200 is powered by a lot of technologies to deliver the best sound experience possible for music, calls, games, and movies. Most of these technologies are being executed or processed real-time, which makes the AXX 200 unique and can only be made possible through the SB-Axx1 quad-core processor.
Then, there is this crazy megaphone mode that is fun to play with. Yes, you read it right. A megaphone feature. I would definitely consider bringing this to our Easter camp next month so the committee don't have to shout any longer while they explain the rules of a game. There is also the fun factor here where you can morph your voice on the fly to be an Orc, a different gender, and more. Shouting "Work complete!" as an Orc did give me a giggle (only Warcraft players can understand this joke unfortunately). There is also a loud siren mode to attract attention, which is perfect for parties and that Easter camp I mentioned earlier.
The AXX 200 can be charged through a microUSB cable to deliver roughly up to 15 hours of playback. A "3 dots" battery indicator can be seen at the bottom of the unit, or alternatively, you can also monitor it in the mobile app, available free for Android and iOS. Rarely use your AXX 200 for music listening? Don't waste that 5,200mAH battery within. Use it to charge your devices (except for the iPad) as well. So yes, this portable speaker is also a portable battery charger. Crazy, right?
You can also buy a cool docking station to charge the unit in style, which I really like.
Creative Sound BlasterAxx AXX 200 Review Conclusion
I really should stop here, unless if I write a 3,000 word review to cover every single thing that this piece of device has. I haven't even talked about the mobile app that can customise a lot of powerful things within the unit or the individual technology powering the AXX 200 and what each does.
Overall, I'm very impressed with the AXX 200. I thought that I would be reviewing just-another-portable-speaker-with-awesome-sound-quality. What I get instead, is the best portable speaker I've ever reviewed in terms of sound quality & clarity so far, flexibility in connectivity, and everything else you want from a portable gadget: a portable charger, a karaoke box, a conferencing gadget, a device that transforms me into an Orc, a digital megaphone, and a super loud siren.
It is also now available in Australia to grab.
Disclosure: Review sample was sponsored for the review. All opinions are 100% mine.
[AMAZONPRODUCTS asin="B00F3GT5BG"]