Creative ZiiSound D5 Review – Creative ZiiSound D5 is a clear winner in both design and audio quality in the wireless speaker market. The fact that it's powered by Bluetooth technology means that it's accessible by almost every electronic device in the world.
I was honored to be the first person to get the Creative ZiiSound D5 in Australia and therefore, this review post is probably one of the first few to cover the Creative ZiiSound D5. Creative ZiiSound D5 is a high quality audio wireless speaker system with Bluetooth technology. That means you can connect practically any Bluetooth capable device, such as your smartphone or your notebook. Oh, I haven't mentioned that Creative also ship it with a Bluetooth iPod/iPhone transmitter which supports trasmitting music with apt-X audio codec technology to the ZiiSound D5 wirelessly.
So let's check out my impressions on the Creative ZiiSound D5.

Creative ZiiSound D5 Review – Technologies
Before we go to my personal experience in using the ZiiSound D5, here is a list of technologies behind the ZiiSound D5:
Bluetooth Technology
Supporting wireless transfer for up to 10 metres (depends on the walls or obstacles of course).
apt-X codec
High performance low-latency audio codec for superior stereo Bluetooth audio.
World class-acoustic tuning
Ensures striking accuracy, detail, and atmosphere – all in one piece.
Sleek one-piece music system
A clean cut design, encased in a sleek black cloth mesh, enhancing the elegance of your room.
2.75″ full range drivers with efficient digital amplifiers
High performance full range drivers from digital amplifiers delivering higher performance compared to conventional home stereos.
AUX-in jack
There is an AUX-in jack available for connecting other audio devices.
Touch volume control
Intuitive touch sensitive panel for volume control
Magnetically-shielded speaker
Means zero interference when used near other devices
Creative ZiiSound D5 Review – Overview
The ZiiSound D5 is "packaged" into one single piece unit but it includes all the pieces that power it: two loudspeaker drivers, the touch control panel for volume control & Bluetooth connectivity, the AUX-in jack, integrated Bass port, and also a built-in dock for an iPod or an iPhone. Overall, the whole piece looks sleek and elegant:
I also like the fact that Creative understands the popularity of the iPod/iPhone and includes a docking station for them rather than having a dock for their ZEN X-Fi players. If you have a ZEN X-Fi though, you can use the AUX-in jack to play the music out from it:
The only thing that makes it less elegant is probably the fact that you still have to connect the power with a cable, but I guess this can't be helped because ZiiSound D5 doesn't support running in batteries. Not sure how many batteries would even be needed should ZiiSound D5 supports it!
The Bluetooth connection & Volume indicators are represented as white dots on the Touch control panel, giving it a contrast yet elegant look:
Creative ZiiSound D5 Review – Bluetooth connection
The unit that I have includes a Bluetooth wireless transmitter for an iPod/iPhone and also the Creative Bluetooth Audio BT-D1, to be plugged to your desktop/laptop. The USB Bluetooth Transmitter (BT-D1) comes free with the ZiiSound D5 ONLY when it is purchased from Creative.com. This offer applies to Creative Online Store Australia, US and Europe and is for a limited
period of time. Please double check before you make your purchase!
Pairing the ZiiSound D5 with my iPod Nano is really easy. I simply need to plug the transmitter on my iPod and press the Connect on the ZiiSound D5 touch panel. It takes a merely few seconds to pair them up and not long after, I can hear my music coming from the ZiiSound D5 speakers. The transmitter actually serves as a remote control if you want to see it that way – so I can adjust the volume on my iPod, for example, and the ZiiSound D5 adjusts its volume accordingly. Note that there will be a small delay though as data needs to be transferred so this doesn't happen in an instant (I'd say about half a second delay which is still tolerable).
The fact that the Bluetooth connectivity supports up to 10 metres in an open space means that you can carry your iPod/iPhone to different rooms in your house. So whether you are cooking in the kitchen or "meditating" in the toilet, the power still lies in your hands!
Creative ZiiSound D5 also supports any A2DP-Bluetooth device so your smartphones, your iPad, and most Bluetooth enabled devices will work well.
HTC Touch Pro 2 found ZiiSound D5 easily using Bluetooth:
and it works well too on the LG Chocolate Touch:
Even if you don't have the BT-D1, you'll still be able to connect using the traditional Bluetooth connection on your Windows. But of course, if you do have one, it will make things much easier for you, simply plug and play the music.
Creative ZiiSound D5 Review – Other impressions
The sound quality coming out from the ZiiSound D5 doesn't disappoint at all – as boasted by Creative. The sound is crystal clear and feels like it's coming from really high quality speakers. It may not beat your home entertainment centre but considering the size of the unit and how the sound is being transferred wirelessly, ZiiSound D5 sound quality exceeds my expectation.  The bass gives a good punch but heavy bass lovers might be feeling disappointed. However, given that the ZiiSound D5 doesn't have a dedicated subwoofer, we already get more than what we deserve. There is also no built-in equalizer on the ZiiSound D5 but you can do the adjustment on your music device anyway.
I also think that the touch panel is a great idea but my only complaint is the volume control. Adjusting the volume control on the ZiiSound D5 is easy and intuitive (using your finger to slide through the touch panel to adjust). However in practice, it's quite sensitive which makes the jump between 1 volume level to the next too steep.
It may take you a few slight slides to get the volume right to your liking because of this. You'll find that it's much better to adjust the volume on your iPod/iPhone instead.
The iPod/iPhone charger also deserves a thumbs up! With the transmitter plugged, simply rest your iPod/iPhone on the dock and you can basically experience endless music to your ears.
Multiple backrests (with multiple sizes) are included in the packaging to make sure your iPod/iPhone is supported well on the dock.
Creative ZiiSound D5 Review – Conclusion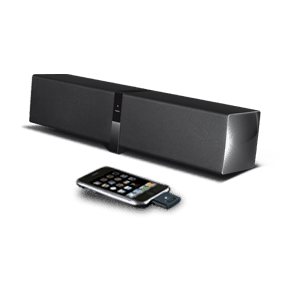 Creative speak true to their words when they boast the high quality sound of the Creative ZiiSound D5. The sound quality is very impressive for its size and the fact that audio is being transferrerd wirelessly. Creative ZiiSound D5 also gets a thumbs up for its sleek and elegant design, no matter where you put the unit in your house. Pairing up the ZiiSound D5 and another device with the included transmitter is very easy too, unlike the frustrations I have whenever I try to pair up two Bluetooth devices together. You don't even need to understand any technical stuffs to pair your device with the ZiiSound D5.
A combination of high quality sound, elegant design, wireless solution, easy Bluetooth pairing for non-techy users, and wide support for any Bluetooth capable devices makes the ZiiSound D5 a clear winner in delivering the best wireless sound solution at your home. Combined with the iPhone/iPod charging dock station and the Bluetooth BT-D1, you practically have everything that you can squeeze out of the Creative ZiiSound D5.
Creative ZiiSound D5 Pros
+ Wireless sound solution
+ Support Bluetooth devices, such as your phones
+ Elegant design
+ Includes an iPod/iPhone Bluetooth transmitter with zero set-up
+ Excellent sound quality
+ Includes a docking station to charge an iPod/iPhone
+ Has an AUX-in jack to support other devices
+ Automatically "sleeps" if no music being played through it after a while
+ Quite portable to carry to parties
Creative ZiiSound D5 Cons
– You still have to plug it to a power socket
– Volume control is a bit too sensitive
Note: Review unit provided by Creative. Photos were taken with Canon EOS 500D.
Creative ZiiSound D5 Review