Logitech Ultrathin Keyboard Cover Review – I was asked so many times by iPad owners about my recommendation for a good iPad keyboard case. Though there are many good ones out there, I haven't seen something as classy as the Logitech Ultrathin Keyboard Cover before.
Logitech Ultrathin Keyboard Cover is more than just a keyboard case for the iPad, but also complements it like no other case in terms of style.
Logitech Ultrathin Keyboard Cover Review- Packaging
Logitech Ultrathin Keyboard Cover Review – Cover Design & Features
For a start, the Ultrathin Keyboard Cover has a similar style and aluminium material like the back of the iPad. It is as if the cover and the iPad are meant to be together – the size, the feel, the slimness factor, and the look. It is cool to the touch and feels as if your iPad has been transform into a mini notebook seamlessly.
What makes it interesting is that the Logitech Ultrathin Keyboard Cover has this cool magnetic clip that snaps onto the iPad like magic. You don't even have to clip the iPad by applying any pressure to it. Simply touch the magnetic clip with the iPad and they will snap smartly together. And oh, be ready to enjoy a satisfying "click" sound when they do!
The magnet is also very strong, making sure that your iPad does not snap out of the magnetic clip accidentally.
It's a brilliant design and I really like it because this means that I don't have to hold my iPad inside a bulky case anymore. When I want to read magazines or play games on it, I can simply snap the iPad out and use it as it is. Snap it back in when I'm done. With most keyboard cases, you normally have to hold and use the iPad while it is inside them (unless if you take the iPad out first, which is quite a tedious process).
Ready to write some notes or use the keyboard? Simply snap the iPad onto another magnetic area on the Ultrathin Keyboard Cover with the white stripe. Again, you will hear the magnetic "clicky" sound and your iPad will then stand at the perfect angle for typing (or watching a video).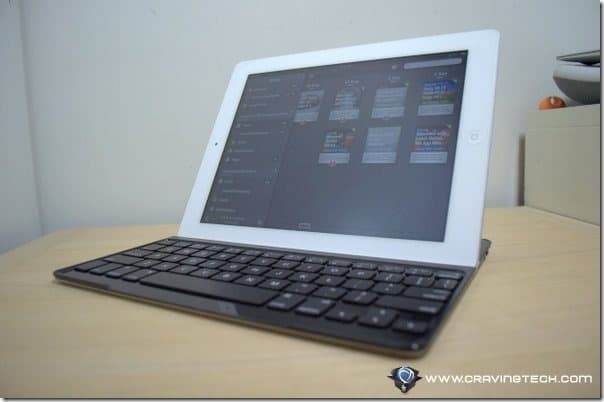 Portrait mode also works although it does not seem to be clipped into the area magnetically. This makes it feels a bit wobbly, like it can fall anytime.
The only thing that you need to worry about is that the Ultrathin Keyboard Cover does not cover the back of your iPad. This means that you have to be extra careful when you place them inside a bag, or on a surface.
Logitech Ultrathin Keyboard Cover Review – Keyboard Design & Features
Now, the design is all good and dandy, but what about the keyboard itself? How good is it? Well, the keys are made of plastic so the tactile feedback doesn't feel as great as a MacBook keyboard. However, they are still comfortable to use and works great for typing. I rarely made mistakes when I type on it, even during my first trial. The keys size and placement are just right (it even has a Right Shift key!).
There are also function keys such as volume controls, media controls, and to copy-cut-paste texts. I also like that the keyboard has a "Select" function key, as I can press that to get the iOS selection cursors to appear. Nifty! There are no "Home" and "End" keys unfortunately for a quick jump to the beginning or the end of a paragraph.
Typing with the Logitech Ultrathin Keyboard Cover is productive and provides a much better experience than typing on the iPad screen. In fact, I actually wrote a whole review post of a blogging app called Posts for iPad with it comfortably (also when writing the sermon notes last Sunday for our church's website). The keys are soft and there are no delays even when I'm typing as fast as on a regular keyboard.
Logitech Ultrathin Keyboard Case Review – Conclusion
I'm really amazed with the Logitech Ultrathin Keyboard Cover Case, which is my favorite iPad keyboard case at the moment. It looks really elegant and complements the iPad design really well. Not to mention that the case itself is really slim, yet sturdy to use. The magnetic design is really smart and also intuitive, making it easy to snap your iPad in and out of the cover. Open the cover up to auto-wake your iPad and close it to send the iPad back to sleep.
According to Logitech, the battery can last up to 6-month, based on an average use of 2 hours per day. Now that is awesome too, in my opinion.
The keyboard (connected via Bluetooth) is also magnificent as the keys are well-designed to ensure a great typing experience. The iPad snaps into place easily (Landscape mode) which allows you to type away instantly.
The Logitech Ultrathin Keyboard Case does not protect the back of your iPad, however, and it cannot be folded back like a portfolio case. If these do not bother you, then I totally recommend you to grab the Logitech Ultrathin Keyboard Case. It's stylish, intuitive, and simply impressive!
Note: Logitech Ultrathin Keyboard Case review sample was provided for the review