Looking for the best blogging app for iPad? Most of you bloggers who are blogging on the iPad might be using the free official app, either from WordPress or Blogger. Although the free app is most of the time sufficient enough to allow you to write and publish new posts, there are other non-official powerful apps out there to blog.
Posts for iPad, developed by Pico, is one of those which allows you not to just write a post and publish it, but also manage multiple blogs easily and swiftly. It does not matter whether you have a Blogger's blog or a WordPress blog (or even both!), Posts can handle them.
Or maybe you don't even have a blog yet? Adding a blog is pretty simple, although if your WordPress files are not located under the same Site URL, you have to enter the URL where WordPress is installed instead (which is not obvious at first). For example, if you have a website www.myblog.com and have your WordPress files under the wordpress/ folder, then when you are adding your blog, you need to enter http://www.myblog.com/wordpress instead on the Blog URL. Of course, this may change in the future.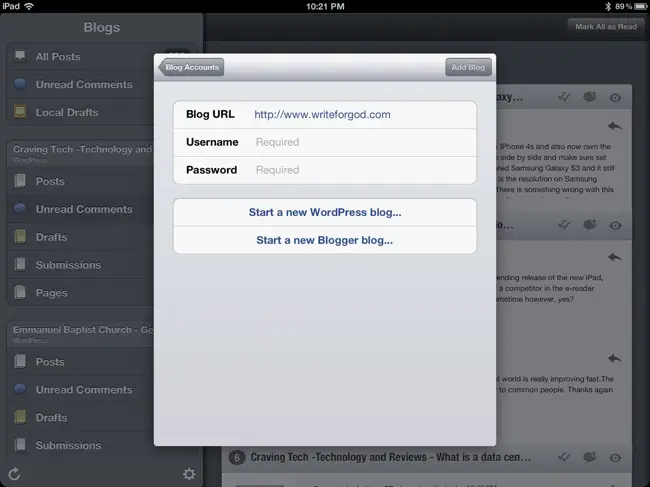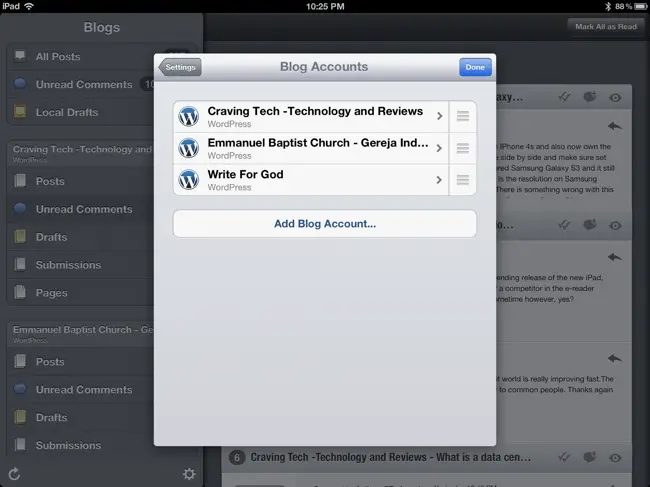 The blogs you've added will then be displayed on the left (Sidebar-style) where you will be able to access:
Most recent posts
Unread comments
Drafts (Online)
Local Drafts (Offline)
Submissions
Pages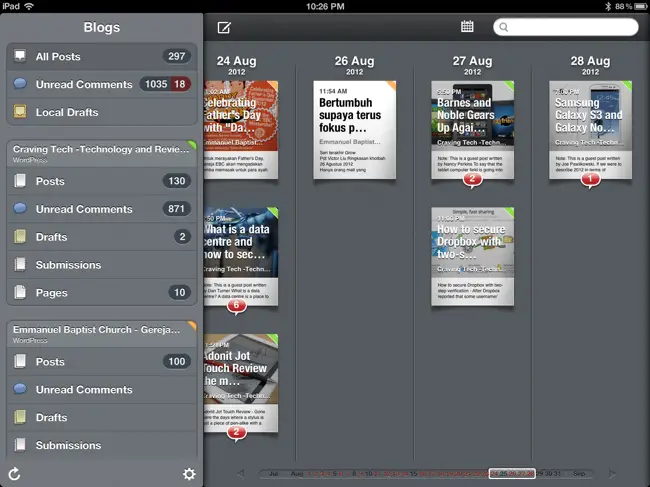 When I added Craving Tech earlier, I was a bit scared because this blog has around 2,000 posts and 17,000 comments! Thankfully, Posts for iPad only picked up most recent entries. So if you have big blogs, you don't have to worry or wait for ages for the app to finish syncing!
I love the interface of this app the most. It's really sleek, smooth, and somewhat increases productivity :) Texts are sharp, the colors are pleasing to the eye, and there are other tiny details such as a different color label for different blogs (among other things) that make this app worth the premium price.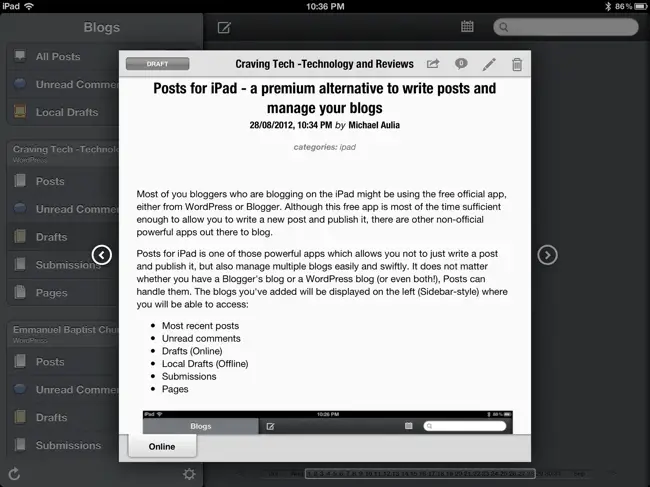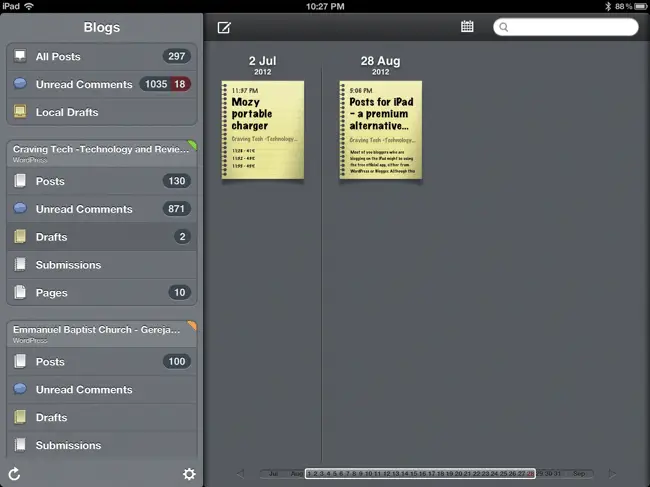 Posts for iPad isn't just beautiful, it also packs with great features for a serious blogger! For example, you can manage comments on different blogs at the same time through the app.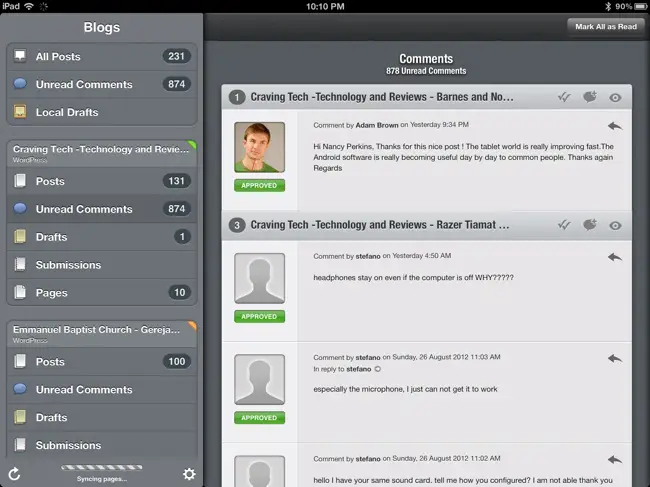 There is also an offline draft option so if you are blogging in a place without an internet connection, you can write and save the draft on your iPad first. Once you have an internet connection, you can then easily publish it to your blogs (and yes, you can save more than 1 local draft and publish them all at the same time later).
To be honest, I'm not a fan of blogging on the iPad. I just couldn't find a great app for it and it feels troublesome to upload images and all that. Posts for iPad makes attaching images easier and seamless. Simply press the add image icon, pick your image from your iPad (or  URL), and the app will add the image into the post almost instantly.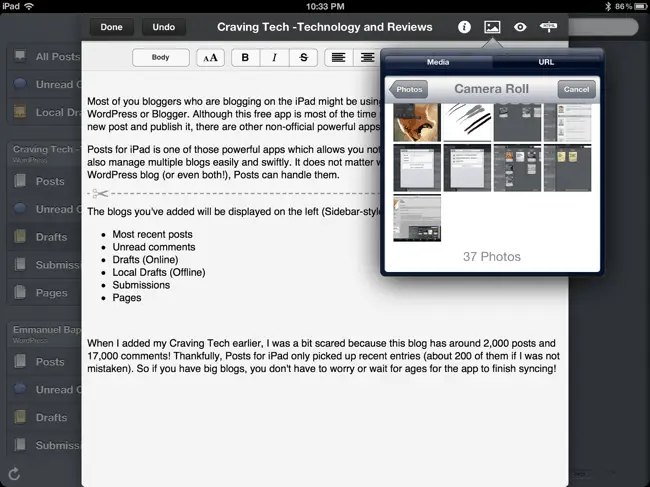 There is also an option to resize the image and change the Wrap positioning! This is awesome and unexpected from an iPad app! You can also add the alt text for some SEO bonus through the Inspector window.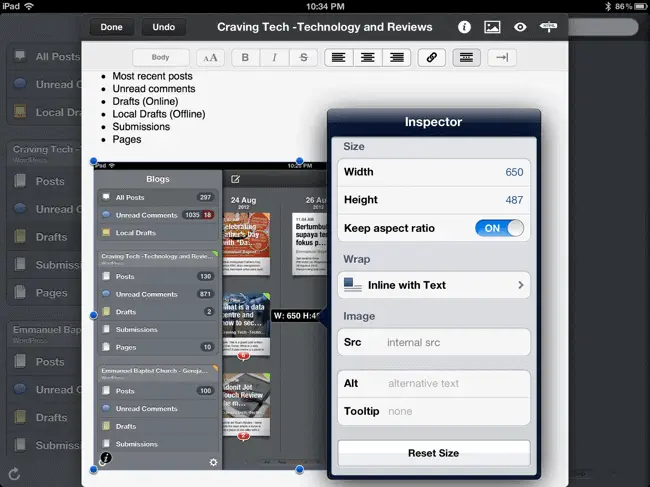 You can always save the draft locally and the app will then upload all your drafts to your blogs, along with the images in one go! This feels like having my favorite blogging application, Windows Live Writer, on the iPad (that does the same magic). It's a real time saver, trust me.
Posts for iPad is unfortunately not free (there is no way you can get a free app with all these nifty and powerful features). However, if you are serious about blogging and you spend more time on your iPad more than your desktop computer, then I seriously urge you to blog with Posts for iPad. It's that good. I think Posts for iPad is simply the best blogging app for the iPad that I've seen and tried so far.
In fact, this post was actually written with Posts for iPad on my iPad 3 (using the Logitech Ultrathin Keyboaard Cover that I'm currently reviewing).
Note: Posts for iPad review license was provided for the review