Note: This is a guest post written by Joe Pawlikowski.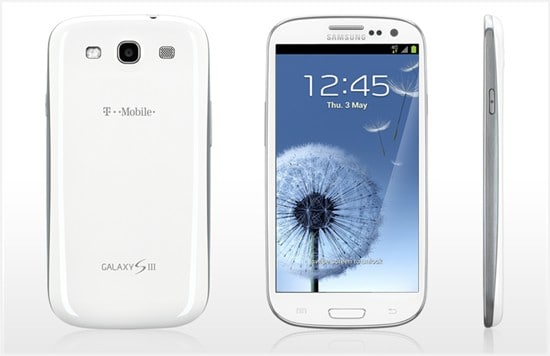 If we were to describe 2012 in terms of smartphone developments, we could do so in just two words: go big. Samsung, the world's leading smartphone manufacturer, has pushed the screen size envelope this year, delivering two of the largest smartphones we've yet seen. They're not done yet, either, as they have one more planned for a release later this year. Can we expect this trend of growing screen sizes to continue?
That all depends. We all have different wants and needs when it comes to smartphones. The question we should ask now isn't whether Samsung will create even larger phones. The question we should ask is, how big is too big?
Samsung Galaxy S: Keep growing
For the past three years Samsung has eased consumers into the idea of larger smartphones. They started in 2010, with the original Galaxy S. Then they continued it into 2011 and 2012, with their flagship Galaxy S model growing each time. In doing so they've helped separate themselves from other smartphone manufacturers, including Apple.
In 2010 Samsung released the Galaxy S with a 4.0-inch touchscreen. At the time Apple was the undisputed king of the market, despite increasing competition from Android. The 4.0-inch screen size was quite a step up from Apple's standard 3.5-inch display.
In 2011 Samsung pushed the envelope a bit further, releasing the Galaxy S2 with a 4.3-inch touchscreen. It wasn't a big step, but it further distanced them from their main competition. The only downside to the S2 was its thickness. If only Samsung could create a thinner device, it would be really onto something.
Finally in 2012, Samsung beefed up the screen size on the Galaxy S3 to 4.8 inches. That's a full 1.5 inches larger than the iPhone 4S. At the same time, the Galaxy S3 is thinner. Samsung hit a home run here in terms of screen size and form factor.
Will the Galaxy S4 be even larger than the S3? That's a tough question to answer until you determine whether the S3 is too big for you. In my own tests with one the S3 felt comfortable in my average-sized hands, but it wasn't so comfortable in my jeans pocket. It took up most of my pocket room, and I could feel the phone against my leg when walking (and I don't wear skinny jeans). So perhaps 4.8 inches is just a bit too large for a smartphone.
Samsung Galaxy Note: Size matters
Before Samsung released the Galaxy S3, it tested the waters with an even larger handset, the Galaxy Note. At first it attracted much criticism for gadget blogs for its sheer bulk. At 5.3 inches it was bordering on tablet size. In fact, the Galaxy Note is closer in size to a 7-inch tablet than the iPhone is in size to the Galaxy Note. Was Samsung trying to determine the upper limit of smartphone size?
The answer, it appears, is yes. We recently learned that Samsung will release a second Galaxy Note this fall, with an even larger 5.5-inch screen. T-Mobile, which recently added and then discontinued the original Galaxy Note, will almost certainly carry the second version. Other carriers will likely follow, and for good reason:
The Galaxy Note sold well.
That seems odd, if only because it is impractical in so many ways. The original Note was too big to feel comfortable for anyone with hands smaller than Shaq's. It also can't fit comfortably in jeans pockets, unless they're those 90s-brand parachute jeans. So what gives? Who is buying the Galaxy Note despite its obvious discomfort?
The follow-up question: does it really matter? People are choosing this phone for whatever reason. Maybe some business users buy it because it reminds them of their old Palm Pilots. Maybe some recreational users buy it because of how easy it is to browse the web. Maybe some like to read on their smartphones and find this size ideal. People have all sorts of reasons for doing things, but one thing is clear. They are buying the Galaxy Note.
Apple following suit
You know when you're onto something when Apple starts to move in your direction, rather than setting the direction themselves. Since its inception in 2007, five years ago, the iPhone has retained its 3.5-inch touchscreen. Even as Samsung changed the market in terms of consumer desire, Apple kept on with its original idea. But even the most stubborn among us can hang on for only so long.
Apple will certainly release a new iPhone model this year, and nearly every related rumor suggests one big change: a 4.0-inch screen. It takes a definitive industry change for Apple to change its ways, and even then Apple is oftentimes at the forefront. If they're following on this one, the writing is clearly on the wall. People want larger screen sizes.
Yet Apple is playing this conservatively, going with the 4.0-inch size that Samsung used all the way back in 2010. So maybe Apple believes that people think that those 4.8-inch and 5.30-inch screens really are just too big. But consumers, apparently, have voted otherwise. They're snapping up the Galaxy S3 and the Galaxy Note. While they're snapping up the iPhone as well, and the iPhone 5 could set sales records, it's clear that not everyone is on board with Apple's plan.
So how big is too big for a smartphone? It appears the sky is the limit. Samsung tested the waters this year and it worked so exceedingly well — they've sold more than 5 million Galaxy Notes — that they're putting out a second model. At the same time, I've heard nothing but glowing reviews for the Galaxy S3 from people who use them every day. So no, there is no such thing as too big for a smartphone screen. The consumers have spoken.
Note: This guest post was written by Joe Pawlikowski. He writes, edits, and consults for tech blogs across the web. He keeps a personal blog at JoePawl.com.