PADACS Enduro Review – the PADACS Enduro is no ordinary iPad case. It actually houses a whopping 6800mAh battery inside.
Rather than having to carry around a separate portable battery like the PADACS UltraCharge Portable Power Supply or the PADACS UltraCharge Mini that I reviewed earlier, the portable battery is within your reach anytime, whenever you have your iPad with you.
PADACS Enduro packaging:
The case itself is actually quite thick and bulky (well you can't expect a slim case with a 6800mAh battery in it, can you?). Without actually measuring the weight itself, I feel that the iPad feels twice as heavier with the Enduro case.
iPad 3 itself has an 11,666 mAh battery where as the iPad 2 only has a 6,944 mAh battery. So if you actually count the gains and losses, PADACS Enduro's 6,800 mAh battery is no small feat! According to PADACS, the Enduro extends the power of the iPad 2 by 75% and the new iPad (2012) by 50%.
The case itself is not connected directly to the iPad 2's charging dock (like PADACS PowerCase for the iPhone. So to recharge your iPad, you have to connect the charging cable into the Enduro.
This means you still have to carry your iPad's charging cable + Enduro's connector around with you, but still better than having to carry a separate battery unit.
PADACS Enduro features a one button control for charging (to start the charging), auto off (when you plug out the cable), and a four level LED power display indicating the power level of the battery (33%, 66%, 99%, or 100%). The power level indicator is handy because it gives you an indication when you should recharge the Enduro to the power socket.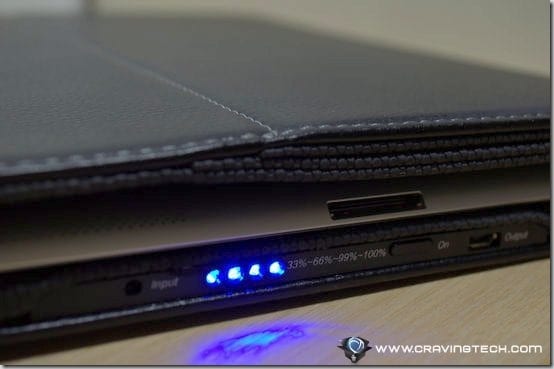 Surprise, surprise, you can also use the Enduro case to pretty much charge any device you have at home (assuming it can be charged to a USB slot). I've tried it with my iPhone and also to my non-Apple devices (such as my X-mini portable speakers). All worked without a hitch.
How fast does the PADACS Enduro charge? During my tests, it actually charges as fast as plugging the iPad 3 into a power socket. It took around 37 minutes to add 5% of power to my iPad 3 with Enduro. With the power socket, it took around 35 minutes.
The Enduro also features an instant on/off feature like the Apple's Smart Case and can be transformed into an iPad stand with multiple angles – perfect for watching movies and also for typing.
The magnetic closure does tend to get in a way of a clean view sometimes, as you can see from the photos I took.
PADACS Enduro Case Review – Conclusion
PADACAS Enduro does not just protect your iPad, but the elegant and stylish case from PADACS also extends its battery life when you need it the most. Rather than having to carry a separate portable battery unit, you only need to carry a couple of cables in your pocket.
The Enduro case pretty much combines all of the "I want X on my iPad case"; X being an instant on/off feature, multiple angle views, stylish, protection, and a handy built-in portable battery available at all times.
NOTE: PADACS Enduro review sample was provided for the review