PADACS UltraCharge Mini
Michael Aulia
PADACS UltraCharge Mini review – PADACS has released a mini-me version of its previous portable battery charger for smartphones, the PADACS UltraCharge Portable Power Supply.
PADACS UltraCharge Mini is similar to the previous model, but it's more compact, although at an expense of a half-sized battery (5400mAh compared to the original UltraCharge's 12,000mAh). Don't let this discourage you though, because even at 5400mAh, the UltraCharge Mini provides plenty of juice for your phones while you are on the go.
PADACS UltraCharge Mini Review – Packaging
The packaging contains:
The UltraCharge Mini
Power adapter
10-in-1 USB cable
Travel pouch
PADACS UltraCharge Mini Review – Design
The UltraCharge Mini is quite compact and shaped like a mini box. It's also not too heavy to carry around and not too thick in dimension.
It has 2 USB output ports, allowing you to charge multiple devices at the same time. The other one is a port to connect it to the power adapter to charge the internal battery.
There is an LED display that shows how much power is left in the battery (percentage-based). When recharging, the display auto-updates itself so you can monitor the progress with your own eyes.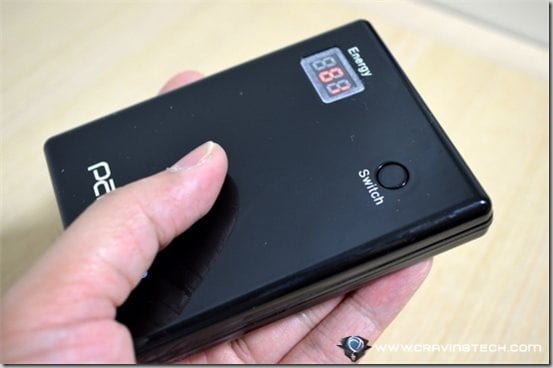 The LED display will turn itself off automatically after a few seconds to save battery, though you can always press the Switch button to see its current battery level at all times.
I find that the readings can be flaky at times though. For example, when I plugged the charger, it shows 46. However, if I plugged the cable out and start charging my iPhone, it changes its reading to 32.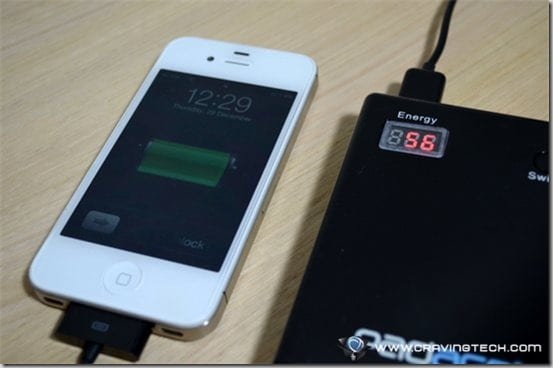 I love the 10-in-1 USB cable (a USB cable with 10 different device tips at the end) because this is so much better compared to having different tips that you have to plug/unplug (easy to lose them). Thanks to this design, you can use the same cable to charge different devices that you and your family have.
The cable is a bit short, though you can always get an USB extension cable if you want to put the UltraCharge Mini inside your pants pocket while you are recharging and using your device at the same time.
The packaging also includes a standard travel pouch but unfortunately it's non leather and the quality is so so (definitely to keep the price down).
PADACS UltraCharge Mini Review – Experience and Impressions
I truly love the PADACS UltraCharge Mini as it has been my best friend for these past few days. Our pastor was being treated in the hospital and I was the main point of contact. So I've been constantly messaging and replying 30-40 people for the past few days non-stop.
On my first day, my battery went down to 3% around midnight on my Samsung Galaxy Nexus. The next day and the following after, I brought my PADACS UltraCharge Mini along. I could then keep my Samsung Galaxy Nexus constantly up for the whole day and the UltraCharge Mini still had lots more power left to recharge it over and over!
Recharging the battery inside the UltraCharge Mini doesn't take too long – the rate was about 4% a minute when I monitored it.
As for recharging devices:
My iPhone 4S was charged at around 0.5-1% per minute
My Samsung Galaxy Nexus was charged at around 0.5-1% per minute
My iPad 2 was charged at around 0.30-0.40% per minute
Now again, these tests are not supposed to be accurate because they depend on too many factors (WiFi, number of applications in the background, etc).
PADACS UltraCharge Mini Review – Conclusion
I have reviewed many portable battery chargers before and I have to say that I really like the PADACS UltraCharge Mini a lot. It's not bulky to carry around and the 10 tips in 1 cable has proven to be very efficient to carry and use, allowing you to charge different devices easily. You can also charge 2 devices at the same time, which is cool, as some of us are carrying more than 1 phone these days.
PADACS UltraCharge Mini will definitely be my main personal, portable battery charger for now! It supports charging many of my devices and I really love the 10-in-1 cable design. Not to mention the cool LCD display so I can know exactly how much battery power I have left in it. Definitely an excellent piece of work, good job, PADACS!
Note: PADACS UltraCharge Mini review unit was provided for the review
PADACS UltraCharge Mini review – Pros
+ Compact, not too bulky
+ 10-in-1 cable makes it easy not to lose the different tips
+ Can charge up to 2 devices simultaneously at the same time
+ 5400mAh is good enough for most people
PADACS UltraCharge Mini review – Cons
– Battery readings can be a bit flaky
– Non leather travel pouch