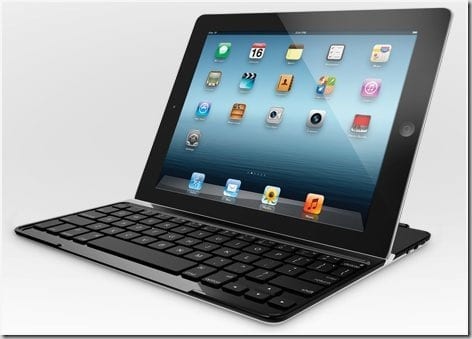 With almost every iPad case manufacturers trying to build the best Bluetooth keyboard case for the iPad, Logitech probably comes up with the thinnest one so far.
Their latest Ultrathin Keyboard Cover for iPad 2 and iPad 3, looks thin enough to make it ultra portable to carry around with you where ever you go.
The Logitech Ultrathin Keyboard Cover protects your iPad screen with an aluminum cover, features hard-keys keyboard, and also a keyboard's built-in stand so you can view your iPad at the best angle for typing or watching movies.
The cover attaches the iPad using a magnetic clip and also has an instant on/off feature, like the official iPad Smart Cover from Apple. According to Logitech, it has an approximately 6-month battery life (based on 2 hours per day usage) – which is pretty good.
Check out Logitech's official product page for more information about the Logitech Ultrathin Keyboard Cover.