What? Gravity Review – What? Gravity is a unique holder, despite of the company, Ideasbynet, saying that it is a mobile phone holder. It doesn't just hold mobile phones and it is not just another mobile phone holder. It even holds paper, candies, pens, mouse, and more.
In short, it's portable, it's light, it's cool, and it's unique!
The What? Gravity Mobile Phone holder holds the phone (and other bits of items – more on this later) by using a soft-touch silicone panel. It is not of magnet and it is not of a sticky tape.
The silicone pad feels like a glued surface that has lost its stickiness yet still sticks (I don't know how else to explain this). In my experience, it doesn't get dusty even though lots of dusts have managed to find their way to my computer desk. You can definitely see the dust sticking on the surface but not much (this review was written after I exposed it on my desk for about 2 weeks).
It is also washable, in case you worry that the surface gets dirty and you have to throw this fun thing away. It will look like new and you can still keep sticking things on there, for more months to come.
The What? Gravity Mobile Phone Holder can be separated in 2 parts:
Therefore, you can carry the pieces easily while you travel overseas or even if you want it in your office (but why don't you just buy another? :)).
From the tests I've tried, you can stick a lot of things on the surface but the heavier/bigger the item is, the more surface area you need on the What? Gravity holder to hold that item in one place.
My iPhone 4S: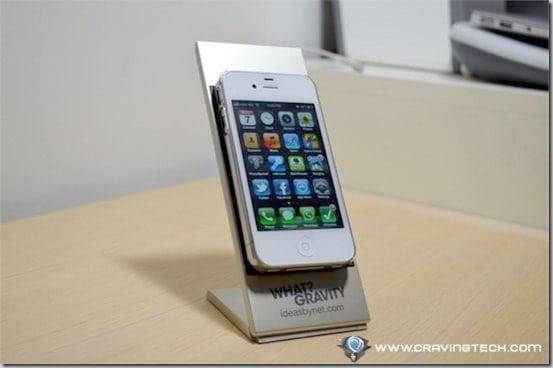 My SteelSeries Sensei Gaming Mouse:
My pens:
My mint:
and even an Amazon cheque to keep you motivated to blog, perhaps? :)
In the end, as mentioned at my first paragraph, this is not just a mobile phone holder. The What? Gravity is a mouse holder, photo holder, paper holder, pen holder, and more.
What? Gravity defies common sense and presents a stylish and elegant solution to hold your mobile phone or any small items you can think of, transforming your boring old desk into something more… exotic.
What? Gravity Mobile Phone Holders
Note: What? Gravity sample was provided for the review
What? Gravity Review – Pros
+ Slim
+ Simple and can be detached
+ Unique and Stylish design
+ Non-sticky yet sticks things on it
+ Great as a mobile phone holder to watch movies or read e-books on your phone
+ Not limited to just phone, very useful and practical
+ Cheap
What? Gravity Review – Cons
– Can't hold big and heavy items (but what do you expect??)
– Looks like you have to buy this in bulk from their site
– I can't think of anything else, really!