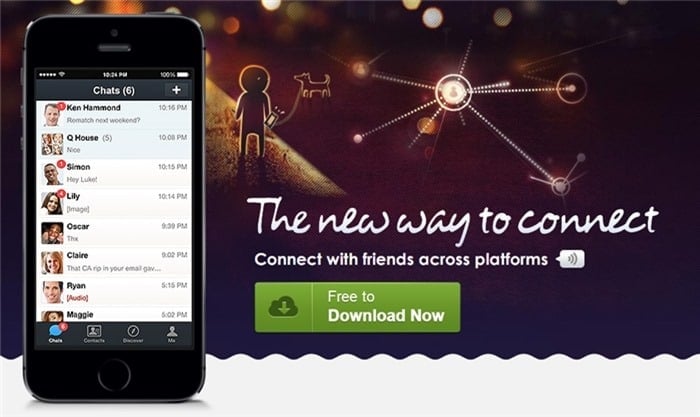 What is WeChat? WeChat is a free voice and text message service (like WhatsApp, Viber, KakaoTalk, and a few others) developed by one of the largest Chinese companies, Tencent.
At the moment, there are over 270 million people on WeChat and that is no small achievement. WeChat is very popular in Asia, especially China. Here in Australia, not many that I know of are using WeChat at all, even if the app is free on Android and iOS. For example, only a handful of my friends are actually on WeChat. What makes it very popular though? Apart from the usual features like text message, voice call, emoticons, stickers, and alike, WeChat actually offers more advanced features.
7 reasons why you should try WeChat
[1] Endorsed by Lionel Messi
Lionel Messi is an Argentinian soccer player (in case you don't know him) who has won the FIFA Player of the Year awards a few times. Suffice to say, if you are following soccer (or playing FIFA on the Playstation or PC), you'll know who Messi is. He was featured in WeChat global ad, debuted last year.
You can also add and follow him on WeChat. I haven't actually tried sending him a message even if I can. Probably just don't want him to find out that I'm not a soccer fan, ahem (and not even sure he will respond). Have you ever tried sending him a chat message if you are on WeChat?
[2] Seameless Voice Messages feature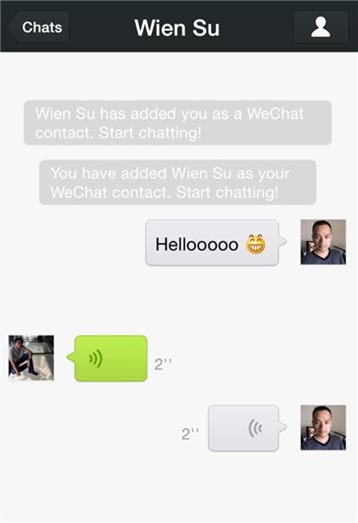 One of the best features is the voice messages. But, wait, don't we have this already on the other apps? Well, in my own experience, WeChat voice messages feature works so well because it is quick and seamless. The audio quality is quite good and it's really quick to send and receive voice messages in a chat session (I actually find it quicker than WhatsApp).
In fact, it is so seamless that most of conversations on WeChat consist of voice messages alone. From the feedback I get, lots of WeChat users swear by this feature and use it almost every time.
[3] Have a chat with a stranger around the world
Feeling bored? There is a "Shake" feature (activated by shaking the phone) that will match you to another WeChat's "phone shaker". It's an interesting feature but it requires the other party to have the same intent. When tested, it matched me to someone in Nigeria, which is 14,840 km away. It's like discovering a new pen pal back in the old days.
[4] Ask someone's opinion nearby (or hook up with them if you want)
If you don't want to try your luck trying to find someone new on the other side of the world, you can also search for WeChat users nearby. You can browse their photo albums (assuming the photos were shared to public) and start a conversation. This can be a really interesting feature to chat about a specific event happening around you (such as a festival or even an accident). Or if you travel to a different city, you can ask opinions about the nicest restaurant near you from a complete stranger. This has lots of potentials.
[5] Live Chat in a group in walkie-talkie mode
Another cool and interesting feature allows you to do a small conference where only 1 person can talk at the same time. We all know how messy a conference call can get (or a group chat) when everyone tries to express their opinion at the same time. WeChat's Live Chat forces the others to listen to the speaker until he/she releases the speak button.
[6] Web WeChat – Chat on the PC, with a keyboard
Chatting on a keyboard is always better than using a touch-screen keyboard. With WeChat, you can "transfer" the chat sessions from your phone to your PC's browser by scanning a QR code on-screen. It is as if you are using a regular online web chat service. All chat history are kept in sync.
[7] Moments – when you have enough with Facebook
Moments is like a "mini Facebook" inside WeChat. You can upload your photos and share them to your friends on WeChat. Your friends can then see, favorite, and make comments on the photo. It's like having your own mini, private community of closest friends. I'm not sure how popular this is but I guess on countries where Facebook is banned, this is good. Really good. Or when you have enough dealing with Facebook's privacy changes.
—
Even if you don't have lots of friends on WeChat yet, the app is worth a try. If you can persuade your friends to try WeChat, it would even be a better experience. There are lots of potentials to be unlocked within WeChat and they can be untapped once more of your friends join in. With around 300 millions of users on WeChat, you can't go wrong with this one.