Seagate FireCuda Gaming SSD Review – Seagate has definitely been pumping many great, new storage focusing on gaming which means fast-performing drives. Their Seagate FireCuda 520 NVMe SSD (check our review out) is already my most favourite gaming storage inside my AMD Ryzen 7 3800X gaming PC.
And earlier in February this year, Seagate did not stay still and announced more high-performance solutions for gamers – which includes this portable, yet powerful, external, NVMe SSD. Gamers on the go or those who always seem to have trouble managing their disk space should be excited for this one. With up to 2,000 MB/s read speed (on USB 3.2 Gen 2×2, USB-C), the FireCuda Gaming SSD might even be a faster drive than the one inside your PC/Laptop.
Interestingly, the portable SSD is tiny and weighs around 140 grams. It feels like you are holding a smartphone battery of some sort. You definitely won't have any issues to put this into a small bag, or your pocket.
There is no software to install but if you are planning to use the drive as a backup drive, Seagate has included a handy backup tool within the drive called Seagate Toolkit (you can just double click on the .exe to install). If not, simply plug it into your PC or Laptop's USB-C port, and the drive instantly appears on the Windows Explorer.
Unlike the WD Black P50 which also supports USB 3.2 Gen 2×2, there is no USB Type-C to Type-A cable included with the Seagate FireCuda Gaming SSD packaging. You can only use the unit with a laptop or desktop with USB-C port. I guess you can technically get the cable somewhere else because I tried using mine (a USB Type-C to Type-A cable) and it worked fine.
A customisable RGB light through the software (hey, we all love RGBs) adds a nice touch to the drive and you can match the colour to your device's colour theme (Red, for example). If you are looking for a stylish and sleek, portable gaming drive, you've come to the right place.
Seagate FireCuda Gaming SSD Review Conclusion
With cutting-edge USB 3.2 Gen 2×2 technology support (up to 2,000 Mbps read speed), Seagate FireCuda Gaming SSD is definitely one of the fastest portable, gaming SSDs out there. The question is of course whether you have the machine to support it, as the technology is still catching up. My gaming laptop for example, the ASUS ROG GL502VT, only has USB 3.1 Gen 1 support (but it is a few-years-old laptop). I could only get around 400Mbps read speed on that connection though playing Overwatch felt fine with that.
Plugging the drive into my Desktop PC which supports USB 3.2 Gen 2 (not USB 3.2 Gen 2×2), gives me 1,000 Mbps which is half than what the drive is capable of if I have a Gen 2×2 port.
It still is an amazing speed to behold, especially if your laptop is still utilising a SATA SSD which has a limit of around 550Mbps read speed.
So, if you have a recent gaming laptop with USB-C supporting USB 3.2 Gen 2×2 like the new Razer Blade Pro, you are definitely in for a treat here. The drive is very fast and will cut your games loading screen short tremendously, especially for open-world games that have load many game assets constantly and dynamically.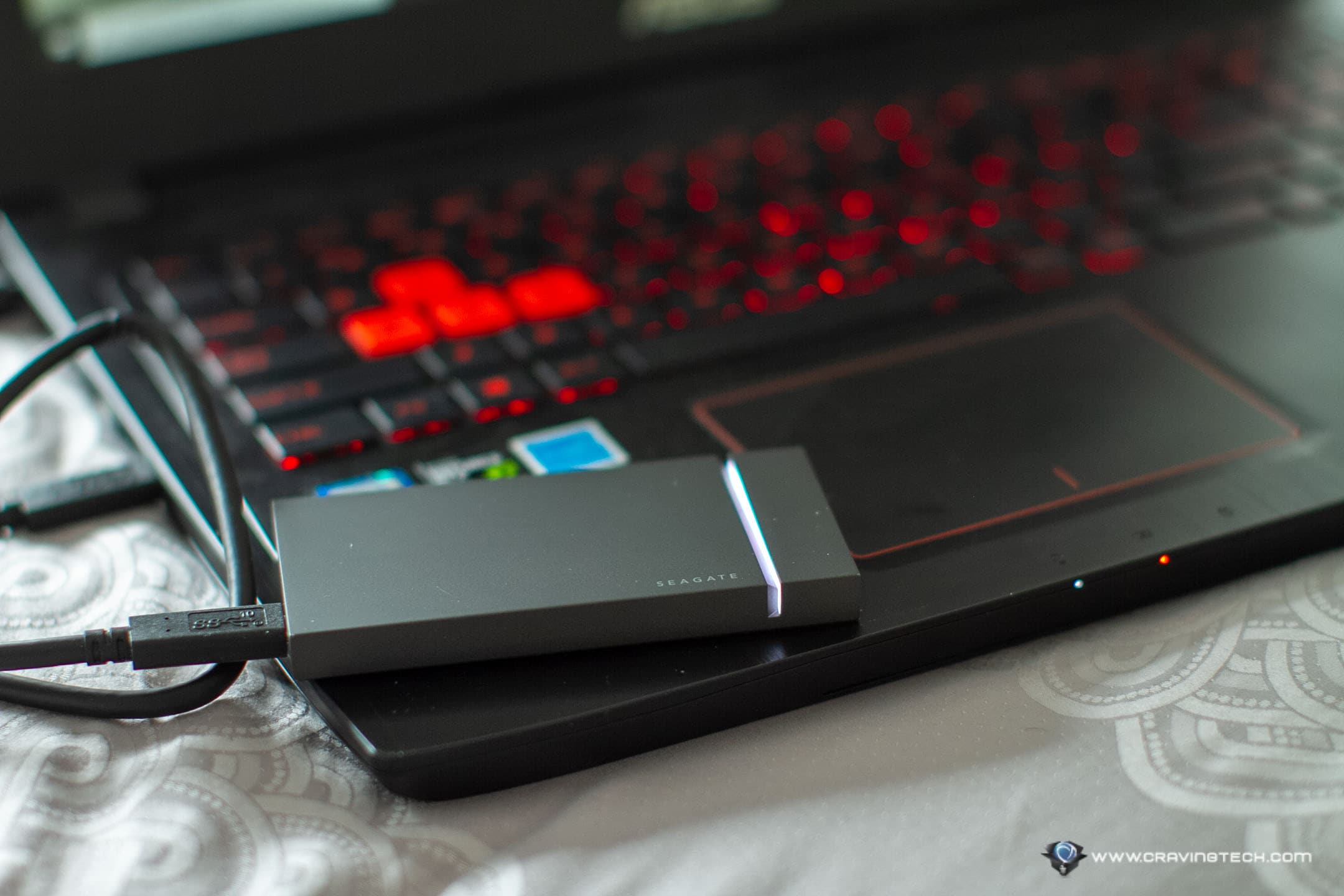 Thanks to the large capacity and high performance, gamers who are struggling to keep up with their device storage limit can now smile again. I can't wait to copy my games over from the desktop to the drive and bring it with me when I'm travelling overseas again one day to game.
Seagate FireCuda Gaming SSD is available now to purchase for AUD$299 (500GB), AUD$399 (1TB) and AUD$759 (2TB).
Disclosure: Seagate FireCuda Gaming SSD review sample was supplied for reviewing but all opinions are mine and not paid
Seagate FireCuda Gaming SSD Review
Summary
Portable gaming drive with very fast performance and stylish design with customisable RGB LED.
Pros
Very fast – 2,000 MB/s (USB 3.2 Gen 2×2)
Compact & Stylish
Up to 2 TB capacity
Cons
No USB Type-C to Type-A cable included as an option
Pricey