WD Black P50 Game Drive SSD Review – While SSD is getting cheaper and cheaper, there are times where you can't upgrade or replace the drives inside your gaming device (for whatever reason). For example, if you have a gaming laptop with just a 128GB or 256GB SSD drive, you'll realise soon enough that you will run out of space quite quickly. Or if you have been downloading & installing new games on your console from the online store, you might have to juggle between removing old games in favour of the new.
But with the WD Black P50 USB drive, you can always install that new game you want to play, even when you are running out of space on your device, while keeping your old games in tact. Plus, with its USB 3.2 Gen 2×2 support, the speed will be so fast that you won't even notice your game is running from an external USB drive.
Packaging
The package includes two types of cables:
USB Type-C to Type-C cable
USB Type-C to Type-A cable
If you have a Windows laptop or a MacBook that only supports USB-C, you can also make use of this drive thanks to the included USB Type-C cable. It's good that WD includes both types of USB connectors.
Design & Features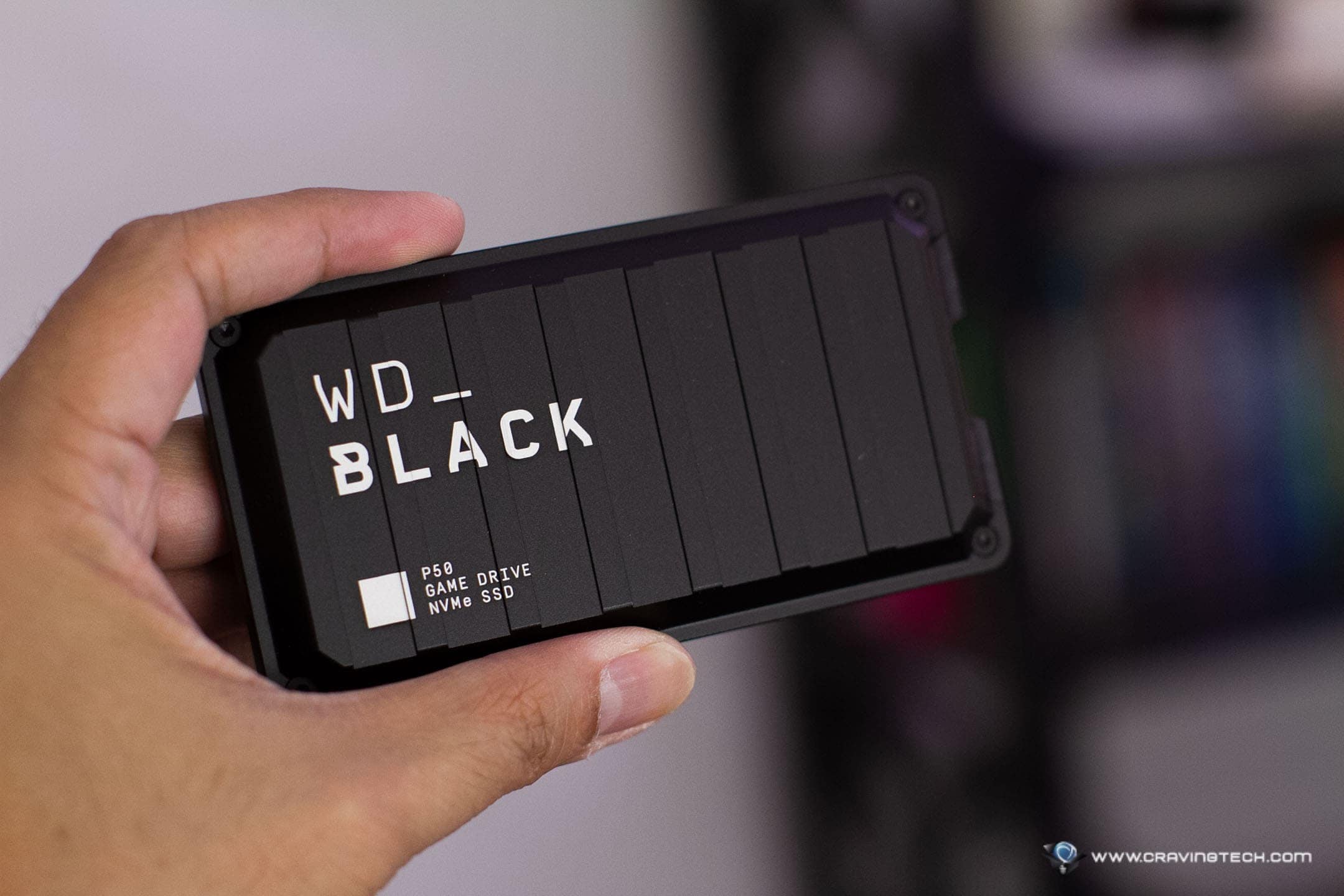 To my surprise, the drive itself can be considered compact even when it has a 1TB capacity like the review unit I have here. You can also opt for 500GB or 2TB depending on your needs.
As mentioned earlier, the drive supports SuperSpeed USB 20Gb/s (which is the USB 3.2 Gen 2×2) that definitely offers really fast read speed and future-proof. For example, Sony PlayStation 4 Pro (PS4 Pro) only has USB 3.1 Gen.1 ports which supports 5Gb/s – about a quarter of what this drive is capable of. While we are not sure what PS5 will have in store for us, it's good to know that the P50 will keep up with no issues.
And if you have just upgraded your PC, your new motherboard might already have the USB 3.2 Gen 2×2 support. Or you can purchase the newest GIGABYTE 3.2 Gen 2×2 PCIe expansion card to be plugged to your current set up.
But what is this 3.2 Gen 2×2 (20Gb/s) anyway and why should you care? Basically, the faster a drive can read data in games, the faster stuffs are such as loading the game maps, restoring your saved game, etc. To put into context:
WD P50 SSD supports up to 20Gb/s (2,000MB/s) read speed.
A typical 2.5″ SSD such as the most recent Kingston KC600 SSD runs with around 550MB/s read speed.
An NVMe M.2 drive like the WD Black SN750 can have a 3,400MB/s read speed.
As you can see, even the P50 running over USB is already much faster than a typical SSD running on the SATA 3Gb/s.
My GIGABYTE Aorus X570 Elite Wi-Fi motherboard unfortunately only supports USB 3.2 Gen 2 (i.e no "x2") but should yield around 1,000MB/s read speed (half than the 3.2 Gen 2×2 spec). The test result on this was definitely satisfying and on point, 1,028MB/s read speed and 940MB/s write speed: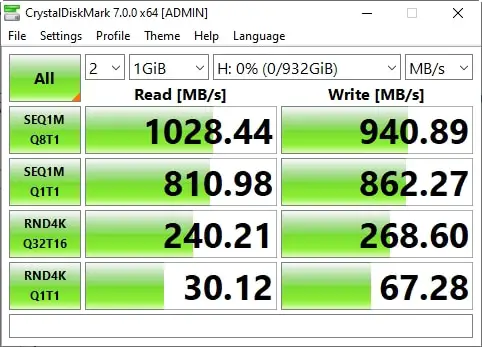 So everything looks dandy and appealing, but what does this really mean to you?
I actually tested playing Blizzard Overwatch straight from the WD P50 drive through USB 3.2 Gen 2. To my surprise, the game felt smooth and loading was fast, just as running it from my WD Black SN750 NVMe (3,400MB/s read speed). I definitely didn't feel any lag or stutter throughout the gaming session which lasted for several hours non-stop. So if your gaming device has a USB 3.2 Gen 2 support (or better, 3.2 Gen 2×2), you'll definitely be super happy with the drive performance.
The drive performed fast in writing too as I copied my whole Overwatch folder to the WD P50 for testing. If you are travelling with your gaming laptop like the ASUS ROG GL502VT that I have, you can also store many of your movie files to watch.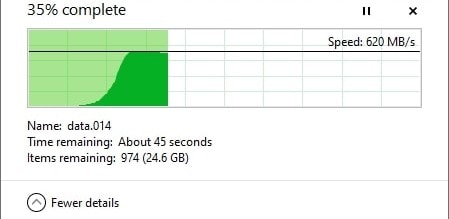 WD Black P50 Game Drive SSD Review Conclusion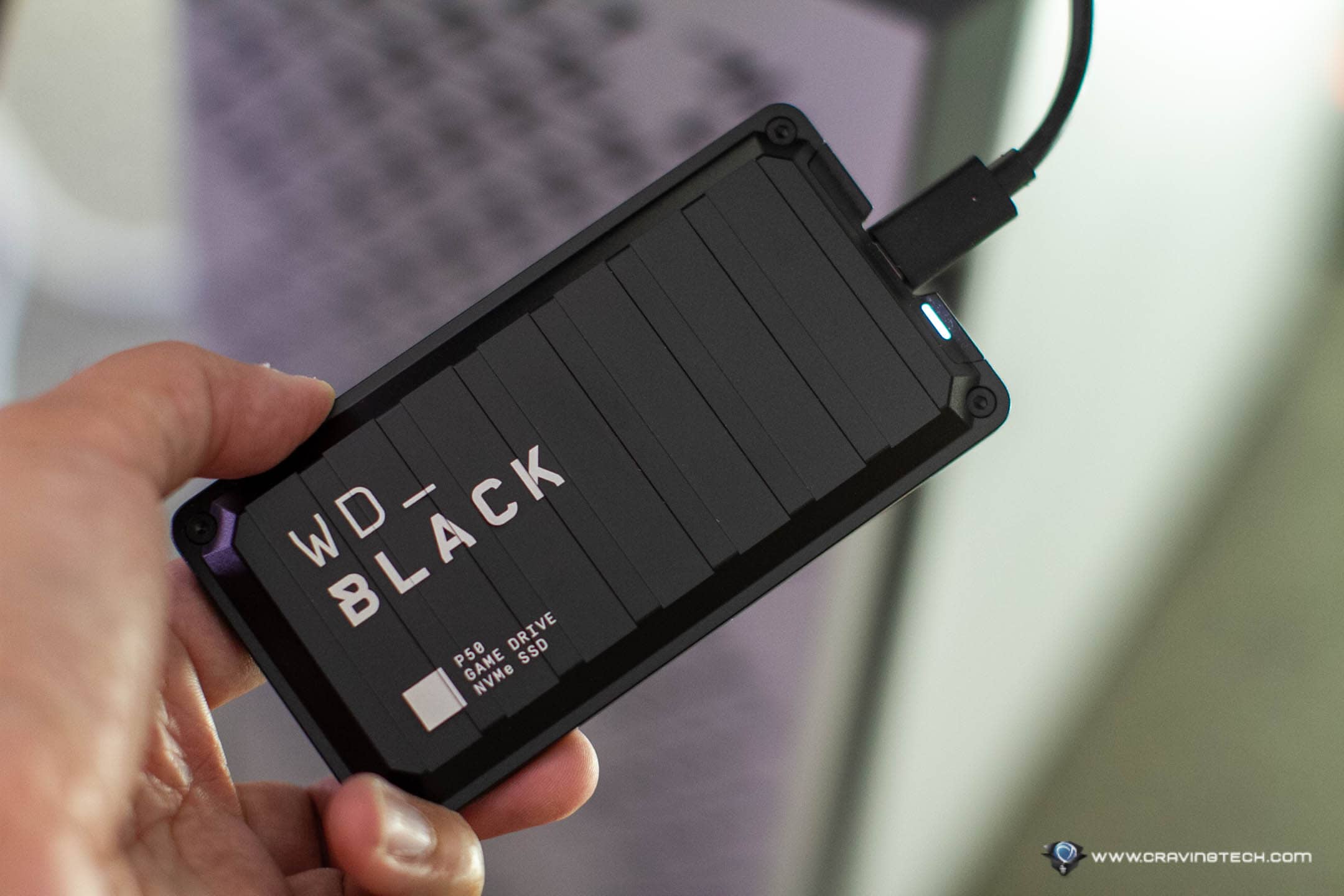 WD Black P50 Game Drive NVMe SSD is a solid performer as a USB game drive and has definitely changed my perspective in running games from an external USB drive! I thought the gaming experience would be slow and painful but instead, even at half the speed (on a USB 3.2 Gen2), the drive performs really well and even faster than running it from the usual 2.5″ SSD on SATA 3Gbps interface.
I guess the real problem (if you want to call it that) is that you may not have a system that has the USB 3.2 Gen 2×2 support yet, but if you have a more recent system like my AMD Ryzen build, your motherboard might support USB 3.2 Gen 2 at least. The drive is clearly made for the present, and also the future.
The drive is quite compact to carry around so if you are travelling, you can treat it as a portable drive as well to store your other data and not just your games. WD P50 is compatible with PC, Mac, PS4, and Xbox One so if you are only gaming on the console, this drive will still treat you well.
WD Black P50 Game Drive SSD retails around AU$289 (500GB), AU$459 (1TB), and AU$809 (2TB). Also available at Amazon.
Disclosure: WD Black P50 Game Drive SSD review sample was supplied for reviewing but all opinions are mine and not paid
WD Black P50
Summary
With WD Black P50 Game Drive, you'll never run out of space anymore for your games. Just plug it into your PC or console, and play. It also supports  USB 3.2 Gen 2×2 for a faster read
Pros
Not that bulky considering the size & performance
Rugged build
Responsive, fast speed
Two types of USB cables included in the packaging
Cons
Need USB 3.2 Gen 2×2 for the best drive performance