Amazon Echo Show 10 Review – I love our Amazon Echo Show 5 and Echo Show 8. Both have well-deserved spots on our kitchen bench and master bedroom.
But the latest Amazon Echo Show 10 does not just offer a bigger display (even if that's already enticing enough), but a smart motor and sensor that track where you are and rotate its display on its own to face you at all times. Well, most of the time.
Is this just a gimmicky feature? Or is it useful?
Amazon Echo Show 10 Review – Packaging Contents
Amazon Echo Show 10 Review – Setting up
Setting it up is pretty easy like the other Echo devices but this time, there's an extra step. With the new auto-framing and motion, there is a bit of calibration needed to ensure you have enough space for the display to rotate and to optimise the positioning.
Note that the Echo Show 10 does not need to be able to rotate fully 360 degrees – it all depends on the space you have and where you set it up.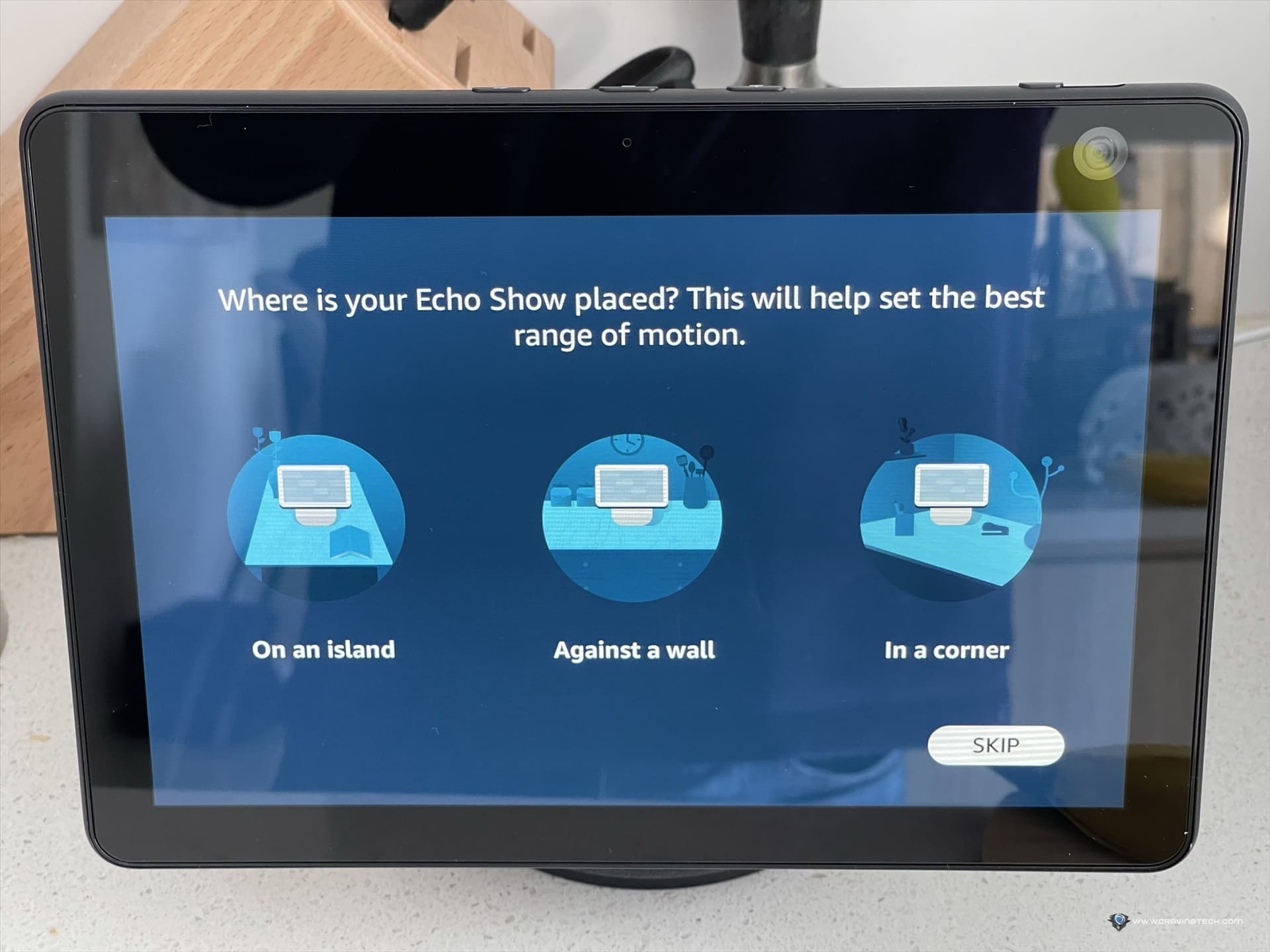 Amazon Echo Show 10 Review – Design & Features
The new Echo Show 10 features a 10.1″ HD screen (1280×800 resolution) and if you are wondering whether bigger is better, it depends on what you are planning to do with the smart display. If you are going to place it on a kitchen bench to watch cooking videos, then you'll love the big screen definitely.
Compared to the other Echo Show devices, Echo Show 10 also gets an upgrade in the sound department. It's equipped with 2 x 1.0″ tweeters + 3.0″ woofer and my wife loves to cook while listening to music on the Echo Show 10.
The update to sound and camera quality is quite noticeable, coming from the Echo Show 8. But the most noticeable difference is the size of the Echo Show 10. It requires quite a good amount of space on the bench and may not fit small benches, assuming you already have other appliances on there.
Like other Amazon Echo devices with smart display, you can use it to watch videos, check for news, weather, and connect to the other smart devices at home. For example, if you have Ring or Arlo devices, you can simply say things like "Alexa, show me the front door" to check your live footage.
I'm currently reviewing Ring Video Doorbell Pro 2 and when someone pressed the bell, I'd also get notifications "Someone is at the front door" on all of my Echo devices. Thankfully, I can turn this off because I woke our newborn accidentally the other day as we also have an Echo device in the nursery.
But the main attraction is definitely Echo Show 10's auto-framing and motion. It's designed so that the 10.1″ screen will always be facing you wherever you are. As you move around the room within a certain distance, the display will auto-turn itself to face you.
It's actually not just cool, but also useful. As I moved around the kitchen bench, the Echo Show 10 display rotated and followed me around. If you are cooking while watching how-to videos, this is extremely useful. Or when you get a video call while you are baking cakes (through supported apps), you can always be in the frame and don't have to hold still.
If you are not in the vicinity of the front camera/sensor, once you said "Alexa", the Echo Show 10 can detect your voice and then rotate its display towards the origin of the sound.
Do you really need this? Well, it depends. If you have a small kitchen or room, you probably don't really need to always be in front of the display unless you do lots of video calls with it while you move around. I honestly didn't have a big bench or kitchen, so I could still see my Echo Show 8 screen just fine even when I wasn't standing in front of it. To check for kitchen timers, the weather, and news, that's more than enough.
Do I get more immersion and a better experience with the Echo Show 10? Definitely. With the display facing towards my eyes plus a larger HD screen, I'd pick the Echo Show 10 anytime.
You can also use the Echo Show 10 as a live security camera feature with the rotating feature, accessible from the Alexa app or another Echo Device. This allows you to utilise its front camera and rotate it manually to check around the house.
The data used to track where you are is stored and processed locally on the device, in case you are worried about privacy issues.
Amazon Echo Show 10 Review Conclusion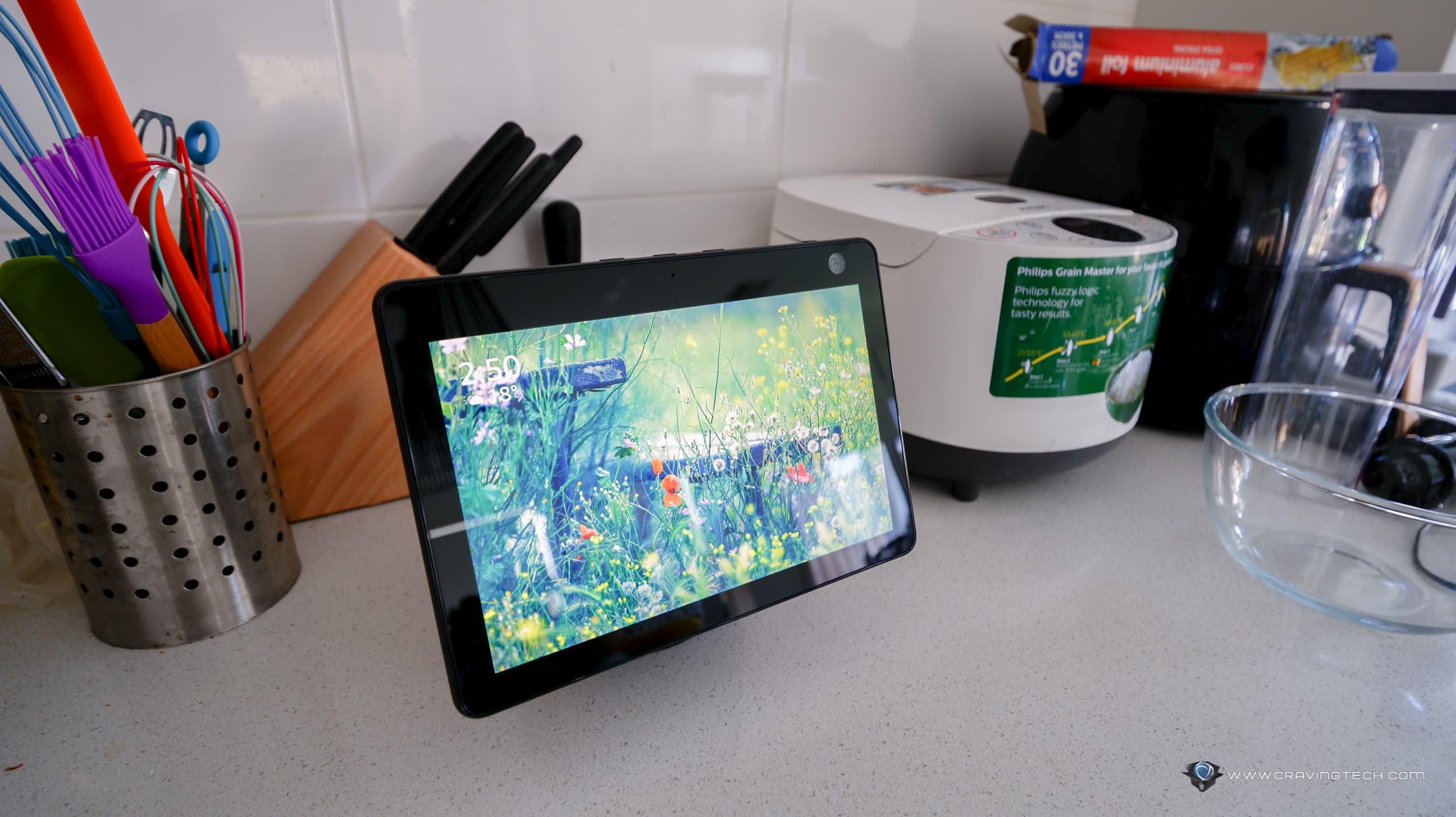 Amazon Echo Show 10 is spooky, cool, and useful at the same time. The idea of a smart display tracking and following you around the room is spookily cool – and somewhat futuristic. It smartly auto tracks where you are using its front camera (and I assume a sensor to know where your voice is coming from), to make sure that you can always see the screen.
The larger display on the Echo Show 10 is both a blessing and a curse. If you have a small kitchen bench and already have lots of appliances on it, there might be a bit of a struggle to make space for the rather large Echo Show 10. But if you do have the space and can utilise its new auto-framing and motion, you'll have the best viewing and video calling experience possible on an Echo Show device, thanks to the large 10.1 screen and bigger sound.
The Echo Show 10 is definitely Amazon's best smart home display yet. However, if you don't actually need a display at all, you can always grab the cheaper Amazon Echo or Echo Studio for a richer sound.
Amazon Echo Show 10 is available now at Amazon.com.au (and Amazon.com) for A$399.
Disclosure: Amazon Echo Show 10 review sample was supplied for reviewing
Amazon Echo Show 10 Review
Summary
Amazon's best smart home display yet, but do you really need a device that tracks and follows you around?
Pros
Large, HD screen
Auto rotates to where you are, very useful
Silent brushless motor
Bigger sound than the other Echo Devices
Zigbee support
Can close the camera for privacy
Can be used as a digital photo frame
Cons
May not fit smaller kitchen benches with lots of appliances on it
Quite pricey unless you really need the auto-framing and motion