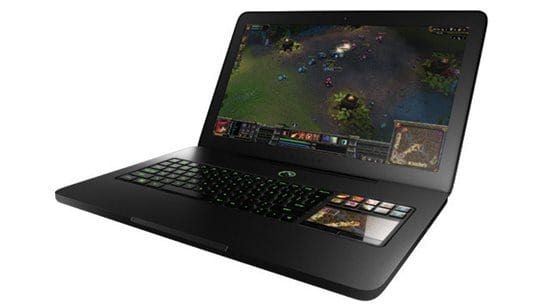 Razer Gaming Laptop, the Razer Blade – We've been teased for a while by Razer about how PC Gaming is not dead through their Facebook fan page, tweets, and news. They even set-up a domain pcgamingisnotdead.com specifically for this teaser.
Razer fans have been guessing what this new product was but most people suggested that it might be the Razer Switchblade. Well, close. It is actually a gaming laptop called Razer Blade, a thin, slim, yet powerful with the Switchblade touch panel.
Razer Blade Video
Razer's gaming laptop, Razer Blade Specifications
2.8GHz Intel® Core™ i7 2640M Processor
8GB 1333MHz DDR3 Memory
17.3″ LED Backlit Display (1920×1080)
NVIDIA GeForce® GT 555M with NVIDIA® Optimus™ Technology
2GB Dedicated GDDR5 Video Memory
Built-in HD Webcam
Integrated 60Wh Battery
320GB 7200rpm SATA HDD
Wireless Network 802.11 b/g/n Compatible
16.81″ (Width) x 10.9″ (Depth) x 0.88″ (Height); 6.97lbs (Weight)
What Razer wanted from the Razer Blade is a proof that there is a company who still believes PC gaming is not dead and is willing to dedicate itself to PC gaming by manufacturing its own gaming laptop that is not just a "laptop that everyone can buy".
Many manufacturers remove certain features and materials just to make it cheaper so people can buy it. However, a true gamer needs more than that. A gaming laptop needs to be powerful but easy to carry around as well. Razer Blade measures 0.88 inches thin and weighs around 6.97 lbs. Compare this to MacBook Air 13" of 0.69 inches and weighs 2.96 lbs, it's close (remember that this is designed specifically for gaming and it's 17")
The Switchblade concept is used in Razer Blade with the 10 dynamic adaptive tactile keys and also an LCD that is capable of two modes: to display in-game information when you are using a mouse and another as a multi touch panel.
Razer Blade costs $2,800 so this is definitely not for everyone to own. According to Min-Liang Tan, CEO and Creative Director of Razer, they can bring the price down, but it will definitely be thicker, heavier, and without the Swithblade interface. That's the whole problem with PC industry today, they don't innovate, they just want to sell and make profit. Razer wants to dedicate this laptop to real hardcore PC gamers (as we can already see from all of their gaming peripheral reviews here at Craving Tech).
The only problem that normally happens with a gaming laptop is that within a year or two, the same spec will not definitely be the most powerful gaming laptop anymore. However, Razer Blade is definitely a sexy gaming laptop and highly portable due to the slim design, something that never happens in a gaming laptop these days. If you have the budget and you love PC gaming, you can grab Razer Blade and show it off when it's available around Q4 2011.
Razer Blade Press Release | Razer Blade Official page