Plantronics Voyager PRO UC (Unified Comms) may not be the smallest Bluetooth headset in the planet. However, as soon as you fully appreciate the noise cancelling microphones on the boom, clarity of the voice, comfort, and the WindSmart technology, you'll forget about everything else that you may not like about the Voyager PRO UC.
Let's have a closer look at Plantronics Voyager PRO UC.
Some like the boom design and some may not. One of the reasons I didn't really want to use a Bluetooth headset in public is simply because I feel silly when people see me "talking by myself". At least if they see the boom, they know that you are on a phone call with someone else. Recent Bluetooth headset designs are so compact and modern, but it doesn't tell people that "hey, I'm talking with someone here, not by myself". Surely it's not the reason why the team designed the Voyager PRO UC with a microphone boom. According to the official specification, the boom itself contains "2 noise cancelling microphones, 3 layers of WindSmart technology, and an adaptive 20-band equalizer for maximum clarity of voice". Things that are not possible to be included in a more compact design.
I totally love the WindSmart technology on this tiny device. I remember having an audio chat inside my room using my Razer Megalodon headset and my friends asked me about the annoying breeze noise in the background. Apparently, it was the wind coming from my Dyson's bladeless fan. If I were using the Voyager PRO UC with WindSmart technology, it would be a different story! If you ever make a call when it's so windy outside, Voyager PRO UC works wonders and cuts the wind hissing noise which you normally get with other headsets, thanks to the WindSmart technology.
The Plantronics Voyager PRO UC is very comfortable, thanks to the behind-the-ear design. This way, you don't need to press the ear tip too deep to hold the thing in place. The packaging includes different sizes of gel based ear tips and also a few foam ear tip buds. Suffice to say, there are enough sizes to give you the most comfortable experience with the Voyager PRO UC. I went for the smallest.
The Plantronics Voyager PRO UC also supports pairing 2 different Bluetooth devices in one go. This means you can easily connect the Voyager PRO UC to 2 different phones or a phone and your computer (USB dongle included in the packaging). This way, you can answer calls from your phone and also use Skype or any VOIP application in your computer. If you constantly have to make and receive calls at work, you'll appreciate being able to answer and make calls from both the computer and your phone at the same time. The process to pair is fairly simple and straight forward. Works great on my iPhone 4.
There are volume control buttons on the top of the Voyager PRO UC and also a multifunction button to answer/end a call, redial, and also to make calls using the voice dialing. Feedback happens through a small LED and also different beep sounds for different events (which is very handy when the Voyager PRO UC is already dangling on your ear). Pressing one of these buttons puts a bit of pressure to your ear but thankfully the buttons do not require extra strength to be registered.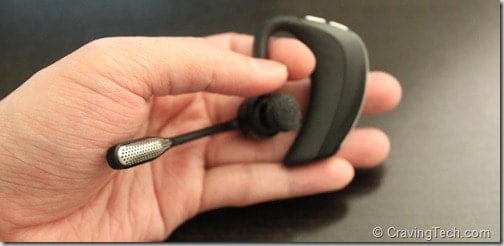 Plantronics Voyager PRO UC's audio clarity and quality are exceptional. My friends didn't complain at all when I called in a noisy environment, thanks to the noise cancelling microphones. I talked for hours using the Plantronics Voyager PRO UC without any complaints; my hands were free, felt comfortable, my ears didn't turn red or anything, and there were not a single moment where the other sides of the calls were complaining about the quality of my voice, even in a noisy environment.
Note: Sample unit was provided for the review