There are dozens of username, numbers, password, server IP address, and registration details to remember and frankly speaking, you may have trouble trying to remember them all (unless if you are using the same password for every thing). You can write them on a piece of paper, which is a very bad practice. Or you can put them in a text file on your computer, but it's not secure and you may not always be in front of your computer the whole time.
If you have an iPhone, you can carry this confidential info with you all the time, securely – thanks to SplashID app from SplashData.
SplashID is a secure password manager application that uses a 256-bit Blowfish encryption to protect it from prying eyes. You put the password in by entering a combination of numbers or through a series of pattern (which is the same thing but probably easier to remember and to unlock). It feels a bit laggy when I'm logging in using the patterns so hopefully the performance can be improved in the future.
When you re-open the application, SplashID protects itself and you have to re-enter your password to re-open the application. I like this approach but unfortunately the app shows the last screen where you left it at for around a couple of seconds before the Login screen comes up. You just have to make sure that your last screen is not something important or at least have the important fields masked (in which you can set on the item settings).
On the main application screen, you can see all your records that you have set-up through SplashID. You can also go to the "Most Viewed" tab to see the frequently viewed items (which often are the only items you need to be included in SplashID).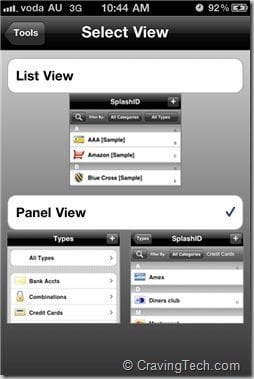 Each record can be organized through Categories and Types. Categories can be anything, for example Personal, Work, or any other things that you can think of. Record types are more specifics to the records you are storing such as Bank details, Credit Cards, etc.
There are already pre-defined types but you are free to add your own record type. When adding (or editing) a record type, you can change its icon, name of the type, and also the field names associated to that record type. For example, you may have BSB and Account Number fields for Bank accounts but Username and Password for online web service credentials.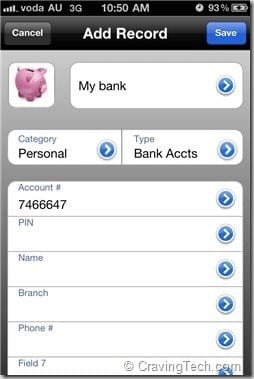 I like how things are categorized like this which makes finding things so much easier. Unfortunately there is no way to change the order of the types in SplashID. If you want to swap the order of the fields, you need to manually swap them by editing the field names and values. I hope that there will be updates in the future for this feature.
There is also a sync feature so you can always sync your confidential records between your PC/Mac and your iPhone. This way, you'll always be up to date where ever you are.
SplashID looks elegant and I like how everything is categorized neatly and yet doesn't feel overwhelming. It's easy to spot and view a specific record, thanks to Categories and Types.  For the first time in my life, I actually feel secure carrying my private information in SplashID and have started to store my bank details and other login details on my phone. Thanks, SplashID!
SplashID Safe: Teams Edition – SplashData
Note: Promo code provided for the review