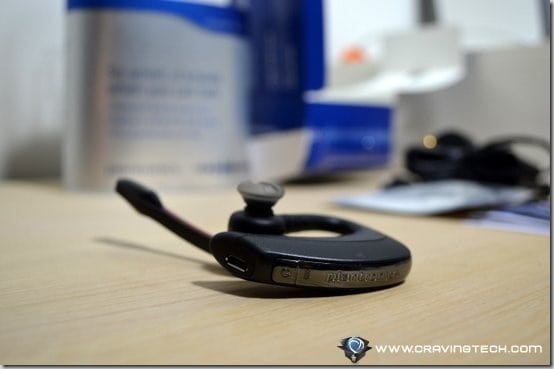 Plantronics Voyager PRO HD Review – You may have already guessed from the product name that this is a better version of the previous Plantronics Voyager PRO/PRO UC. Though the design is pretty much similar, the Voyager PRO HD sounds much better and features a Smart Sensor™ technology in which I'll explain in a little bit more detailed later.
With an exceptional audio quality and the Smart Sensor™, Plantronics Voyager PRO HD is one of the best Bluetooth headsets I have reviewed, assuming you are okay with the microphone boom design (personal preference).
Plantronics Voyager PRO HD Review – Packaging
The packaging comes with:
Plantronics Voyager PRO HD headset
Different ear gels of different sizes (your pick)
Power adapter
USB cable
User guides, etc
Plantronics Voyager PRO HD Review – Design
The design of the headset is still quite stylish, despite of the microphone boom, which actually improves the quality of your voice quite significantly compared to the ones without. It's coated mainly in black and pretty sturdy.
You are meant to tuck it around your ear with the help of an ear-hook design (which has all the chips, battery and everything inside). It's quite easy to hook it up so you don't waste your time trying to fiddle with it during an incoming call.
Unlike the Plantronics BackBeat 903+, the recharging port remains exposed so you can plug the cable in quickly.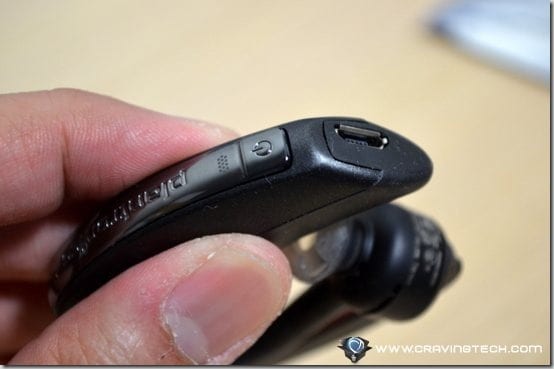 I found that within a few hours, the headset was already fully recharged from an empty state – which is amazing. This means that when the battery is low and you have an hour or two of say, lunch break, you can quickly plug it in to recharge to get a quick "fix". You can either press the power button or look at the headset's battery meter indicator on your iPhone (or Android smartphones) to find out how many hours you have left before you need to recharge the headset.
The microphone boom can be pushed all the way up or down and there are also up and down volume controls, rather than a single button on most other compact Plantronics Bluetooth headsets.
Plantronics Voyager PRO HD Review – Experience
What I like most about the Voyager PRO HD is the Smart Sensor™ technology. I don't wear a Bluetooth headset on my ear all day long so normally I place it on my desk when I'm not on call. Therefore, it can be a bit tedious when a call comes in and I have to set the headset up as quickly as I can (turning it on, placing it on my ear, and pressing the answer button). With the Smart Sensor™ technology, Plantronics Voyager PRO HD automatically goes to standby mode when I take it off my ear and wakes up + answers the call automatically when I place it on my ear.
Another great thing about this technology is that often I thought that I was going to make a quick call so I couldn't be bothered using a Bluetooth headset. However, sometimes a call took longer than I expected. Normally, it would take a few steps to transfer the call to my headset. With Voyager PRO HD's Smart Sensor™ technology, I quickly grabbed the headset and hook it to my ear. It automatically transferred the call to the headset pretty quickly and the caller didn't even notice a thing. Love it!
I find that the quality of the call is excellent and it also has noise cancelling technology (including from the wind). I honestly haven't tried the Wind Protection yet so I'm not sure how good it performs when you are driving a car with the windows opened, for example.
The microphone boom design helps in delivering clear audio quality to the other end of the call.
The voice activation (done by pressing and holding the main button for a couple of seconds) also works well and I'm happy to announce that the Plantronics Voyager PRO HD works with iPhone 4S Siri (unlike the Plantronics MARQUE M155 that I reviewed last week).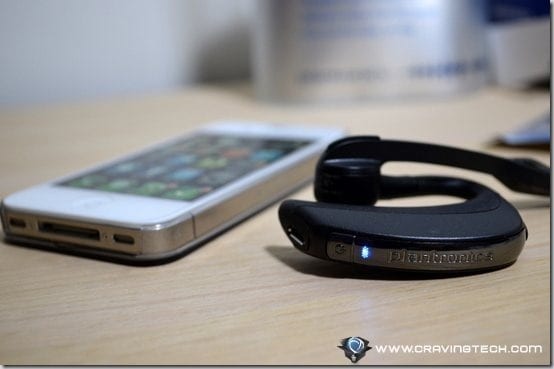 Plantronics Voyager PRO HD Review – Conclusion
Plantronics Voyager PRO HD
Plantronics Voyager PRO HD is a masterpiece, if you are okay with the less-sexy design (due to the microphone boom) compared to the other Plantronics Bluetooth headset models.
The headset is designed to fit around your ear comfortably and securely – allowing you to talk for hours over the phone. Once I talked for more than an hour non-stop with the Voyager PRO HD and I didn't experience any discomfort at all.
The sound quality is also excellent (definitely deserves the "HD" tag) for both calls and music (I honestly haven't heard music being played this good through a compact Bluetooth headset since the Backbeat 903+).
The Smart Sensor™ technology is also the clear winner here. Wear the headset and it instantly answers your incoming call. Take it off and it pauses your music. If I'm not mistaken (correct me if I'm wrong), this is the first time I've ever seen this on a Bluetooth headset.
Excellent quality, excellent design, excellent technology. Well done, Plantronics!
Note: Review sample was provided for the review
Plantronics Voyager PRO HD Review – Pros
+ Excellent audio quality (calls + music)
+ Small and portable
+ Recharge quickly
+ Noise cancelling + Wind Protection
+ Works with iPhone 4S Siri
+ Love the Smart Sensor™ technology
Plantronics Voyager PRO HD Review – Cons
– The design may not be for everyone
– Doesn't say who the caller is during an incoming call