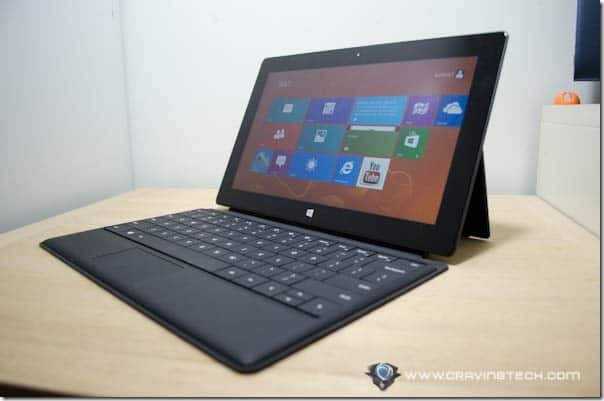 Microsoft Surface Pro Review – Tablets have been dominating our world these days and most of us have a tablet on top of a smartphone (or at least, want one). As much as I love tablets (iPad or Android tablets), there is only one thing that I dislike about them: I just can't do any real work on it. Or at least, not as easy as doing it in a desktop or laptop.
Microsoft offered a solution by releasing Surface RT some time ago, but to me, it all comes down to Microsoft Surface Pro.
Microsoft Surface Pro is like a hybrid between a tablet and an Ultrabook. It is powered by Windows 8 Pro operating system and capable of running any Windows applications you can throw at it. In simplified term, you can view Microsoft Surface Pro as a touch-screen-enabled Windows 8 Ultrabook without the keyboard (though you can attach it to a keyboard accessory, more on this later).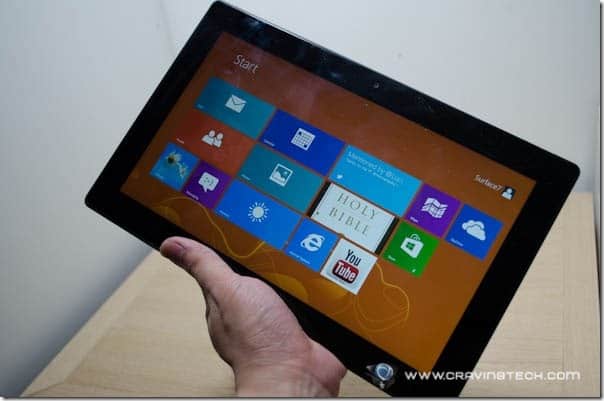 Surface Pro runs on the 3rd generation Intel i5 Processor and 4GB of RAM, powered by a 10.6″ ClearType HD Display and an Intel HD Graphics 4000. It is a well-built machine and powerful enough to run your day-to-day desktop activities: document writing, movie viewing, browsing, photo and movie editing, and so forth.
It even has a USB 3.0 slot to read and write to external USB drives. It only has 1 USB slot so if you are thinking to use a mouse, then it leaves no room for anything else. However, so far I've found that I can interact easily with a touch even when working on a Word document or doing some photo editing. If adding another extra USB is going to make Surface Pro bulkier, then I'm happy with just that one slot. Obviously, you'd want to hook your gaming mouse up on that only USB slot for gaming purposes.
Surface Pro is equipped with two 720p HD cameras (front and rear cameras) for taking pictures and video calls, built-in microphone and stereo speakers for audio/video calls, a MiniDisplay port to connect your Surface Pro to your HDTV, and a microSDXC card reader to further expand your storage.
A 64GB SSD for the storage gives a snappier performance and there is an option to upgrade it to 128GB. Plenty of space are being reserved for the system though, so you basically can only get around 29GB (on the 64GB storage option) and 89GB (on the 128GB).
There is no SIM card slot, so you have to connect Surface Pro on a Wi-Fi network or when you are on the road, tether it from your phone.
The packaging also includes a Surface Pen that you can smartly attach to the charging port (magnetised). The Pen is quite responsive and you can use it as either a drawing tool, touch interaction tool, or for writing (awesome handwriting recognition, by the way).
To use Surface Pro like a pro, I'd recommend grabbing either the Touch or Type Cover accessory, available separately. The Type Cover tactile feedback feels great and I have no complains typing on it.
Design wise, Microsoft Surface Pro looks elegant and professional, great for both personal and professional use. It weighs almost a kilo (916 grams) so it is not really comfortable to be held for a long time (such as for reading on bed or watching videos). Considering what powers this beast, this is a trade off that we have to face unfortunately (at least until newer technology comes along).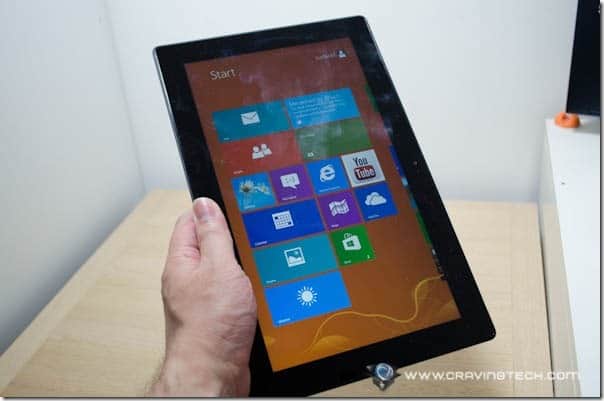 The battery power is decent, but not great – lasting for less than 5 hours on a regular usage and less when gaming. However, the standby battery is pretty awesome. I actually left the Surface Pro unused for about a week, yet the battery was still high up and running when I switched it back on. Switching on the Surface Pro takes a few seconds longer than an instant wake on tablets (about 5-8 seconds), but considering that it's running a full blown Windows 8, it's considered fast.
There is a mixed feeling about using Surface Pro. It feels like having a compact notebook with you that you can carry around all day long. It also feels like carrying a heavy tablet. The touch screen is really responsive though and the display looks great. Best of all, you can install your usual Windows applications and enjoy the smoothness feel of Windows 8.
Microsoft Surface Pro gives the best of both worlds; a tablet and an Ultrabook. It will be interesting, however, how other manufacturers will respond with their own tablets or Ultrabooks running Windows 8 in the future. There are many awesome ones out there, so you may want to compare them closely with the Surface Pro specs and features first before you make the buying decision.
[AMAZONPRODUCTS asin="B00BE5T2TA"]