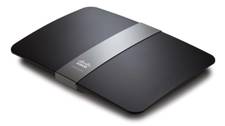 This hot looking Dual Band N router has just been released in Australia. The Linksys (by Cisco) E4200 offers very high speed transmission, perfect if you like to do HD video streaming from a media server in your home network. I've sent a message to my contact to see if I can get a hold of the router and review one for you (also, check Craving Tech's review on the Linksys WRT610N ).
Official press release from Cisco below.
Cisco powers next generation home networking with the ultra fast and supremely attractive Linksys E4200 Dual Band N Router
The most advanced Cisco Linksys router to date delivers superior speed and range with stylish and modern design for today's device rich homes
March 1, 2011 – Sydney, Australia – Cisco introduces the Linksys E4200 Maximum Performance Dual Band N Router, the latest and most advanced member of the Linksys E-series family offering network speeds of up to 450Mbps and a sleek new design. Elegantly fitting into any modern home, the E4200 delivers the high performance needed for HD video streaming and connecting multiple network devices in the home including laptops, smartphones, tablets, internet enabled TVs, set top boxes and game consoles.
New SpeedBoost technology makes high performance home networking achievable throughout the entire home. The Linksys E4200 is equipped with industry leading 3 x 3 antenna technology delivering up to 450Mbps on the 5GHz radio band. Additional SpeedBoost amplifiers enable additional range and MIMO technology uses walls to amplify the router signal.
The Linksys E4200 blends seamlessly into the living room home entertainment system. Designed by teams in Denmark and California – it delivers fast high performance networking with style. Its category leading sleek black and silver casing makes the E4200 the 'hottest' router on the market. The new design with enhanced ventilation ensures its actual temperature, however, remains at a modest level at all times.
As with all Linksys E-series models the E4200 comes with Cisco Connect software that installs the router in three easy steps, enables security, and assigns a unique network name. Once the router is installed, users can also use Cisco Connect to manage their wireless network by:
Adding multiple Internet-capable devices to the network
Setting parental controls for each computer or device
Giving visitors password-protected Internet access on a separate guest network
Customising advanced settings and changing the network name and password
Scott Jackson, ANZ Marketing Manager for Cisco Consumer Products said: "The home network is now the platform for delivery of multiple sources of content, consumed on an ever increasing number and variety of devices. The E4200 gives consumers all the performance they need to get maximum enjoyment, while still looking great in their company."
To further enhance the wireless entertainment experience, the Linksys E4200 is equipped with a USB port that allows consumers to connect USB devices like external hard drives directly to the router so they can be shared wirelessly. Consumers can then stream their favourite HD movies, data and music from the storage device to tablet PCs, laptops, connected TVs and other platforms.
To provide greater choice to consumers Cisco is also expanding its product portfolio by introducing two new Cisco Linksys switches to meet a growing customer need for connecting devices with wired Ethernet connections. The Cisco Linksys SE2500 5-port and SE2800 8-port switches feature Gigabit ports offering both high speed and reliable connection, ideal for connecting devices that require large amounts of data such as internet set top boxes and media servers.
Pricing and Availability:
Linksys E4200
The Linksys E4200 Maximum Performance Dual-Band Wireless-N Router is available in late March through Harvey Norman and specialist computer resellers nationally at an RRP of AU $299.95.
Linksys E4200 Details
Features:
Maximum performance up to 300 Mbps (2.4) and up to 450 Mbps (5.0 GHz)*
Simultaneous Dual Band (2.4 and 5.0 GHz)
4 Gigabit Ethernet LAN ports
1 Gigabit Ethernet WAN port
6 antennas for maximum range
Amplifier for maximum speed at extended range for greater in-home mobility
3X3 MIMO spatial streaming configuration on the 5.0 Ghz band for ideal performance for streaming HD videos, gaming and voice calls
Prioritization of video and voice traffic over all other to deliver better performance for high demand traffic (QoS)
Advanced security: WPA and WPA2 and SPI Firewall
Plans to support IPV6 in spring 2011 through a free firmware upgrade
USB port for easily adding storage devices that can then be accessed wirelessly, perfect for setting up your personal media server
Integrated FTP and UPNP media server functionality The LAN portLED lights can also be disabled to allow for a calmer environment
Connects to your DSL or Cable modem
Cisco Connect Software:
Advanced security: WPA and WPA2 and SPI Firewall
Set-up in three easy steps
Broadband Speed Meter
Easily add new devices
Parental controls
Guest access
Optional advanced settings.
Regular automated update checks to the firmware / software
Works with both Windows and Mac computers
For a full list of Cisco Linksys products visit www.linksysbycisco.com/anz.