Jabra SPORT Bluetooth Headset review – If you have read my Jabra SPORT Corded headset review before, you would be in for the surprise. This is the more superior version of the same model, Jabra SPORT, with Bluetooth connectivity (wireless). Jabra SPORT was designed for those who like to listen to their music and pick up calls while doing an exercise or just be active outdoor.
Though a corded version works quite well, there is nothing better than having a work out in the gym without having the pesky wire around your body. Coupled with a built-in FM radio, this is one of the most useful Bluetooth headsets you're going to get to accompany you during your workout or outdoor activities.

Jabra SPORT Bluetooth Headset Review – Packaging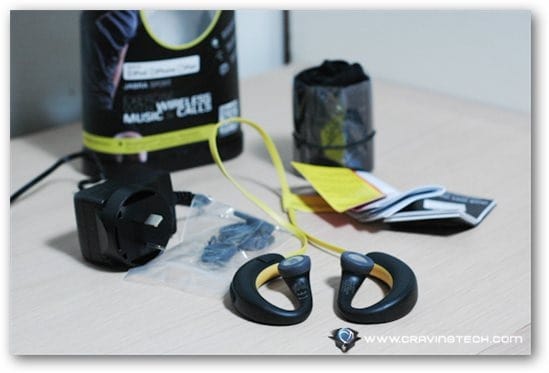 Jabra SPORT Bluetooth Headset Review – Video
Jabra SPORT Bluetooth Headset Review – Design
The Jabra SPORT is very light and pretty snazzy, thanks to the stylish look with black-yellowish theme: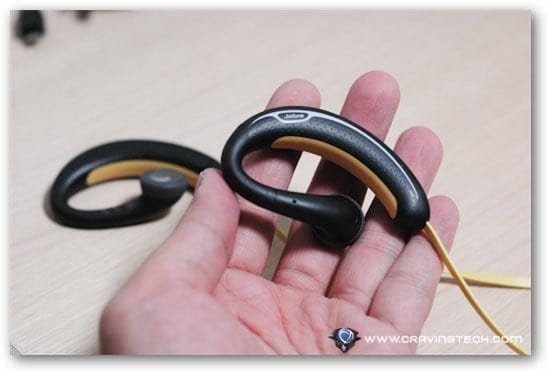 The Bluetooth headset has a flexible behind-the-ear fit (with ear hooks) so that it can stay firmly and comfortably. Though I find that it's best suited for those with standard or big ears, I can still make it fit comfortably around my small ear. It also stays there so if I run around or do my activities, it doesn't come off – though it feels a bit wobbly every time I try to hook it up around my ears.
According to Jabra, the SPORT offers a US Military Grade rain, dust and shock protection so you should be able to wear this even when it rains and will not break easily.
The cable is coated to make it tangle-free and I also find that it's a good design because you'll most likely be sweating around your neck when you are doing your exercise. Traditional braided cables often get damped/soaked with your sweat and it's not pretty. With the Jabra SPORT, it's easy to wipe and clean!
It comes with different ear gels so feel free to pick the ones you like the most. Unfortunately there is no in-ear ones (which I prefer), but even without, music and voice are pretty clear and of good quality.
Jabra SPORT comes with a few buttons on the headset:
Multi-purpose button (ex: to play/pause music, to turn the headset on/off, to pair, and more)
Volume Up and Down (ex: to turn the volume up and down obviously and also for searching FM radio stations)
FM Radio button (to enable/disable FM radio)
That's it! Expecting more? Thanks to the multi-purpose button, you barely need to remember which button does what as it will be the button that you'll be using most of the time to pick up calls and to do the other main features.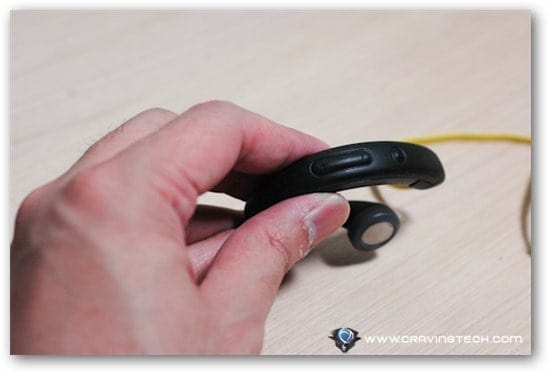 The multi-purpose button can also be used to invoke Siri on the iPhone 4S, which I tried earlier this morning. It's great because the Jabra SPORT is already hands-free to listen to the music or pick up calls. Now, you can even use it to make calls, check your weather, set-up reminders, and other funky things on your iPhone 4S!
To recharge, the slot is hidden away (to protect it from dust, water, or other nasty stuff) but you can simply open it up and charge through USB. According to the product specification, Jabra SPORT offers up to 4.5 hours of talk time and up to 3 hours music time. As a result, this may not be the perfect headset if you want to listen to your music while you work for the whole day. However, if you are just working out or jogging, it'll most likely be under 3 hours so it's all good.
There is also a free Endomondo Sports Tracker app to keep track of your running, cycling, walking, or other distance-based outdoor sports. The app is pretty cool if you want to know how far you've run, how much calories burnt, and even the route you took. You can even do a challenge with your friends through the app, which makes it even more fun to do some sport. You can use the multi-purpose function button to let the app dictate your current progress. Sweet.
Jabra SPORT Bluetooth Headset Review Conclusion
The Jabra SPORT is a great Bluetooth headset for listening to music, making/receiving calls, and even to have fun while doing your exercise or activities. It looks quite snazzy and fits comfortably behind the ears with different ear gels to choose from. The quality of the sound is pretty decent and it automatically switches when a call or message comes in when you are listening to the music.
Even when you don't want to hook it up to your music collection, you can always switch easily with a button to listen to an FM radio station instead. This way, no matter where you run or what you do, there will always be some nice tunes to accompany you, thanks to this Bluetooth headset from Jabra. Though the corded version offers unlimited music listening, the wireless version has so much more to offer, assuming you don't need it more than 3-5 hours.
Jabra SPORT Bluetooth Headset Review – Pros
+ Classy, Elegant
+ Cable design is tangle-free and sweat-free
+ Can connect up to 2 Bluetooth device at the same time
+ Built-in FM Radio
+ A Multifunction button – less to remember
+ Can listen to music
+ Military grade protection
+ Works well with iPhone 4S Siri
Jabra SPORT Bluetooth Headset Review – Cons
– Wish the battery can last longer
Note: Jabra SPORT Bluetooth Headset review sample was sponsored for the review. All opinions are 100% mine