Jabra SPORT-CORDED Review
Michael Aulia
Jabra SPORT-CORDED Review – Always on the move or doing your daily routine exercise? You might then want to take a look at Jabra SPORT-CORDED earphones. The Jabra SPORT-CORDED is designed specifically to withstand outdoor torture and rugged handling without compromising on comfort and sound quality. Whether you are doing a cardio exercise or jogging in a park, the headset stays comfortable secure on your ear, thanks to the ear hook design.
The Jabra SPORT-CORDED packaging contains
The Jabra SPORT – CORDED headset
A phone adapter for most Nokia, Samsung & Sony Ericsson phones with 3.5mm plug
Extension cable
Three different pairs of Ultimate Comfort Eargels
Quick Start guide
Carry Case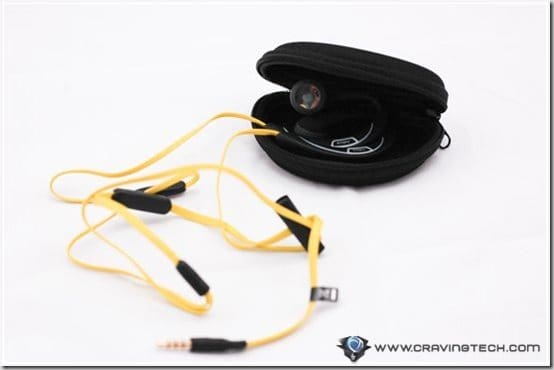 The ear hook design allows you to fit the earphones around your ear – and it stays there no matter what I do (walking, running, and even jumping!).
It comes with three different pairs of eargels so feel free to try out the ones that are most comfortable for you. Unfortunately, this is no "in-ear" headset which I prefer more nowadays. As a result, it's a little harder to hear some podcast or audiobooks near a heavy traffic or places with high background noise.
The materials are quite sturdy, including the cables which are coated for extra protection and also to have them tangled-free, though at an expense of thicker cables. The Jabra SPORT-CORDED is equipped with military-grade rain, dust, and shock protection. This means you'll never need to feel worried wearing this headset when you are outdoor, even in a harshest environment.
An extension cable is also included (separated) which is a great idea because you are given an option whether you want that extra length or not. They are extra-long and I can comfortably use the Jabra SPORT-CORDED while my Samsung Galaxy SII sits inside my pants' pocket.
You can also comfortably clip the cables on your shirt, thanks to the shirt clip. This will prevent the cables from dangling around when you jog. The connectors on these cables are all gold-plated.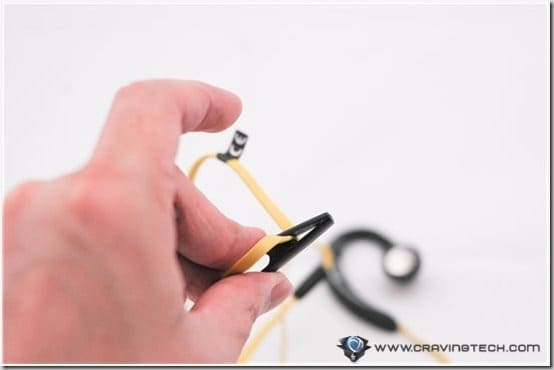 The Jabra SPORT-CORDED includes a control box with a button that controls practically everything from answering/ending phone calls, plus your music playback (play and pause). It also includes a wind-noise-protected microphone.
There is a separate volume control box with a slider so you don't have to press a button repeatedly just to decrease a few volume levels down.
As for music listening, the Jabra SPORT-CORDED doesn't disappoint at all. The sound quality is actually very good and caught me by surprise. I would have expected this to be just regular earphones with a so-so audio quality. Apparently, I was wrong. The moment I played my music for the first time while wearing the Jabra SPORT-CORDED, I was astonished at how clear the audio was. The bass unfortunately is a bit lacking in my opinion, as the bass seems distant though can still be felt (I'm a bass lover so I probably expect too much here).
The audio clarity on audio calls is pretty decent too and thanks to the multifunction button, you can answer a call while jogging easily.
If you have the money though, you might just want to grab the Jabra SPORT cordless version instead (connects via Bluetooth). A sample is being arranged to be sent to me for a review so you may want to wait to read my review if you want the cordless one. However, if you don't mind having a headset with a cord, Jabra SPORT-CORDED is a great addition to your activities' arsenal.
Note: Jabra SPORT-CORDED review unit was provided for the review. Photos were taken with the help of light tent kit from Fotogenic.

Jabra SPORT-CORDED Pros
+ Great companion for any sports or activities
+ High degree of protection
+ Cool volume slider design
+ Cable can be extended
+ Comfortable
+ Great audio clarity
+ Military Grade
Jabra SPORT-CORDED Cons
– Lack of bass
– Don't have a voice dial button
– Due to the extra protection, cables are bigger than normal