Note: This is a guest post written by Greg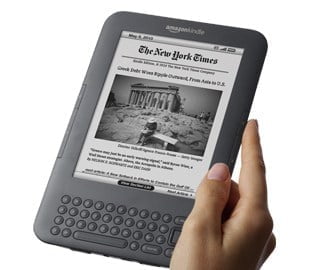 The Kindle from Amazon allows audio books and as such the gadget becomes one great study device. Just plop an audio book in while driving to and from work (or school) and digest an entire book in one good hands-free sitting.
Below we profile five business audio books aimed at those who own the Kindle and if we happen to have missed your fave, do chime in what you believe to be a good selection for others to add to their audio collection.

Top 5 Business Audio Books for Kindle Geeks
This is the runaway best seller from Tim Ferriss who also happens to run a hugely popular blog, by the same name. The idea is simple, outsource or die. To be more specific it's about transforming your dreaded 9 to 5 into a lifestyle of choice and having an actual say in your day to day work activities.
Tim does a great job of creating an entire movement based on his zen philosophy of creating an ideal work environment where productivity is set up in such a way as to produce the most results in half the time. An enjoyable read and a must have in your audio book collection.
2. Crush It
Written by one extremely energetic wine shop guru, Crush It is the #1 New York Times best selling book by Gary Vaynerchuk. He also runs a highly visited blog and the book covers the subject of passion. Do you have it? Do you care? and Will you do what it takes to succeed in this new media business world? These are the questions Gary asks and answers in his debut business book. If you lack even a tiny bit of motivation, run out and grab this audio book, because after reading it, you will be born again. A born again business marketing maverick. A highly entertaining book meant to inspire some fire out of whoever reads it.
One of my personal favorites from brothers Dan Heath and Chip Heath. This book is all about making your ideas stick, as in creating something people believe in and will follow till the day they die. The book is filled with loads of examples of stories and entrepreneurs who have made their ideas into multi-million dollar businesses that captured a willing and eager audience. This book will give you numerous tips on how to take your idea from a possibility to a viable concept that you can profit from for years to come. The two brothers have another book out called Switch that is also worth your time, as is any book the Heath brothers come out with.
4. Start Something That Matters
This title speaks to the new generation born and raised on the web. It's a fascinating read on how and what makes us likely to follow a brand and or cause. Written by Blake MyCoskie who runs the wildly successful online shoe shop Tom's Shoes, he delves into the way he runs his company and how you too can choose to profit from good noble business ideas.
In a down economy, his company is thriving and scores of evangelists sign up daily to purchase and consume his goods. That the Tom's Shoes way.
5. The Toilet Paper Entrepreneur
This funny and engaging book from author Michael Michalowicz is perfect for that long drive home or that upcoming 7 hour plane trip that you're not too excited about. It takes a no holds barred approach to getting things done without whining and complaining, and taking your business to the next level. Michael is a great story teller and he definitely "tells it, like it is" in this entertaining and fun read.
With our ever busy lives and constant on the go world, it's nice to know technology can lend a hand via tools and devices which make life go a tad smoother and entertainment is a click away. The text-to-speech feature built into the Kindle along with the audio capabilities, makes this e-reader one to keep an eye on.
Hope you enjoyed our round up of top business audio books for geeks. Give them a good look and feel free to browse the massive catalog of audio titles at Audible.com for more audio fun.
Note: This guest post was written by Greg who discusses the latest digital reading devices along with the best Kindle 3 covers and cases found on the web. When he's not updating his popular blog – he loves to bike, run, scuba dive and water surf.