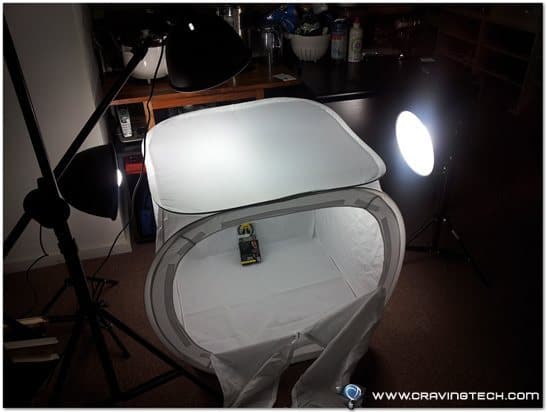 What's a light tent kit for and what does it have to do with enhancing product photos? Well, if you look at the official product photos in magazines or on some websites, you'll see these sharp looking professional product photos on a white (or black) background. These shots were most likely done using a light tent and a bunch of lighting sets.
They can be quite costly and it depends on how good you want the product photos to be. I'm sure you have probably seen hundreds of my reviews here at Craving Tech and I agree that some of the product photos can be better.
Thankfully, Fotogenic was kind enough to sponsor me the 75cm x 75 cm Tent Cube Package With Boom Light set to give a try and review.
Fotogenic 75cm x 75 cm Tent Cube Package With Boom Light
What's included in this kit from Fotogenic?
Light Tent
The light tent that comes with this package is of 75cm x 75cm. It is fold-able to be stored easily without taking up much space as the light tent can get pretty huge when you expand it up. Of course, there are ranges of light tents you can get from Fotogenic, depends on the size of your products. I choose a bigger size so it can fit bigger products such as a Dyson vacuum cleaner or a portable wireless speaker from SONOS, say.
The light tent is of cube shaped although it's kinda "square-y" inside, so you can take some nice shots with a good angle. Unfortunately, folding this light tent back (just like any light tent of this type on anywhere else) is a nightmare and took me so long to do for the first time. A YouTube video on how to fold the light tent cube helped a lot though it still took me more than ten tries to get it done properly. If you have your own room for taking product photos, it's best to just leave the tent opened and cover it up with a cloth.
The tent is made of nylon and comes with white, black, blue, and red backgrounds. They are "velcro" based so it's really easy to set these backgrounds up inside the light tent. The front cover also has an open slot so you can place your camera on it and take shots with better lighting composition.
Just as any other light tent, it still requires some post-processing tweaking to make sure that the creases are removed from the final photo. Or you can iron it out, though I'm quite scared to try this out.
Lighting kit
The lighting kit includes:
3 x 55W Bright White 5500K Energy Saving Bulbs
This allows a "day light" kind of representation to simulate a natural sun light which allows good quality photo shoots. It comes with insurance that these bulbs will be replaced immediately by Fotogenic if they are D.O.A (Dead Upon Arrival).
3 x Lamp Socket
To hook the light bulbs in (Edison Screw)
3 x Large 18″ Light Reflector
The light reflector comes separately to make it easier to be packed and carried.
Lighting stands
The lighting stands include:
3 x 130cm Light Stands CE certified
1 x Boom Arm
The stands are made from light weight aluminum and really sturdy (though a bit stiff). The heads are adjustable and also have switches to turn the light on/off at the back of the head.
The heights are also adjustable so whether you have the light tent set-up on the floor or on a table, you have it covered!
The kit also has a light to be set-up on top of the light tent with a boom arm, which helps to give a better lighting. It has also helped me to give a good lighting when I need to take product shots on my computer table (for keyboard or mouse reviews, etc).
You can add a bag of sand to balance the tip out or if you don't have sand bags lying around, you can always use books, DVDs, or other things which have significant weights :)
Carrying bag
I really love the carrying bag – the size, the straps, and everything else are just perfect. The bag can really fit every single thing in this kit in it.
When the package arrived, it came in a super huge box. I was really worried on how to get these home because I normally walk from the office to my place. Thankfully, the carrying bag has a shoulder strap and can really fit everything so it was an easy journey for me.
You may have seen a few product photos from my product reviews here at Craving Tech using the Fotogenic light tent kit. Here are some of them: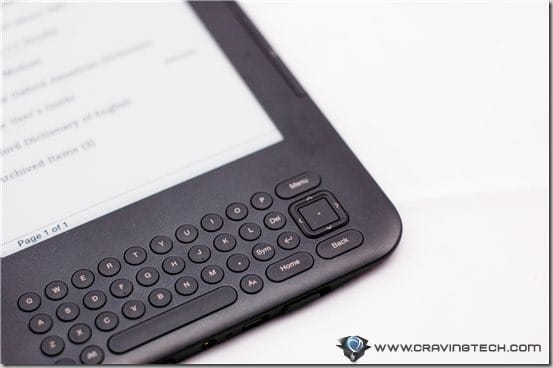 (taken from my Amazon Kindle 3 Review)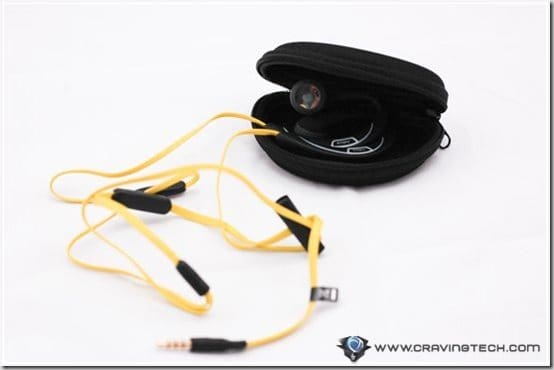 (taken from my JABRA SPORT Corded review)
Overall, I'm really happy with the 75cm x 75 cm Tent Cube Package With Boom Light from Fotogenic. They take some time to set-up so if you have a dedicated space for the lighting tent kit, it'd be awesome as you can simply take product photos away without having to waste more time.
The lighting kit is pretty much complete, thanks to the included Boom Arm. If you are a blogger who reviews products like me or have an online store of selling accessories, then you really need to consider getting a proper equipment like this one. Of course, at the end of the day, you still have to do some post-processing but it has become much easier because the lights are evenly balanced and you'll get sharper looking product photos.
There are other photography product ranges at Fotogenic, so feel free to browse their site to get the ones that suit your needs.