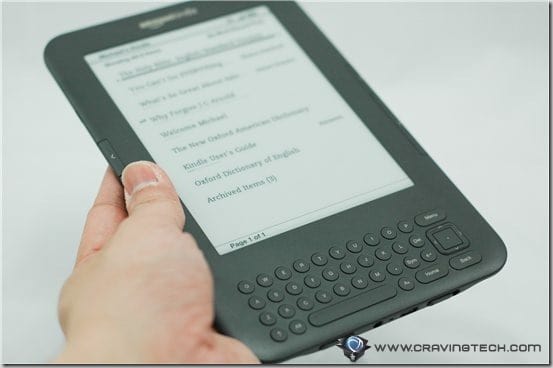 Amazon Kindle 3 Review – With so many tablets going around us these days, one may ask "Why would I bother buying a Kindle?". It was the same question that I had as well – wouldn't it be better to read an e-book or e-magazine on a colorful tablet that has games and fancy apps?
Read an e-book on the Amazon Kindle and you'll quickly change your opinion somewhat.
Amazon Kindle 3 Review – Design
The Amazon Kindle 3 weighs only around 8.5 ounces and 1/3 of an inch thin, making this a really handy device to carry around when you travel. In fact, an Amazon Kindle 3 is even lighter than a book or a magazine!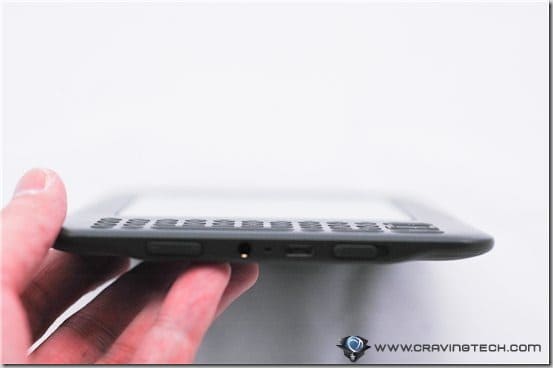 Amazon Kindle 3 Review – E Ink Screen with Pearl Technology

The best feature that the Amazon Kindle 3 has is the E Ink Screen with Pearl Technology. You simply have to see it to believe how good it is. When I first opened the box, there was a friendly reminder to hook the Kindle up to start on the screen.
Well, actually, I thought it was written on the piece of sticky screen label! I was amazed when I pulled the sticky label out and still see the writings on the screen. It's that good (forgive me for never seeing a Kindle in real life before!)
The texts are sharp and really clear, as if you are really reading a real book, if not better. It's as if the screen is printed with clear bright black ink on top of it.
You can also read your e-books on the Kindle 3 in bright sunlight with no glare (so don't bother looking for an anti-glare screen cover). Anywhere you are, you will be having a blast with your e-books. The only problem with this is that while it works great in bright sunlight, it does not in total darkness.
The Kindle only uses power when you have to turn the page over or interact with the keyboard. I was actually a bit confused at first when I couldn't find a "sleep" setting or a power button. Even when I've stopped reading a book, Kindle still actively shows a static screensaver. It's kinda funny too because I keep on seeing "Your battery is empty" notice on the screen, yet the screen is still "alive" somehow :) A really cool piece of technology indeed.
Amazon Kindle 3 Review – Other Impressions
Amazon Kindle 3 Review – Built-In Wi-Fi
The Amazon Kindle 3 has a built-in Wi-Fi which makes it really easy to update the device and to buy or transfer books into the device. Setting up the network is like simple, just like any wireless tablet or device.
You can also browse (limited support) in Amazon Kindle 3 though don't expect an over the top experience.
Amazon Kindle 3 Review – Battery Life
As crazy as this may sound, Amazon claims that a fully charged Kindle 3 will last up to 2 months (with the wireless off based upon a half-hour of daily reading time). So practically if you read an hour a day, you don't need to recharge the device for up to a month!
The battery life indicator is located on the top right of the screen and to charge, simply plug the Kindle to your computer via USB.

Amazon Kindle 3 Review – Page Turn buttons
The Page Turn buttons are located both on the left and right of the device. I find that they are really accessible and at the right places. It doesn't require too much force to press, yet you'll never accidentally turn a page over. Left-handed book readers are going to love the Kindle as much as the right-handers.
Amazon Kindle 3 Review – Other features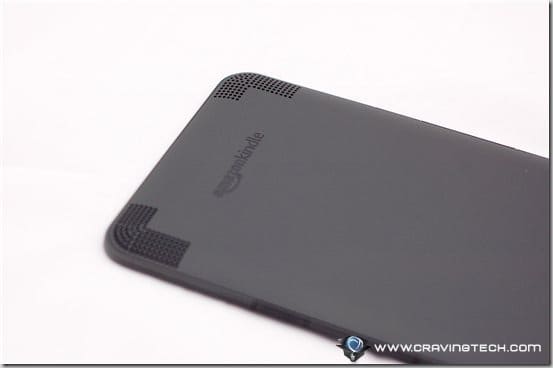 There are many other features that I haven't mentioned so far yet, such as a better PDF support (even PDF files with password protection), integration to Amazon's Kindle store, being able to email an e-book or a PDF file straight to your Kindle (send it to a specific email address for your Kindle, wait a bit, and the file will be downloaded automatically), social network integration, and even a cool feature to get Kindle to read your books for you.
The Amazon Kindle 3 is a no-touch-screen-device though, which took me a while to get used to. You interact with it using the built-in QWERTY keyboard. You share a particular quote in the book you read to your social network or you can even see other people's notes and highlights on a particular section. The QWERTY keyboard also took me a while to adjust to, as some buttons are just not in the right places or sizes. For example, the top right of the keyboard is the letter "P" instead of the Backspace. The ENTER key is also of the same size as the others, which makes it harder to differentiate.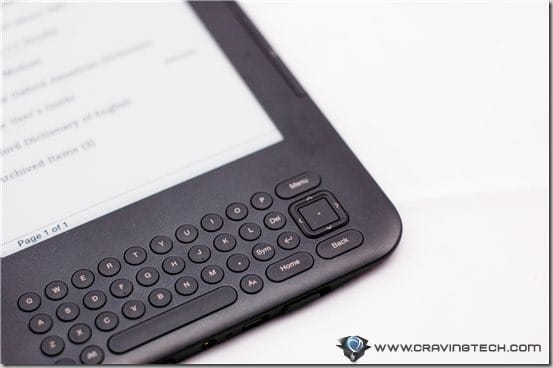 Amazon Kindle 3 Review – Conclusion
Amazon Kindle 3 is simply an amazing device, especially if you love reading books or if you travel a lot.
This whole post can simply be written in just one sentence: If you love reading books, throw all your books away and simply get an Amazon Kindle, it's that great!
With extra-long battery life, E Ink screen (best of the best I've ever seen), lightweight, PDF support, built-in Wi-Fi, able to hold 3,500 books, and many other cool things to do even while you are reading, Amazon Kindle 3 is a gem that you shouldn't miss.
Oh, don't miss the Amazon Kindle 3 giveaway here at Craving Tech to have a chance of winning this amazing device!
Note: Amazon Kindle 3 Review unit was provided for the review. Photos were taken with the help of light tent kit from Fotogenic

Amazon Kindle 3 Review – Pros
+ Amazing E Ink screen technology
+ Bright, Crisp, Clear texts
+ Can highlight/write notes and even see people's highlights/notes
+ Easy to navigate, thanks to the Page Turn Buttons
+ Built-In Wi-Fi
+ Extra-long battery life
+ USB connection
+ Can send files to the device via e-Mail
+ Tons of books (even free ones) available
Amazon Kindle 3 Review – Cons
– No touch screen
– No color
– Can't be read in a dark room
– Keyboard keys design can be improved