SpringPublisher is a business card, flyer, brochure, and letterhead designer application for Windows. It provides an easy-to-use drag and drop tools for those who want to design their own business cards, flyer, brochure, or letterhead without the need of having to know Adobe Photoshop or Adobe Illustrator. After you are happy with your design, you can even send it straight to your high quality printer to be printed right away.
When you start a new project with SpringPublisher, it allows you to use the preset size or customise it the way you want it:
It even has the Bleed setup and it's so much simpler compared to twiddling with Adobe Illustrator settings (I had that trouble as I never used the software before and there were just too many overwhelming settings for me).
The main interface is quite simple too with a few main buttons and menus to play around with. You can insert images, texts, and also shapes. The general commands such as copying, undoing, and others are always accessible on the top while component specific properties are accessible on the right side of the interface. Objects can be dragged and dropped, and its settings can be changed easily through the properties.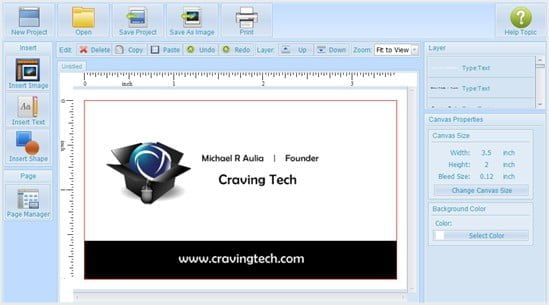 Unfortunately there aren't many shapes available so you may have to create one somewhere else and import it as an image to SpringPublisher, if you really need to.
There is basic support for layers so it's really easy if you want an object to be on top of another by moving the layers up and down. You can also add a few effects such as Shadow and also change the Opacity of a component. You can then export your creation in high quality (up to 350 dpi if you have the Pro license) and in different file formats such as BMP, EMF, WMF, GIF, JPEG, PNG, TIFF, or EXIF.
Overall, SpringPublisher provides the basic and core features to design accurate and nice looking business cards, flyers, brochures, and letterheads. It certainly doesn't give you all the tools to create the best looking creation but once you've got the ideas and resources (images, logo, etc), designing and printing through SpringPublisher is easy and quick. There are a few minor annoyances such as not being able to use keyboard shortcuts (such as deleting a component with DEL or Backspace, or using CTRL-C/V to copy paste) and application crashes when a font does not have a regular type, but none of this has a big impact while using the application so far.
On the Pro version, you can also download readily available templates if you are not feeling too creative. This way, you can use some nice looking pre-designed templates and go from there.
How to win one of 8 SpringPublisher Pro Licenses
Like Craving Tech's Facebook Fan Page if you haven't
Answer this question on the comment form: Let us know your best tips for designing business cards (what they should look like, what information should be put in, etc)
Contest opens for everyone ! Eight people with the best answers will be selected as the winners on the 3rd of October 2011.
Full terms and conditions:
The competition starts on 26/09/2011 9:00 PM until 03/10/2011 9:00 PM and winners will be picked at Melbourne, Australia.
Winners will be announced on this blog and emails will be sent to announce the winners.
The prizes are valued at USD 23.95 per license.
Prizes cannot be exchanged for cash.
Would be great if you can share this to your fellow friends or bloggers who want to design new cards, flyers, brochures, or anything.