Note: This is a guest post written by Calvin Scott
Google is proving to be a real game changer when it comes to internet TV space. Since Google is literally at the fingertips of millions of people, anyone can search for anything online during commercials, like unfolding news events, without even leaving their current viewer. Google TV is changing the way we explore the world-wide-web, introducing new niches we would never have dreamed of. We can search for clothes, furniture, and even kids' stuff, all while we watch streaming internet TV.
The options available with Google are limitless. A person could look up the bio of an actor or actress they are watching while never having to shut the window they are watching, or perhaps, checking live sports scores while cartoons are on for the kids. Google is changing the way we watch TV and how we access it through streaming.

How Google TV Is Helping Us With Our Search Process

Google internet TV is leading to an all time high in increased searches for new products. When companies announce a new product launch or a new line of clothing or gadgets, Google can generate instant searches to provide more information on these products. New commercials can go viral instantly, and people can even advertise their website on TV to help increase revenues and visitors to the site.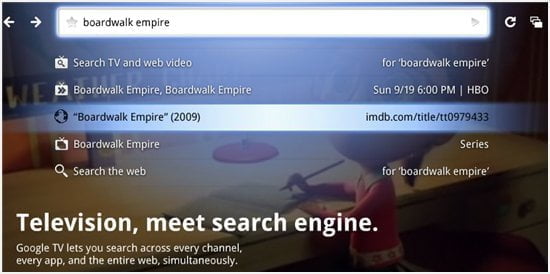 Impulse driven searches are becoming more commonplace. People want what they see immediately, and with Google TV they can look it up right away and not have to wait until their show is over. They can instantly access it while they still watch their show. With the comfort being able to shop and research from home, people are more likely to check out your products and can be driven to them easily.
Benefits Of Google TV for PC
The one thing that will be a notable improvement will be that people can tune into thousands of channels with the click of a button. Using a computer can put the world at people's fingertips. This means that we can watch programs or sports that are not usually seen on regular TV, providing a wider range of entertainment.
The accessibility of Google internet TV has very minimal requirements, since all that is needed is Windows 95 or greater, and a reliable internet connection that is capable of playing streaming television shows. With a one-time fee, and no monthly payment, Google internet TV is the best way to watch television today. Another thing that Google TV will allow subscribers to do is to be able to download Satellite TV instantly and having the software stored directly on the computer. This is something that is not typically done with other streaming sites.
There are many positive aspects of Google internet TV, and there are sure to be countless hours of entertainment that can be enjoyed by all family members. When it comes to streaming the best live programs, Google TV is the way to go.