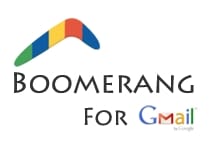 Ever wonder how to schedule emails in Gmail? As in, sending emails at a specific day and specific time? Or perhaps you just want to delay sending emails for a few more hours? I was trying to find an answer for these in the past because I'm dealing with different people in different time zones/countries. Most of the time, the people in the United States (and United Kingdom) are active when I'm on bed here in Australia. Therefore, it's crucial to be able to schedule sending my emails so they can receive them at the right time.
Here is how I schedule my emails in Gmail with the help of a plug-in called Boomerang.
How to schedule emails in Gmail
Install Boomerang for Gmail (for Firefox or Chrome) – so yeah, unfortunately you have to use either of this browser if you want to schedule emails in Gmail with Boomerang. Let's hope there will be nice updates in the future so you can integrate it differently.
Besides scheduling your emails, Boomerang can also be used as a follow-up reminder tool (to send you an email automatically when no one has replied after a period of time) or even as generic reminders! So far I've only been using it to schedule my emails though so feel free to share your experience if you have used it for the other things.
Once installed (either in Firefox or Chrome), you should see the Boomerang link/widget on top of your Gmail:
Then, when you compose an email or reply an email in Gmail, you should be able to see a new button "Send Later" next to the Send button: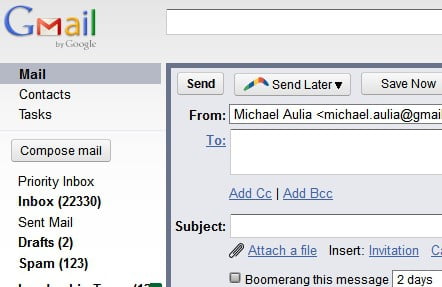 To send the email later (schedule it), save the draft and then press that Boomerang's Send Later button for more options. You can quickly pick a time from the default options or schedule it at certain date or time: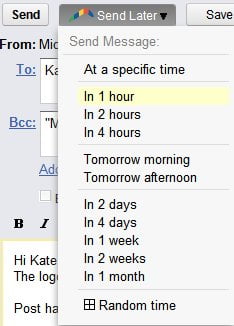 The "Tomorrow morning" option in Boomerang (I found out later) means 9:30 A.M which is about the right time for recipients to read their email (after a morning coffee and all that). I use this quite often whenever I've published a review post (which normally happens at night) so I can let them know about the post URL when they start working.
Boomerang is also useful when you want to send an email reminder about a meeting some time in the future. Since you'll most likely forget to send the reminder, why don't you let Boomerang to do it for you?
Once you pick the time, Boomerang will save your draft to its own Gmail label, called Boomerang Outbox. This contains all your scheduled emails in Gmail, ready to be sent to the recipients at your designated time in the future.

Once an email goes to the Boomerang Outbox, you can close your browser or Gmail down, knowing that the email will be sent to the recipient safely. I've used Boomerang numerous times to schedule my emails and so far emails always got sent correctly. If you are paranoid about it, feel free to check your Sent mail label to validate that scheduled emails were indeed being sent correctly by Boomerang.
Boomerang for Gmail is a really cool add-on that adds extra power to Gmail. Combined with WiseStamp to create mouth watering signatures, Gmail has become the best and most powerful free email service ever!
Happy email scheduling in Gmail!