I published a post on how to have a Gmail signature with images last year and it was quite a hit, receiving multiple good feedbacks. Little that you know, I actually use a much easier way to have a Gmail signature image, using WiseStamp (there is an extension for Firefox, Chrome, Flock, and Thunderbird at the moment). With WiseStamp, it always works and adding your social network info requires no effort at all. Let's have a look on how easy it is to add a Gmail signature image using WiseStamp. Oh, actually, it works not on just Gmail, but also on other popular email services such as Yahoo Mail, AOL, and Hotmail.
Since I mostly use Gmail as my main account, I'll only discuss about adding an image signature in Gmail but it should work with others.
Adding Gmail Signature Image with WiseStamp
In Firefox (the one I chose to install), Go to Tools-WiseStamp after you have finished installing the extension
In here, you can add your signature and also your social network details:

Play around with the editor to create your ultimate Gmail signature with images, photos, and also your social network details! There are also some great samples to give you ideas over at WiseStamp HTML signature samples.
Don't forget to go to the "Settings" option on the top of the window to make sure your signature will be inserted correctly later on:

Now go to Gmail (or whatever you are using) and enjoy :)
You can even add and store different signatures (there is a WiseStamp button on your Gmail toolbar when you compose/reply an email to change between signatures). This is very handy if you want to use 1 Gmail account for multiple business or personal/formal signatures.
Here is what it looks like when you compose or reply an email in Gmail with the WiseStamp extension enabled on Firefox: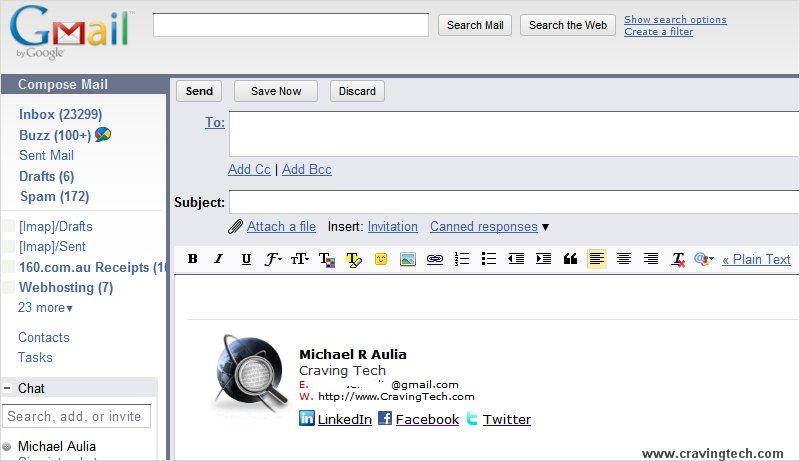 This is much easier to create and apply to Gmail compared to my previous post. Unfortunately there is no way to sync signatures between computers but here is what you can do to smartly "export" and "import" WiseStamp signatures. On the WiseStamp settings (where you create your image signature), there is an HTML button to view the HTML source of your signature. If you click it, you can get the HTML code of the current signature. Copy it to a file or email the code to yourself, then paste it on a different WiseStamp installation on a different computer. This way you can have the same signature on different computers. You still have to add your Social Network info though, but it's not a big deal.
Like this post? Please share it to your friends and let us all have great & professional looking signatures! (I need to design a better one too)