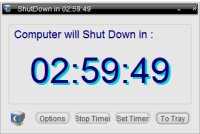 Shutdown timer XP – Ever want to shutdown your computer automatically after it completes a certain task? When you have slept or when your download has finished?
I found this nifty Shutdown Timer XP (also works for Windows NT and Windows 2000) application many years ago, but in my opinion, it's the simplest and easiest shutdown timer application out there for Windows.

You simply select one of the actions on the application:
Shut down your PC
To shutdown computer
Reboot / Restart
To restart your computer
Log off from the current session
To automatically log you off from the current Windows session
Set the timer (based on hours and minutes) and you're done!
The timer can be customized in Hours and Minutes. Unfortunately, there is no Hibernate option here so you may have to look somewhere else if you want your computer to Hibernate at a certain time. The application can also be minimized to System Tray so you don't have the window interfering with your work on the desktop. The best of all, this nifty shutdown timer XP application is free to download and install!
You can download the shutdown timer application here for free :)
This shutdown timer is for Windows XP/NT/2000 only. If you are looking for a Windows Vista one, check my other entry on this page. Shutdown utility is really powerful and useful, yet simple to use. There are always times when we want to do a PC shutdown at certain times (maybe because we are downloading a big file or doing some anti virus scanning, for example).
If you find a better shutdown timer XP app, let us know!