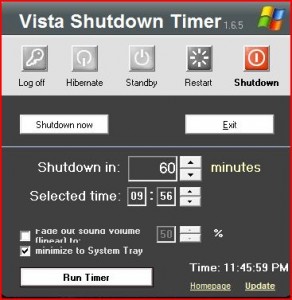 This handy tool will provide you with an easy way to shutdown your Windows Vista automatically. If you like to listen to your music before you go yo bed, save some electricity by scheduling your vista to shut down or go to sleep mode in a few hours.
You can auto schedule a logoff, hibernate, standby (sleep), restart, or a shutdown with this nifty application.
First of all, this application is free. AND, you don't even need to install this application. It's simply a single executable file that you can put anywhere in your hard drive. Simply create a shortcut on your desktop, the quick launch toolbar, or anywhere you want, and point it to the .exe file.
You can choose to "Please shutdown my windows in 60 minutes, thank you" or the "Please shutdown my windows at 2 a.m in the morning as I'll definitely be sleeping by then, so I don't need to listen to my music anymore" method.
Once run, the program will sit itself in the system tray.
It's a very handy application and simple as well. I know you can probably do it "manually" with a windows shell command, but many people will prefer the click-and-forget method.
Check out the Windows Vista Shutdown Timer application yourself here.