I found the site on the web and would love to share it to Sunday School teachers, especially. It's a bunch of collections for sunday school teachers that are free to be downloaded and used.
Even if you are not a Sunday School teacher, you can always use these resources to teach Christianity & basic Bible principles to your kids at home.
The site has a range of collections, based on themes or categories. You may want to be selective too on what you teach, so it's preferrable if you view the resources and probably tweak them to your own style of teaching.
For example, you can tell them a story of Cinderella: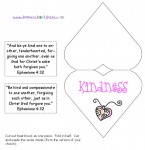 Read the story about Cinderella and then ask your kids/students a series of questions:
What are the characters in the story? Do you think Cinderella's sisters are bad? Why? Was there a moral message in Cinderella, and if so, what was it?  etc.
Afterwards, you can teach them about kindness and forgiveness from Cinderella's examples. You can even include bible verses that mention these topics and ask the kids to do some colouring on the paper sheet (click on the thumbnail image on the left) for more fun.
Get the free lapbooks at Home School Share website.