Facebook's changes never end. Whether it's a good thing or a bad thing, it depends on how you view it. Some people resist changes and some embrace them. Being a technology blogger, I love updates and changes. It keeps things refreshing and most of the time, updates are for the better – new features, problems fixed, speeds improved, etc. Sure you have to re-learn some stuffs and perhaps new changes may mean more problems. However, in the software world, when problems arise, you can always fix and update the problems in the future.
The latest upcoming change in Facebook targets your Profile page. If you want to, you can update yours now BUT you cannot go back to your old profile. So keep this in mind before you decide to update yours.
I updated mine (even though I've read many hate comments on Facebook's blog post) just to see what it looks like and let you know of the changes. I personally like the changes that the team has made.
Before: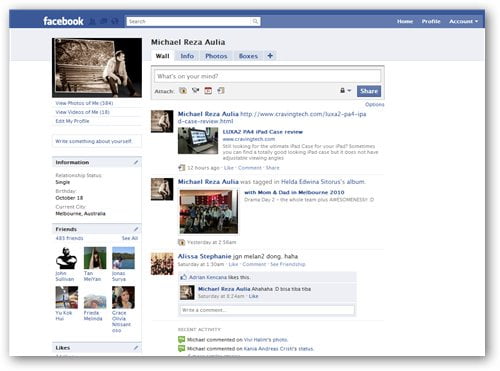 After: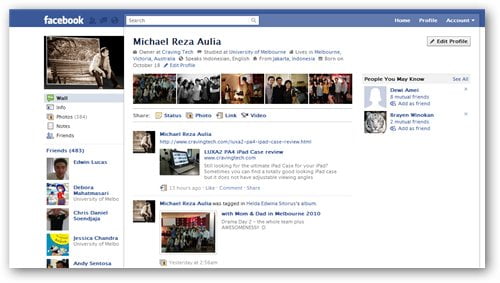 So what's new with the new Facebook profile?
Profile Summary and latest photos of you
The most obvious one is the top of your Profile page. It displays your profile summary and your latest tagged photos:

You can hide a photo if you don't want it to be seen on your Profile page by pressing the "x" button over a displayed photo.
Updating status is now located under the Share area. Previously, Facebook separated the area to share status and media/links. I guess they are trying to make it neat and organized with this small change.
Your friends' profile
Note that once you upgrade to the new profile update, you will see the same layout if you go to a friend's profile:
There is also a section on the right, "You and your friend" where you can see all the things you have in common such as photos or events that you have shared togeether.
Featured Friends
You can also featured some of your friends (by grouping them into a list). How to feature your Facebook friends? You simply go to the Friends section and then press the Create a List button on the top. Select some friends that fall into the list and you're done.

I didn't find this useful as I wouldn't want to publicly separate my best friends with my "just-to-have-fun" friends. It wouldn't be very nice, would it?
Auto scroll photos and videos
Before the update, normally you have to press the next (or one of the page's number) when you are viewing a friend's photos on his/her profile. This time, you just need to scroll the page with your mouse and more photos are loaded automatically. It's much faster and better! No more "next" link or pages to click on.
Stalking a friend can never be easier (oops)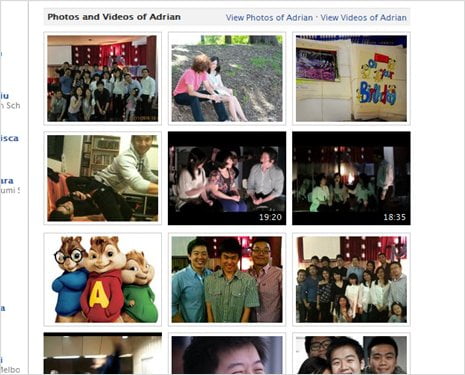 For more information about the updates, make sure you read the official Facebook's blog post and also the Facebook's new profile help center. The team says the update will be rolled out slowly to everyone by early next year. If you like what you've seen so far on this post, feel free to update yours earlier though.
I personally like the changes so far but some people think otherwise. I guess if you casually use your Facebook like I do, you'll love the changes. However, if you spend hours each day on Facebook, you might hate the changes because you now have to find where things are.
To update to the new Facebook profile, go to Facebook new profile info page. IMPORTANT: YOU CANNOT REVERT BACK TO THE FACEBOOK OLD PROFILE ONCE YOU'VE UPDATED.
So, have you updated your Facebook profile? Do you like it? Hate it?