My typical days adventure to some people, are quite boring but happen to most people. You wake up in the morning, you go to work for the whole day, and then you go back home. The most interesting part, however, is what you do when you are home. Do you waste your time watching TV? Playing games, perhaps? Or do you do something productive like pursuing your hobby or spending time with your family? Or perhaps in my case, to blog?
Here is my typical day adventure (if you can call it that) as a technology blogger and reviewer in a video that I made with the Kodak PlaySport:
Hope you like the video
If you notice, there was a short scene when I was washing my face with water splashes and all that. The Kodak PlaySport is actually a waterproof digital video camera that can plunge up to 3 metres underwater. Imagine if you like to go diving or snorkeling, as long as you are less than 3 metres away from the surface, you can record your wonderful adventure with the Kodak PlaySport!
Kodak PlaySport records in full 1080p HD video, unlike other video cameras that I've owned or used (only up to 720p). With an HDMI cable, you can instantly show your adventure to others in your living room straight from the Kodak PlaySport.
I also like the fact that Kodak PlaySport is very compact and doesn't look like a camera at all. It actually looks like a mobile phone, which will not attract unwanted attention.
It only takes around 1 second to turn the video camera on, so you will never miss any golden Kodak moment ever again. It's also very rugged and isn't afraid of taking a fall, as you can see from my video (I purposely let it fall to prove my point). This makes the Kodak PlaySport suitable for those who want to record their extreme sport adventures (mountain climbing, racing, water skiing, etc).
With other features such as smart face tracking technology, up to 10 hours of HD video recording, image stabilization, the Kodak PlaySport is definitely a compact yet powerful video camera to own.
I actually used the Kodak PlaySport to record a trailer for our upcoming Christmas play in a park and I was really amazed with the video quality and the compactness of the camera.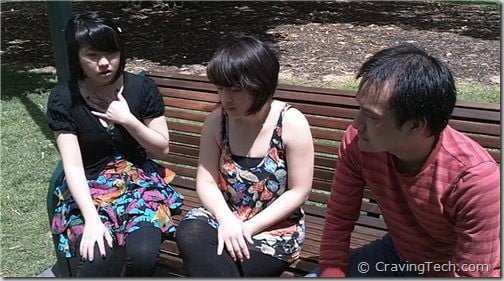 Interested? Click here to find out more about the Kodak PlaySport and other great Kodak products
Win a Kodak PlaySport for yourself!
Do you want this lovely video camera? Who wouldn't want to? As a Craving Tech reader, to celeberate the launch of the Kodak online store, you are being given a chance to win a Kodak PlaySport camera along with a suite of great Kodak products!
How?
Take a photo and write a blog post of what crazy adventure you'd go on if you had a Kodak PlaySport – You need to take the photo at home and be "creative" with the photo.
So if you want to dive in a Sea World aquarium and record the adventure, take a photo of yourself with a diving suit at home with your kids dress up as sharks and pretend you are diving or something. Just do something crazy and creative! Let your imagination run wild!
Prizes will be distributed as follows:

One overall prize winner (as judged by Kodak) will receive:
– 1 x Kodak PlaySport
– $200 voucher to Kodak online store
– 1 x Kodak Pulse Digital Frame
– 1 x Kodak 4Gig SD Card
– 1 x Kodak Adventure Mount
– 1 x Kodak Striped Bungee Neck Strap

There will be four runner up winners (as judged by Kodak). Each will receive:
– $100 voucher to Kodak online store
– 1 x Kodak Single Use Camera – Water and Sport

Competition will run from Tuesday 7th December – Tuesday 21st December. The competition will be judged on creativity and is open to Australian residents only.
Once your entry blog post is live, you will need to post the URL on the Nuffnang's blog post for it to be considered. Terms and conditions here.

All the best, everyone!