Still looking for the ultimate iPad Case for your iPad? Sometimes you can find a totally good looking iPad case but it does not have adjustable viewing angles support. Or perhaps the case does but it's too bulky for your taste. LUXA2 PA4 takes the practicalities of each iPad cases and combines them into a single case.
As a result, you get a slim iPad case with some degree of protection and very practical for everyday use.
From LUXA2's PA4 product page:
LUXA2 PA4 iPad Leather Stand Case is completed with good leather, good protection to the iPad with ultra-fiber inner material, safety buckle and leather sling to prevent any accidents that could have happened to your iPad
The PA4 looks like an ordinary folder and does not attract any attention. It's 100% Calf skin leather and available in 3 different colors at the time this review was written: Black, White, and Delightful Orange. What I got was the Black one:
It's elegant and looks formal which is perfect for home, office, and outdoor (if you are looking for something more exotic, you might want to look elsewhere).
The PA4 comes with a detachable leather sling which is very handy for mobile travellers. This way, you can carry your iPad with the sling on your wrist and walk safely. It's practical if you use the iPad while you are outdoor or on the road (such as checking for maps or for navigational purposes).
To close the case, the LUXA2 team has designed it to use a safety buckle. This is quite a unique approach which I've never seen before. It's somewhat cool to treat the case like an ordinary book case/folder, I guess. You can fold the case while lying on the bed for reading magazines/books (because of the slimness and flexibility of the case) and the buckle will not stand in a way. Very practical.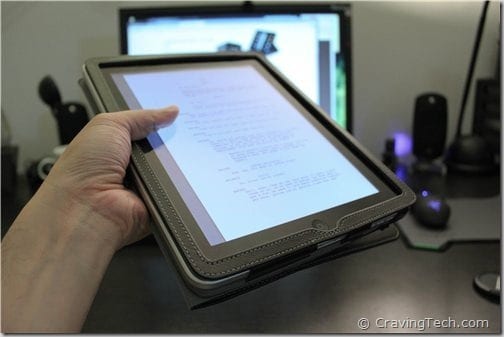 The LUXA2 PA4 also has 4 adjustable and 45 degree angles. If you are using the iPad for browsing or watching movies, you can use the 4 adjustable angles to pick the best viewing position.
If you want to make notes, the 45 degree angle is the best position for that purpose. I love this design because this is the first case that I've reviewed so far which gives these many flexibilities.
I was out of internet for a few days at home so I had to rely on my iPad to browse the web and to compose a few emails (this was before I found out iPhone's internet tethering feature). Anyway, I like how I can change the angle very quickly depends on what I need to do on the iPad.
The case let the audio jacks, buttons, and ports exposed so it will not hinder any interactions with the case.
LUXA2 PA4 is the most practical iPad case that I've ever used and reviewed before. It's slim, lightweight, flexible with a few different viewing angles, and also foldable all the way to the back. The design may not be exotic and a bit stiff, but this is a very practical iPad case to be used at home, at work, and also on the road!
Note: Sample provided for the review