Extensions for Windows by Extensoft is an all in one application for your Windows.
It includes great and useful applications lacking on Windows, such as:
Build-in FTP/SFTP client on your Windows Explorer.
A more enhanced version of Windows Explorer.
Keyboard Shortcut Manager.
Screen Capture (although you have "Snipping Tool" on Windows Vista)
Virtual Drive
Many more!
If you are getting tired of opening multiple applications for your needs (FileZilla for transferring files through FTP, WinSCP for transferring files through SFTP, DaemonTools to mount your ISO image, a screenshot snapper application for taking screenshots), then you should take a look at Extensions.
And don't go yet, because I'll be giving away 3 FREE licenses of Extensions, courtesy of Extensoft!
Extensions Installation
Extensions comes in a vanilla flavor when you download it. Installation is easy and towards the end of the installation, you can easily add/remove extensions that you want/don't want on your system. After the installation, the Extensions main application icon will nicely sit on your system tray. You can run the extensions applications through this icon and also add/remove extensions from your system.
Extensions Applications
The complete extensions available are:
Compression Extension
Compresses and extract files (support ZIP, TGZ, JAR, CAB, RAR, etc)
Disk Analyser Extension
Helps you analyze your hard drives to find large files and folders. You can then easily sort them by sizes so that you can remove unnecessary files/folders to save more space.
Document Converter Extension
Simply right click on a document file and easily convert it to PDF, Doc, DocX, HTML, RTF, or TXT.
Explorer Extension
Default Windows Explorer is lacking 2 window panels. Explorer extension is making it easy to transfer files between different folders. It also supports tabs, so you can have 1 Window dealing with multiple folders/windows.
FTP Client Extension
It will sit nicely on your Windows Explorer (or My Computer). It adds an extra "Folder" or "Network Drive". You can simply double click on it to go to your FTP sites.
This is probably one of the best extension that I use, especially at work, where I have 4 different servers that I constantly SFTP files to. Not to mention the need of FTP-ing files to my 2 blogs. Previously I have to use FileZilla (for FTP) and WinSCP (for SFTP). With this program, I just need to open my Windows Explorer to start transferring files to them.
File Comparer Extension
If you constantly updates your notes, programming codes, html design codes, css codes, etc, you'll probably want to find the difference between your latest code to your previous one. Unless you are using a CVS or SVN as a version control management, then this extension is your only helper. It will compare 2 files side by side nicely and highlight which parts of the codes are different.
Image Processing Extension
Convert, Resize, Rotate, and Remove noise from your photos. It provides basic tools necessary in dealing with your images/photos, without the need of opening your monster photo editor application.
PDF Converter/Printer Extension
It will convert any printable files to PDF format. Quite useful if you want to send documents to your clients on a PDF format.
Screen Capture Extension
Easily capture screenshots (full screen, current window, a window, or a region). You can also capture it in movies instead of just a singular image file. You'll have the camera icon on your system tray when you have this extension installed. You can simply use the Window Key + PrintScreen to activate it or manually click on it to start capturing screenshots. I'll try using the Animation capture when playing games later.
Search and Replace Extension
Easily search and replace for text in files. You can set it to search files on a folder (including its sub-folders) and replace a set of text with something else. Great for developers where you need to change a variable name to something else. You can also use this to quickly search for a text on your list of files.
Keyboard Shortcut Manager Extension
Assign all keyboard shortcuts to quickly do or open your favorite programs. You can also change the system shortcut keys, such as the WindowsKey + E to open your Windows Explorer, to open Extensions Explorer instead. Don't worry, once you change it, you can always deactivate it and it will safely revert back to the default :)
Task Manager Extension
An enhanced version of Windows Task Manager, with disk I/O and network port monitoring. I haven't tried this yet, so unfortunately I can't comment on this.
Virtual Drive Extension
Create virtual drives (you can also create virtual hard disks, and not just CD/DVD drives!). Just like DaemonTools, this is an alternative to easily mount CD/DVD ISO images to it.
Phew, there are lots of them, aren't there? I would honestly say though, that probably 90% of them are pretty much needed to enhance your system. Some of you may not need all extensions, but that is why you are given an option to install only extensions that you need. I've seen lots of "all in one" applications, but I've never seen one with great tools packed such as this. More screenshots of the individual extensions can be seen here.
It comes as a price, though (You are not expecting this to be free, are you? :)). Extensions is priced at $49.95 and licensed to be used for 2 computers. It includes free updates and new extensions for 1 year.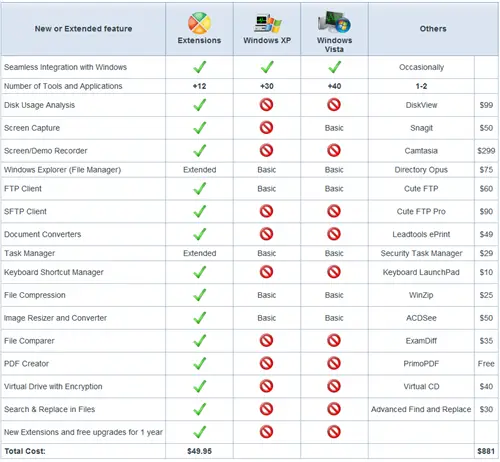 There is good news, however! I have 3 FREE license keys available for you to grab, thanks to Konrad Musial from Extensoft :)
How to get a free license of Extensoft Extensions for Windows
Download a trial of Extensoft Extensions and give the product a try (you won't regret it, really).
Write an impression post about the product (no minimum words required and it doesn't have to be as long as this post) and link back to this review post.
Comment on this post and let me know the URL of your post so that I can keep track of the contestants.
I'll randomly select 3 winners on 18th October (on my Birthday :D I'm still trying to get more birthday give-away to my readers)