Razer Lancehead Review – Making a great wireless gaming mouse is no easy feat, but thankfully Razer has all the experience and knowledge in making one (Razer Mamba [2015, Chroma], Mamba 2012, the original Mamba 2010, and also the Ouroboros).
Razer Lancehead (wireless edition) is Razer's latest take on a wireless gaming mouse and this time, has a better grip for smaller hands with claw/fingertip grip (compared to the larger Mamba) and a stability in wireless performance like never done before.
Razer Lancehead Review – Packaging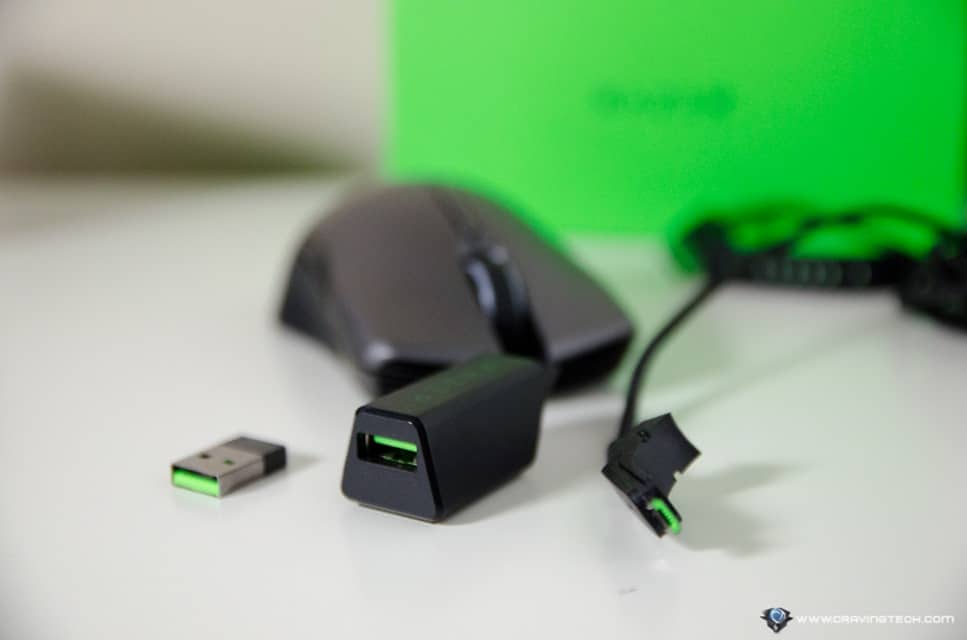 Razer Lancehead Review – Design & Features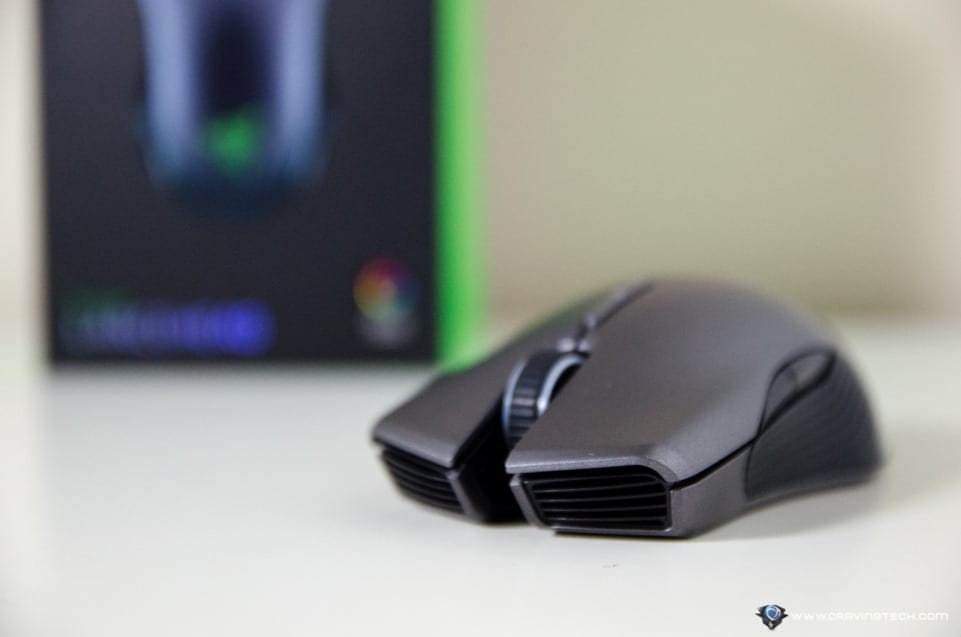 Razer Lancehead is an ambidextrous mouse, so it can be used by both right-handed and left-handed gamers (which should make left-handed gamers who want a wireless mouse happy). As a result, however, it has no tailored design specifically for comfort like a unique right thumb rest area. That does not mean the mouse is not ergonomic, however. In my experience, the mouse has a nice grip and contour to it. I especially like the rubbery materials on the side of the mouse, which makes it really solid to grip while adding a unique aesthetic value to the mouse. But in my experience, the DeathAdder Elite has a better contour, because it is designed specifically for one side of the hand.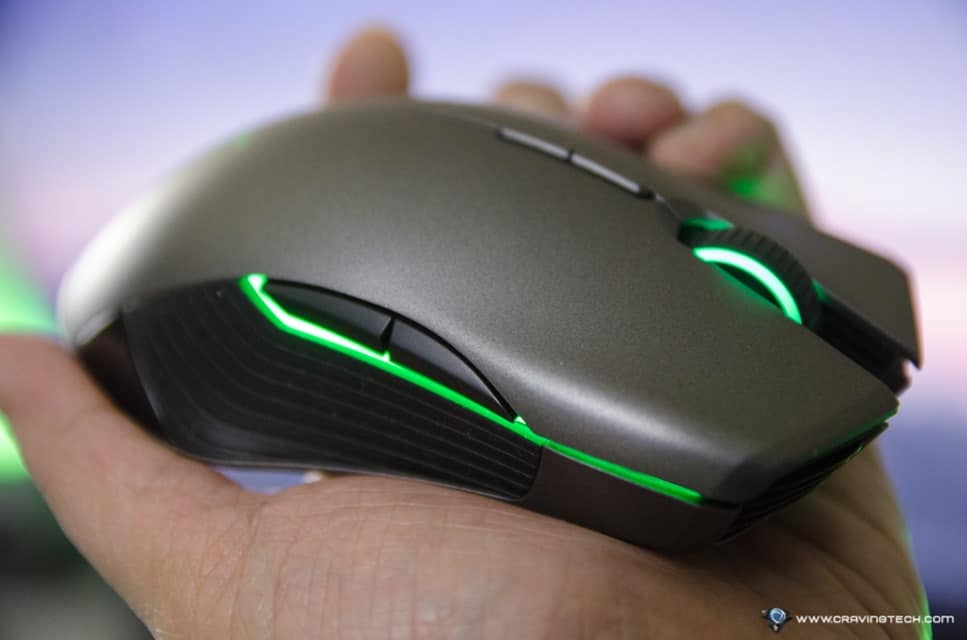 While most professional eSports players would normally go for a wired solution, Razer is hoping to change the game with the new Lancehead. One of the reasons why competitive players don't want to use a wireless gaming mouse is because of the wireless interference it might encounter during crucial moments of gameplay.
To be honest, I've never really experienced any lags or weird disconnection issues with any wireless gaming mouse before, but I'm not playing on an eSports level. I do have to agree that the 2.4GHz wireless channel is quite saturated with the number of wireless devices we have around these days (smartphones, smart speakers, tablets, computers, and more). Performance will definitely suffer if a channel it connects to has too many traffic in it.
Razer's new Adaptive Frequency Technology (AFT) ensures 100% transmission stability in your gaming session by instantly and frequently scanning the wireless frequency channel it connects to (in milliseconds interval) for interference. It then switches to a different frequency with the least interference when it detects one. This is done seamlessly in the background while you focus on your game. What we get, is a lag-free data transmission.
Spec wise, the Razer Lancehead uses Razer's 5G laser sensor with 16,000 DPI, 210 IPS (Inches per Second) tracking, and 1000 Hz Ultrapolling rate. It also features Razer Mechanical Mouse Switches and a full on Razer Chroma lighting system (the lights also shines brighter than the rest of the other Razer Chroma supported mouse).
There are settings that you can tweak through the Razer Synapse to tone the Chroma lighting down so you can squeeze more battery life out of the Lancehead. Unlike the SteelSeries Sensei however, it does not have an "Illumination Smart Mode" where the logo lights go off while your hand is on it – which should save even more battery life.
According to Razer, the battery should last around 24 hours even with the lighting turned on (depending on usage and settings). In short, it can go from a few days to a week and you'll get a light notification should the battery is running low.
In my experience, the sensor is accurate enough for me to play Overwatch competitively, and the contour of the mouse helps me with the grip to move the mouse around. But to be honest, I was using the DeathAdder Elite before and I can feel the difference in tracking and weight, with the DeathAdder Elite feels more superior. The cursor also moves a bit when I lift the mouse off my Razer Goliathus. Due to having an internal battery, the Lancehead also feels heavier to glide around compared to the DeathAdder Elite. However, you get the convenience of a wireless gaming mouse without any cable restrictions.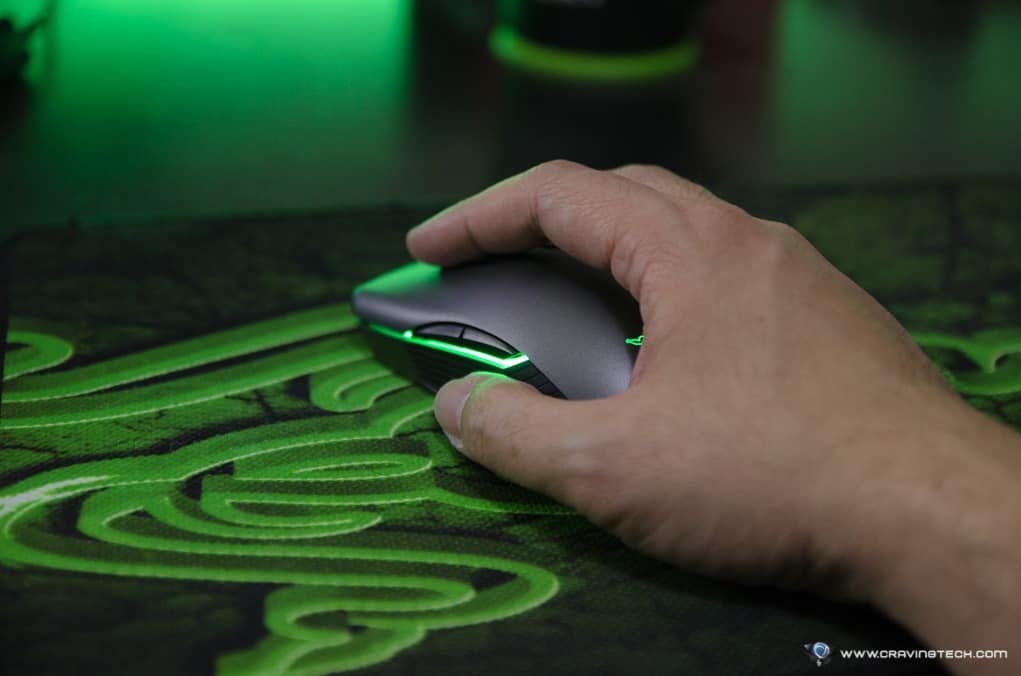 As mentioned earlier, I actually like the shape of the Lancehead, because I have a small hand and I find that the DeathAdder and Mamba family are more comfortable to hold with a palm grip with medium-large hands. Razer also does not give you a charging dock like the Mamba (probably to save cost), so the only way to charge the mouse is to unplug the cable from the wireless transceiver and plug it into the mouse.
Razer Lancehead Review – Conclusion
With the latest technology built in, the Razer Lancehead would probably be the wireless gaming mouse with best performance and stability so far. Its new shape and design brings new aesthetic values on my desk and I personally love the smaller shape it offers compared to the Mamba and DeathAdder family. But for a world competitive playing, we'll have to wait until an eSports player takes the plunge and swears by the Razer Lancehead wireless performance and stability.
Compared to the Razer Mamba [Chroma], it has similar specs but obviously Razer's new wireless technology is worth the upgrade if you want to ensure getting the most stable wireless connection to the mouse (also, if you are left-handed).
If you somewhat not convinced playing competitive with a wireless mouse and a laser sensor, Razer has that covered with the Lancehead Tournament Edition, a wired version with higher IPS and an optical sensor. We hope that we can have one reviewed here at Craving Tech soon and let you know of the performance.
You can purchase Razer Lancehead over at Razer eStore.
Disclosure: Review sample was supplied for reviewing but all opinions are mine and not paid