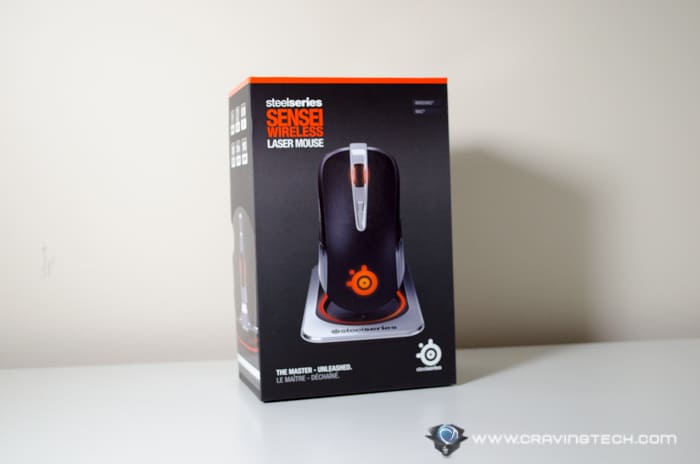 How can you make a great product better? Easy. Just make it even better. SteelSeries Sensei was one of the best gaming mouse I've ever reviewed here at Craving Tech, so when I heard that it went wireless, I couldn't hold my excitement.
Any peripheral manufacturers can make a wireless mouse. However, making a wireless gaming mouse where every minor input lag matters is not an easy task. SteelSeries Sensei Wireless was designed for competitive gamers in mind, so gamers do not need to worry.
SteelSeries Sensei Review – Packaging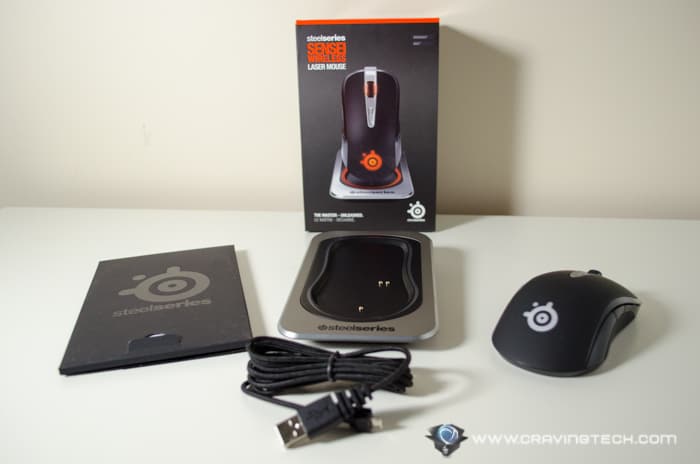 SteelSeries Sensei Review –Unboxing Video
SteelSeries Sensei Review – Design & Features
The Mouse
SteelSeries Sensei is one of their most popular mice, so it makes sense for the team to keep the consistency and overall look-and-feel of the mouse. It is definitely not a bad thing because I did love the original SteelSeries Sensei. The coating is different, however, and there are missing features such as the LCD at the bottom of the mouse (which is probably a bit more like a gimmick to most people).
One thing for sure, however, the mouse itself looks as elegant as the original Sensei and I really like how everything (the material, the shape, and the spots where they illuminate) seems to blend together really well.
Sensei Wireless feels less slippery to use and it is a bit heavier compared to the original Sensei. It is a good thing, though, because my original Sensei had a tendency to get pulled down by its wire across my desk. This never happened when I used it wired. Yet it does not feel heavy to move the mouse around.
Either left-handed or right-handed gamers will appreciate Sensei Wireless for being an ambidextrous mouse. As a result, however, it is not as comfortable as the SteelSeries Rival which was designed specifically for right handed gamers.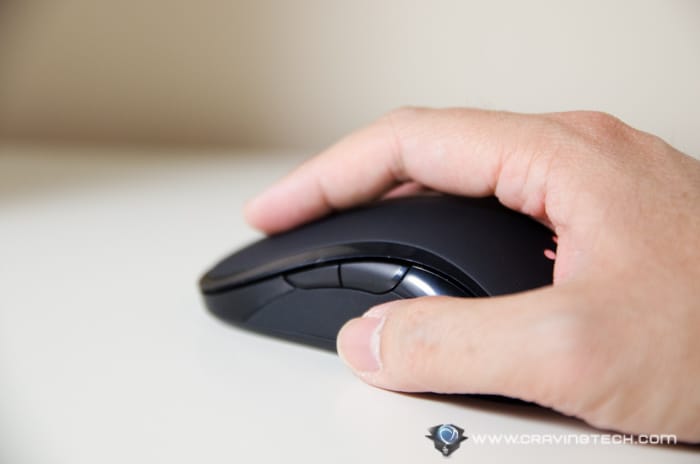 Charging Base Station
Unlike other wireless gaming mouse, SteelSeries goes for a simpler base station to recharge the mouse. Though it may not look as cool as the Razer Mamba or Ouroboros', for example, it is actually much simpler to dock your mouse onto. With the other solutions, I normally have to blindly swipe the base of my mouse to the dock a few times, hoping it would click and hold the mouse down. On the SteelSeries' base station, I can simply place my Sensei Wireless on the dock in a mere instant. And I think it still looks cool, don't you think?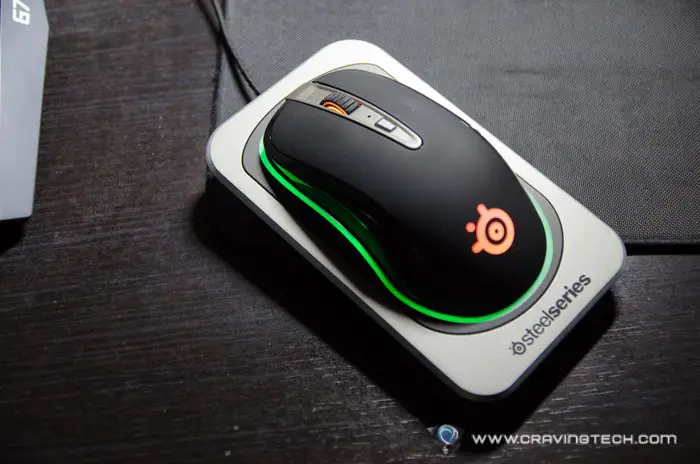 The base station is also illuminated and can be set to show the status of the battery in your Sensei Wireless (or set it to any colour you like). You can also do this on the mouse, so it's kinda useful and cool at the same time. Read the next section to find out what the colors mean.
Battery Life
According to SteelSeries, you can game in wireless mode for about 16 hours (I guess it depends on what kind of games you are playing too. Games that require more clicks and motion like Diablo 3 may drain the battery faster. For casual gaming and desktop use, I found that I could actually use the mouse in wireless mode for a whole week, without the need of a single charge! I was really impressed. Note that this happened because I only used it for a few hours a day and playing Hearthstone, a slow-paced game that doesn't require lots of clicks and mouse movements.
It's been a week without a charge & #SteelSeries Sensei Wireless' battery is still green. Amazing! @SteelSeries pic.twitter.com/ILgkKAZJ9Z

— Michael Aulia ?? (@michaelaulia) May 9, 2014
The indicators glow green when the battery is at 31-100%, yellow when it's at 11-30%, and red when it's between 0-10%.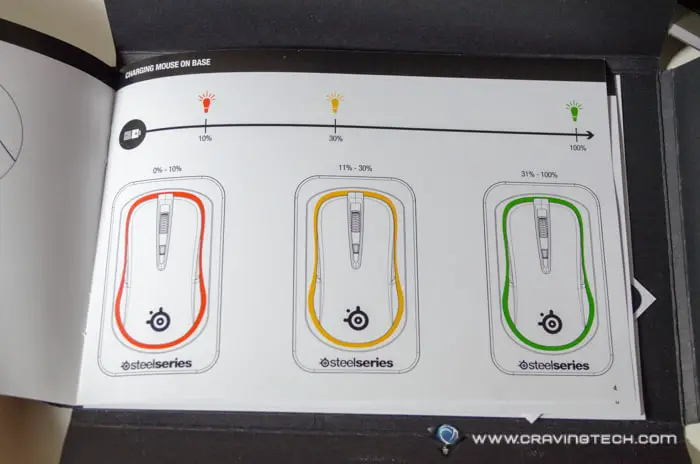 I do wish that I can set the indicator levels by myself so I can still have a lengthy gaming session before the battery runs out. For example, in one test, I found that it went from yellow to red  too quickly (in about 1 hour-ish of gaming). I'd love to set mine to yellow when it reaches 50% instead of 30%, so I can still have plenty of battery and can charge it overnight without any surprises. This should not discourage you, however, because you can switch to wired when the juice runs out (or before). It will also charge your mouse while the USB wire is plugged.
Customisations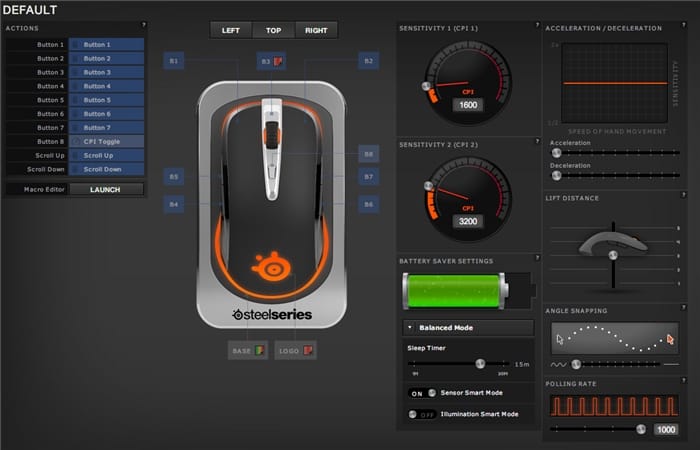 Once you install SteelSeries Engine 3 on the computer, you have opened up a new door to customisations. You can customise pretty much everything on Sensei Wireless: lighting colors, accelerations, lift distance, and more. The mouse is powerful in the right hands. If you don't understand how to customise it, do not worry. You don't have to. I find that it already is a great gaming mouse out of the box. You can probably focus on customising the sensitivity stages and the battery saver settings.
Yes, you can customise the battery saving mode, such as letting the mouse to go to sleep after a certain period of inactivity. It has certainly helped to extend the battery life of my Sensei Wireless. You can also set the illumination on the SteelSeries logo to go off while you are moving the mouse around (you can't see it under your palm anyway, so why not save battery by turning it off? Smart). Clicking on the mouse while it sleeps will wake it up in about one second, which is more than acceptable.
SteelSeries Sensei Review – Gaming Experience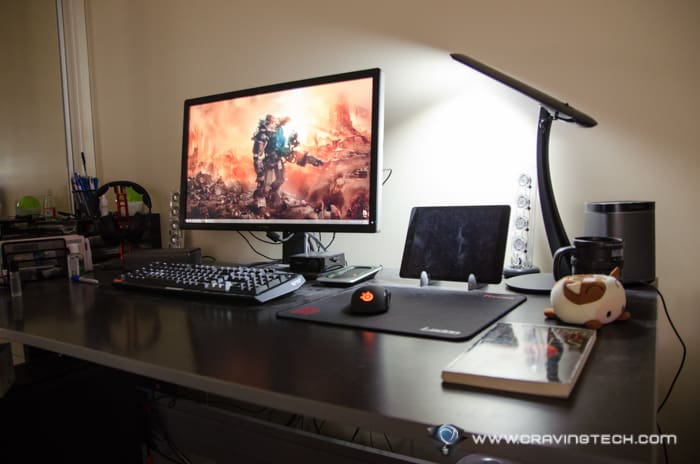 From a fast-paced First Person Shooter (FPS) game like Titanfall to a slower, more competitive one like CounterStrike:Global Offensive, Sensei Wireless shines. As stated, I've never felt any lag or unresponsiveness whatsoever while I was using the mouse to play. The sensor felt accurate as I glided the mouse along the mat. The buttons are also easy to click and responsive. Click-heavy games like Diablo 3 feels enjoyable thanks to the buttons' tactile feedback and smoothness feel of the mouse. Though it only has a low and high CPI (or DPI) sensitivity switcher, I find it good enough because I only need a higher one when I play CS:GO.
SteelSeries Sensei Review – Conclusion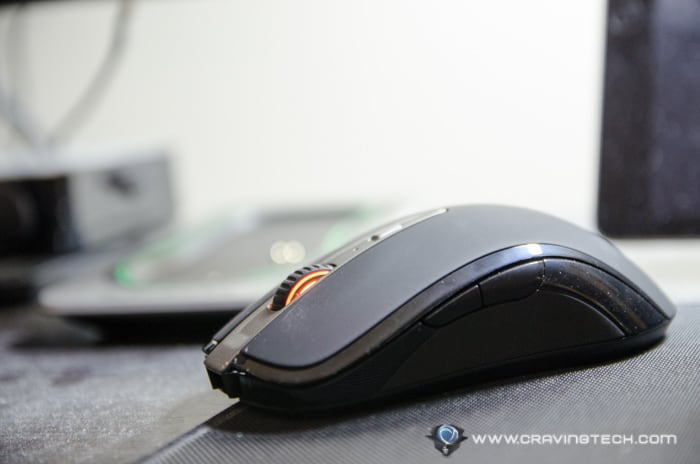 With abundant customisations, elegant look-and-feel, and smooth performance, the best just gets better. The Sensei that we all love now goes wireless, feels cooler, and steadier to handle! Totally recommended if you love the original Sensei but your gaming soul craves for more! Combined with the SteelSeries H gaming headset, pure wireless gaming is at your disposal. What we need is now a wireless gaming keyboard.
If you love your Sensei and don't feel the need to go wireless, I'd recommend to just stick with your Sensei.
SteelSeries Sensei Pros
+ Stylish, elegant
+ Better than the original Sensei (material feel, weight, etc)
+ Ambidextrous
+ Accurate sensor, high performance
+ Up to 8200 CPI/DPI if you need it
+ Easy to charge, cool-looking charging plate
+ Comfortable to hold, comfortable to click on
+ Plenty of customisations, giving you all the power and control
+ Great battery life for casual use (thanks to the power saving customisations)
+ Can be used wired or wireless
SteelSeries Sensei Cons
– Not as comfortable as a mouse designed for a specific hand
– Not for those with big hands
– Charging plate design takes quite a space on the desk
Disclosure: Review sample was sponsored for the review. All opinions are 100% mine
[AMAZONPRODUCTS asin="B00ILALMZS"]